Sharing best practices for firearms control and countering firearms trafficking: EUAM Ukraine facilitates study visit for the National Police of Ukraine
August 02, 2023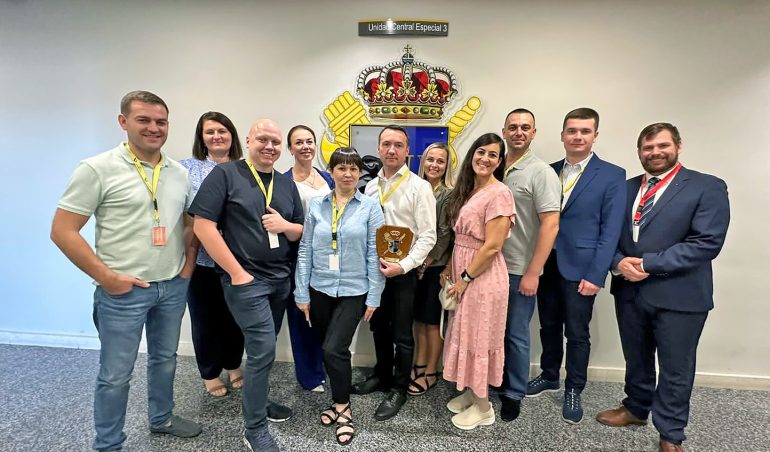 Combatting serious and organised crime and countering firearms trafficking is important to the EU.
This is one of the reasons why EUAM Ukraine, jointly with the Spanish Guardia Civil, Europol, and the European Multidisciplinary Platform against Criminal Threats (EMPACT) organized a study visit to Spain for six officers of the National Police of Ukraine (NPU) from 25 to 28 July.
The aim was for Ukrainian and EU law enforcement officers to exchange best practices and share experiences on firearms control and countering firearms trafficking.
The officers of the National Police of Ukraine visited the Spanish Civil Guard (Guardia Civil) and other relevant institutions. The trip included visits to premises located in Madrid, Eibar and Bergara, such as the Official Proof House of Eibar (dealing with firearms identification).
The exchanges of information included the functioning of firearms registers, criminal intelligence and prosecution of firearms-related cases.
Special attention was given to the potential establishment of a National Firearms Focal Point (NFFP) in Ukraine, recommended by the EU Council.
The NFFP is considered a key instrument for developing a comprehensive intelligence picture by producing reports and assessments on firearms trafficking, which aids investigations and operations targeting firearms crime.
Additionally, acting as a point of contact and expertise on firearms at the national and international level, the NFFP could ensure the tracing of firearms by gathering and exchanging on ballistic data as well as facilitating efficient international representation.
On the occasion, the leadership of the Intelligence Division and the Firearms, Explosives, and Security Division of Guardia Civil emphasized that the launch of its own National Firearms Focal Point had been an important step in aligning Spanish law enforcement practice with the EU recommendations.
Bringing Ukrainian national legislation in line with the EU Directive on control of the acquisition and possession of weapons was also in the agenda of the study visit.
EUAM Ukraine contributed to awareness raising among the participants to the visit on the Draft Law No 5708 regulating the right to civilian firearms, expressing the Mission's readiness to support its further harmonization with the relevant EU Directives.
The Mission will continue to support Ukrainian institutions in the development of a legislative framework on firearms that meets EU standards, the creation of the NFFP, and training activities for NPU officers.