QDCP enhances transparency at prosecution service through audio-visual equipment
August 06, 2019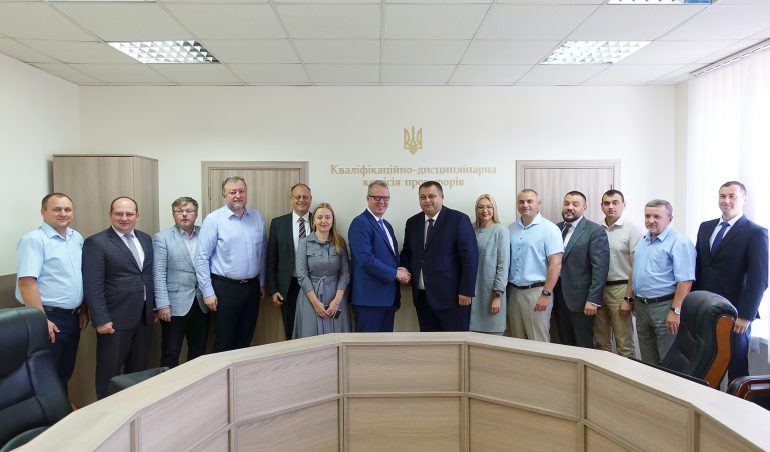 Thanks to recently newly installed audio-visual equipment, the Qualification Disciplinary Commission of Prosecutors(QDCP) can now transmit its proceedings live through a dedicated Youtube channel, thus facilitating open access to legal information, ensuring transparency and encouraging public scrutiny of its work.
The equipment was donated this week in the framework of the 'Support for Rule of Law Reforms in Ukraine in the Areas of Police and Public Prosecution and Good Governance' (PRAVO-Police),a project funded by the European Union and implemented by United Nations Office for Project Services (UNOPS) in close coordination with European Union Advisory Mission (EUAM).
"A fair, transparent, accountable, and efficient system of disciplining prosecutors for misconduct is essential for building up the public trust in the law-enforcement system in Ukraine, improving the climate for doing business, promoting rule of law, and ensuring human rights protection," said EUAM Head of Mission Antti Hartikainen at a ceremony yesterday. "QDCP is facing challenges in terms of institutional and operational independence. We support efforts undertaken in order to improve the legislative framework for QDCP activity and ensure it can operate as a fully autonomous entity."
The QDCP, as the support and self-governance body of the country's Public Prosecution Service, plays a crucial role in enhancing the independence, professionalism, integrity and effectiveness of the prosecution service, as well as ensuring a process of merit-based recruitment, disciplinary proceedings and promotion of prosecutors. The establishment of QDCP in 2017 constituted a significant breakthrough in the reform of the prosecution service and an important step in upholding one of Ukraine's accession commitments to the Council of Europe.  
"Thanks to our cooperation, the work of the commission has now become more transparent and we have started to implement best European practices and innovative approaches into our daily work," remarked Mr Viktor Shemchuk, Deputy Head of the QDCP.