"United for Justice": Russia's crimes will not go unpunished
March 06, 2023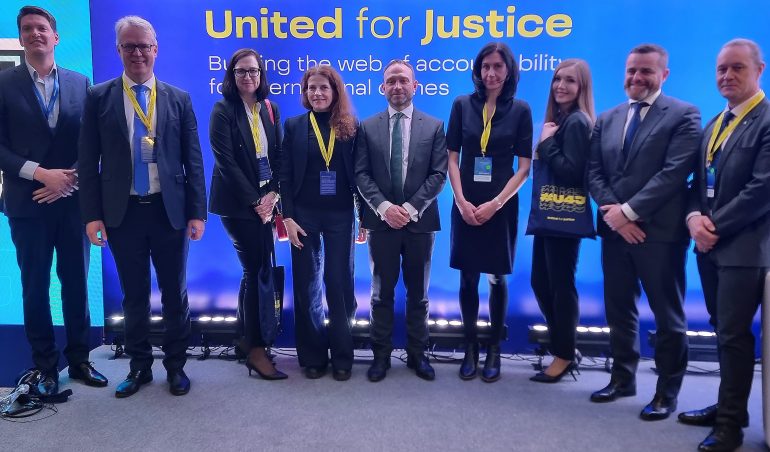 From 3-5 March, EUAM co-organised and co-funded the "United for Justice" conference aimed at ensuring international and national accountability for International Crimes committed by Russia.
"We are extremely happy that the Office of the Prosecutor General of Ukraine hosted such an outstanding conference with very high-level participation. It was important for us to provide financial and organisational support to our close partners. We are pleased to promote this discussion to enhance Ukrainian work on documenting, investigating and prosecuting International Crimes," noted the Head of EUAM, Antti Hartikainen.
The event considered different accountability paths for International Crimes committed by Russia in Ukraine. The subjects discussed ranged from the possibility to establish a special tribunal to prosecute the crime of aggression, to deliberate targeting of the critical civilian infrastructure to sexual violence as a weapon of war. The topic of crimes against children in the context of Russian aggression, environmental crimes as well as the issue of compensation and reparations for the damage suffered by victims and the Ukrainian state were also discussed.
EUAM Senior Advisers on the Prosecution of International Crimes participated in the panel discussions. Andrew Carney spoke about the functioning of international, hybrid and internationalised tribunals and mechanisms. Meanwhile, Mark Roorda focused on accountability for the deliberate targeting of critical civilian infrastructure.
During the event, the establishment of the International Centre for the Prosecution of the Crime of Aggression seated with Eurojust in The Hague was announced, an agreement on the United States joining the Joint Investigation Team on Ukraine was signed, and the first meeting of the Dialogue Group aimed at coordinating international efforts took place.
Attendees included the President of Ukraine, Volodymyr Zelensky and the First Lady, Olena Zelenska. Other key speakers included the President of Latvia, Egils Levits, the EU Commissioner for Justice, Didier Reynders, President of the European Parliament Roberta Metsola, President of Eurojust, Ladislav Hamran, Prosecutor of the International Criminal Court, Karim Khan, the United States Attorney General, Merrick Garland and Ukrainian Prosecutor General, Andriy Kostin.