The flags are up: EUAM re-opens its MHQ in Kyiv
May 21, 2022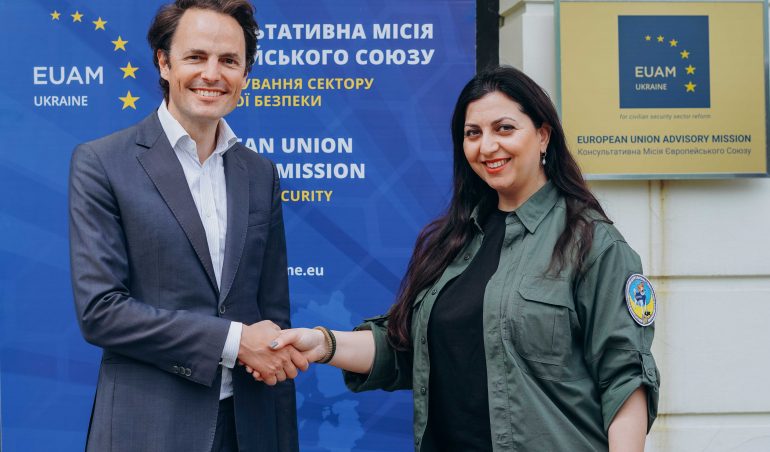 Today, 21 May 2022 – on Europe Day in Ukraine – the EU Advisory Mission Ukraine (EUAM) marked the return of the Mission to Ukraine in a ceremony at its Headquarters in Kyiv. EUAM was forced to evacuate after Russia launched its brutal military aggression against Ukraine on 24 February.
Speaking at the official flag raising ceremony attended by a number of Ukrainian and international partners and dignitaries, Fredrik Wesslau, the Acting Head of Mission, underlined how the return to Ukraine meant that EUAM would be able to further enhance its support to law enforcement agencies.
Following the initial deployment of 15 international advisers in Kyiv this week, the Mission will gradually increase its presence in Ukraine throughout the summer. By the end of August, the Mission hopes to have more than 100 international advisers back in the country.
'When the war broke out, EUAM redirected its support to assist its partners in the best possible way. One area is international crimes. The atrocities being committed as a result of Russia's aggressive war are extensive', said Mr. Wesslau. 'For that reason EUAM's mandate was extended to support our Ukrainian partners investigate and prosecute war crimes and crimes against humanity. The Mission is setting up a team of 50 advisers who will support the Office of the Prosecutor General, the National Police and other law-enforcement agencies in this work'.
Very soon after the invasion started, the Mission shifted all its project money to procure emergency equipment, such as much needed protective and first aid equipment and food rations for our Ukrainian counterparts. At the same time, EUAM has also facilitated bilateral donations and donations from other civilian CSDP Missions.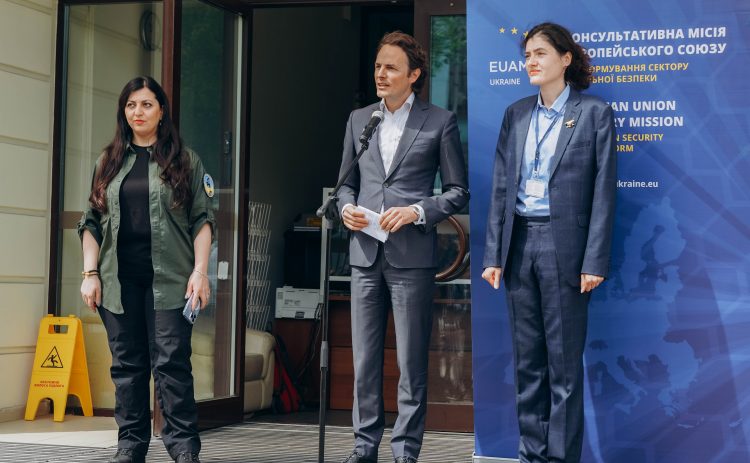 Speaking at the ceremony, Meri Akopian, the Deputy Minister of Internal Affairs, noted that 'today the EU's solidarity with Ukraine is of key importance as not only does Ukraine defend its territorial integrity and the right to self-determination, but it also defends Europe and basic democratic principles'. 'I believe that EUAM will continue to fulfil the role of coordinator between the EU institutions, EU Member States and the Ukrainian law enforcement agencies'.
'As we also celebrate the Europe Day in Ukraine today,' said Mr Wesslau, 'let me commend our law enforcement partners who have demonstrated resolve, determination, and heroism in defending Ukraine and protecting its citizens. You have proven what constitutes Ukrainian standards. We will continue to support you as Ukraine secures its independence and sovereignty, with its people enjoying freedom, peace, human rights and the rule of law, and moving ever closer to the EU'.