Polish 'blue card' system inspires police during EUAM study visit on domestic violence
October 05, 2018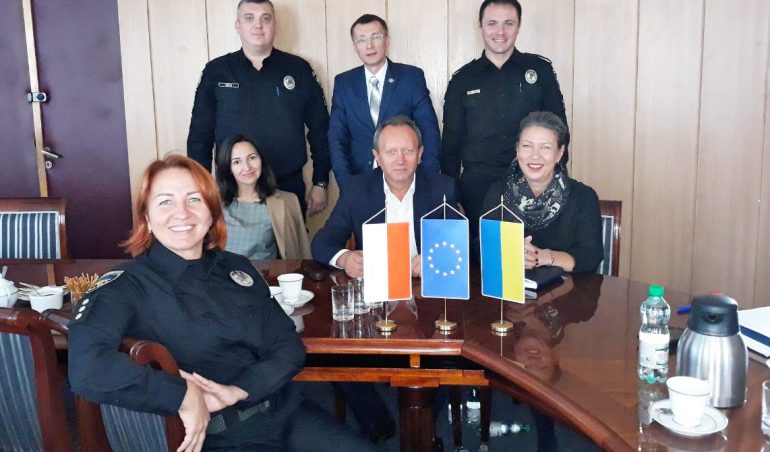 Poland this week hosted a delegation of the National Police of Ukraine in order to outline to them what they consider best practices in combating and prevention of domestic violence. The EUAM-organised visit was a follow-up to the series of thematic training events provided by the Mission earlier this year in various regions of Ukraine.
The delegation of Ukrainian police learned more about cooperation between law-enforcement agencies, social services and NGOs regarding rights of children during visits to the Emergency Youth Center at the Metropolitan Police in Warsaw. In addition, attention was paid to trainings for police cadets and specialized in-service trainings on the topic of prevention and combating domestic violence provided in Police Academy in Katowice. During the visit to HQ in Warsaw, police stations in the city (Belsko-Biala) and village (Myszkow) special attention was given to service attitudes, reaction to the needs of citizens and coordination between all police services.
  Poland has what is called a 'Blue Card' system that isintended to improve cooperation between various actors engaged in assistance to the victims of domestic violence. It entails all courses of action undertaken by social services, local committees for solving alcohol abuse problems, the police, NGOs, education and healthcare institutions in relation to a reasonable suspicion of a domestic abuse incident.Interestingly, police in Ukraine are currently drafting sub-legislative acts which would outline the procedure of cooperation among these services.
The delegation was also briefed on how domestic violence cases are managed in Poland: how tasking is done, who is responsible for dealing with such cases.
"Two countries, neighbours to each other with similar culture and past, are discussing and learning from each other in the area of combating and prevention of domestic violence. This is a fruitful outcome of the visit. The efforts of Polish counterparts are very much appreciated both by EUAM and Ukrainian counterparts," said Sari Rautarinta, EUAM Human Rights and Gender Advisor/Trainer.