"People know that we are here, on-site, and are ready to help"
November 20, 2023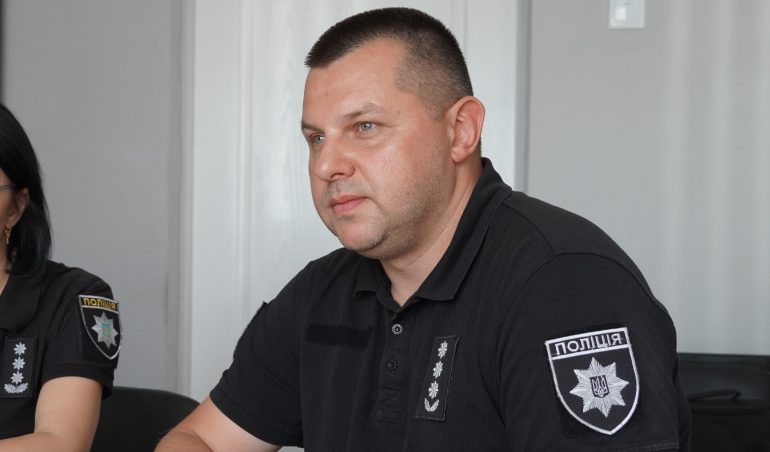 Dmytro Hrynchak assumed the role of the head of the Izium district police department in October of the previous year, shortly after the city was liberated from Russian occupation. Before this appointment, he held the position of head of investigations in the adjacent Chuhuiv district.
His prior experience acquainted him with the grim realities of war, given that the Kharkiv region has endured consistent shelling and, in certain areas, occupation since the onset of the full-scale invasion.
During our latest visit to Izium, we discussed his initial days after his appointment, his current challenges, and the joint efforts with international partners.
– You were offered to take over the Izium police almost immediately after the city was liberated in September of last year. What struck you the most when you arrived here?
– The city was heavily damaged, especially the residential areas. When I spoke with the military who participated in battles for various cities, they mentioned that the residential infrastructure in Izium was probably one of the most destroyed compared to what they had seen elsewhere.
– By the time Izium was liberated, Bucha and Irpin's horrors were already revealed. The world had been horrified by the atrocities committed by the Russian military during the occupation. Did what you saw in Izium surpass your personal expectations?
– I wasn't in Izium during the occupation, but I worked in the Chuhuiv district, which was partially occupied. So, I more or less knew what to expect. For example, the town of Vovchansk (settlement in the Chuhuiv district – ed.) was under occupation for over six months and was liberated around the same time as Izium. The entire Chuhuiv district was under enemy shelling all the time. We constantly went to the sites of destruction. Although Izium, of course, cannot be compared to Chuhuiv.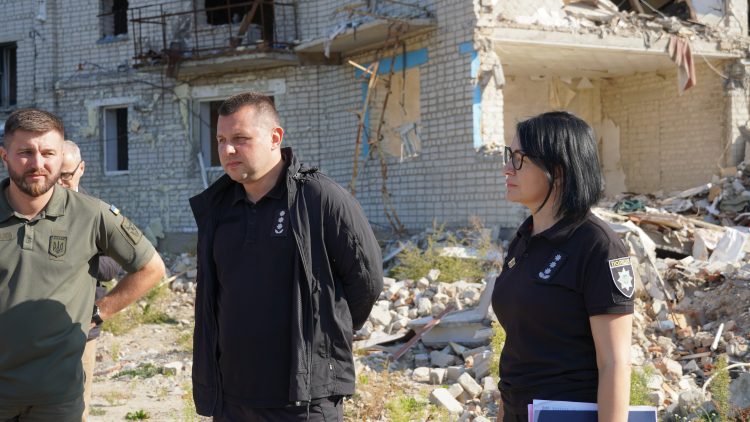 – What did you do on the first day of your arrival in Izium?
– I got acquainted with the personnel, visited the locations, where we were stationed. We had to start working in conditions where only about 50% of the personnel remained, there were no premises for us to sit in, no equipment to work with – basically nothing.
Across the street from the former district police station is a store, where construction materials are sold. We managed to find three rooms there and one more in another location. That was our entire district police station at that time. Later, we found the building where we are now. We fixed it up. But there was a shelling in May again. So, we had to restore it once more. With the help of the local authorities, we patched up the roof, and now we have a place to work.
– What happened to the former district police station building?
– It was destroyed by targeted fire from the occupiers. And in the part where something remained, it was a torture chamber that, after liberation, became a crime scene. Now we use this place to train young law enforcement officers who will be involved in investigating war crimes. We didn't have such experience before the full-scale invasion, and now these skills, unfortunately, are in high demand among officers from various agencies working in the liberated territories.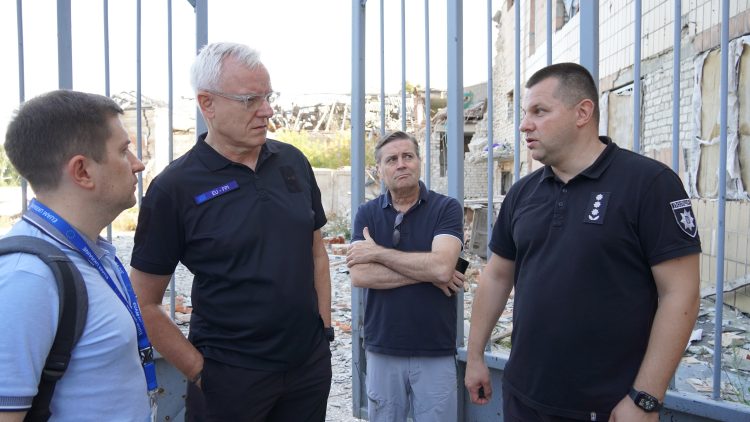 – You mentioned that only half of the personnel remained. Have you lately been able to recruit additional people, and where did you find them?
– Currently, the situation has more or less stabilised. Many people who worked with me in Kharkiv, Chuhuiv, and other places joined us here. That's about half of the current leadership. Others were recruited through open competitions. We took graduates from the MoIA universities – young people with little experience but the desire to learn.
– How do you deal with the issue of mines? When we were driving through the city, we saw that even within the city limits, there are still fenced-off areas in residential quarters where walking is prohibited due to possible mine danger.
– We have two mine expert squads assisting us. They are attached to us as additional units. The problem is indeed severe. Residents who are returning home often find explosive objects in their yards and call us for help. The local authorities also approach us because, for example, they need to install boilers. But before that, it's necessary to check the adjacent area for mines and other explosive objects. So, units from other regions and the State Emergency Service collaborate with us in these matters.
– How do you personally feel about whether people trust the police now?
– I believe they do.
– So, people come to you for help without fear?
– Yes, that's the case now. We managed to change the perception of the police by citizens gradually. I think people understand now that they can trust the police. It's essential for people to approach us, not to be afraid, know that we are here, on-site, and we are ready to help.
– How do international partners support you?
– The main problem for us is the losses incurred, both in personnel and equipment. Therefore, meeting all our needs now is very challenging. As I mentioned earlier, we had nothing left after the occupation of the region.
So, we need our own premises to work in. Secondly, we need equipment for our work. We are very grateful to the EUAM for bringing us laptops and flash drives as part of the pilot project, which significantly facilitates our work. This assistance allows me to provide the necessary equipment for almost all employees working with documents.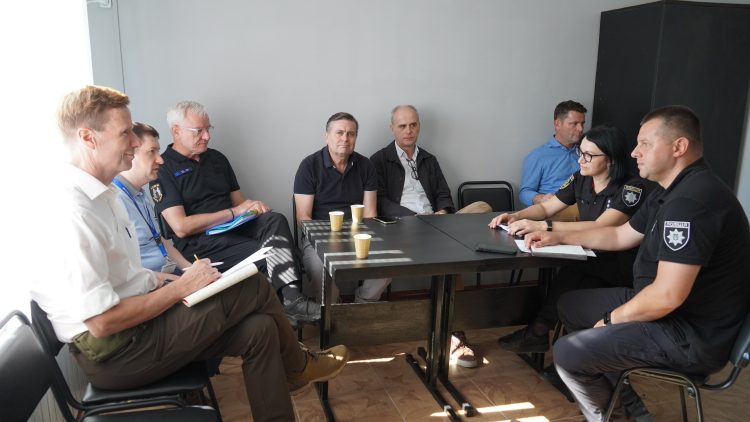 – Regarding the investigation of war crimes, Izium is one of the major crime scenes in Ukraine in this context. Constant shelling of the city continues. How do you cope with such a workload? Do you have enough personnel to investigate war crimes and also handle other regular duties?
– We have a separate investigator specifically dedicated to war crimes. We formed a special group to document and investigate the crime scenes. In a month, we document around 100-150 war crimes. Since the workload is significant, we seek help from our colleagues in Kharkiv. Two or three investigators from the Kharkiv investigative department are temporarily assigned to us to assist in investigations.
– Is there a difference in how you document and investigate war crimes?
– Our investigators have learned how to work at war crime scenes over time. Training sessions provided by the EUAM on this matter were also helpful. I am confident that our police officers are now performing their duties with high quality. Unfortunately, there are many cases.
– Which training sessions from the Mission were particularly beneficial for your staff?
– I want to particularly highlight the training on psychological support recently conducted by the Mission. Since witnessing all these horrors every day inevitably takes a toll on our minds, it creates psychological pressure for all of us. So, knowing how to deal with this excessive stress is crucial. The scariest part is the delayed effect of this stress. Therefore, it's essential to know how to identify and work through it to prevent its consequences in the future.