When it comes to reform, big change depends on the small detail
August 29, 2017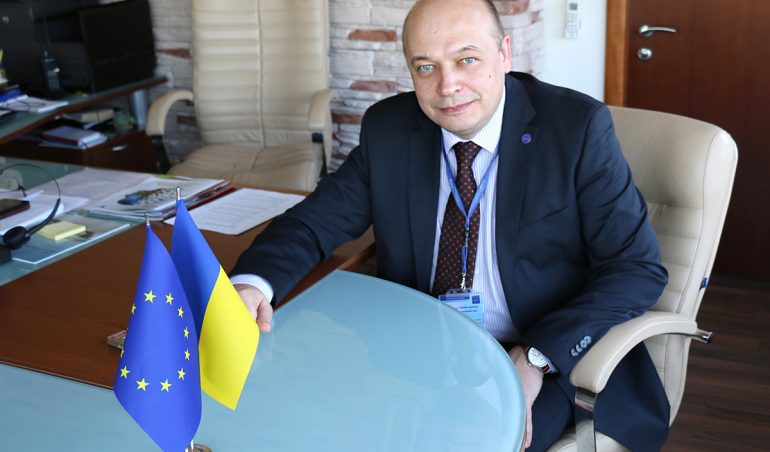 They say that time waits for no man, and days after celebrations of Ukraine's 26th independence day, one could argue that time will not wait for Ukraine, either. When we think of the reform process, and evaluate its achievements, we might even argue that time is running out. Although certain positive reforms have taken place in law-enforcement and rule of law agencies in the three and a half years since the Maidan revolution, and although as ever we remain optimistic, the reality is that many Ukrainian citizens are disappointed and frustrated that the reforms have not gone further. I share this frustration.
The European Union Advisory Mission (EUAM) has been in place for almost three years now. Our team of experts and advisors, from both the EU and Ukraine, make the push for reform their daily business. We, too, would like reform to happen faster, but we must be patient and take things one step at a time. Significant reform measures have taken place and we are grateful for those – the creation of the National Police, and establishment of the anti-corruption agencies, for instance. However, other fundamental reform measures that would lead to more meaningful changes in people's lives still elude Ukraine.
To cite just a few examples, the Concept on Reform of the State Security Service (SSU) – that would transform the SSU into a modern intelligence-gathering agency – has yet to be approved by the highest authority, and this is an absolute priority for Ukraine. The National Anti-Corruption Bureau of Ukraine has made tremendous progress, but investigating high-level corruption is only part of a complex process which must lead to prosecutions, and ultimately, prison sentences for those found guilty as well recovery of illegally obtained assets. We have yet to see this happen. An independent judicial body to ensure fair trials and convictions needs to be created as a matter of urgency.
EUAM – together with our Ukrainian and international partners – has invested a lot of time in recent months on the drafting of Ukraine's 'Law on National Security'. The law provides a foundation for achieving European principles of democratic control over the security and intelligence agencies and enhanced opportunities for citizens for judicial appeal or complaints about administrative decisions. Once this law is passed then it will then be a question of ensuring it leads to actual results on the ground through the implementation of strategies and action plans.
The ultimate aim of the reform process has to be to ensure the rule of law. But what does 'rule of law' actually mean? Well for a start, agencies enforcing the rule of law must also obey the law themselves. How can we demand that ordinary citizens follow the rules if the law does not apply equally to everyone? Everybody has a role to play in this process, from ministers, deputies and department heads, to civil servants and citizens.
In many ways, an agency such as the National Police is the face of change, the face of reform. Police officers carry a heavy responsibility to show a good example. Because of the nature of their job, they are in public view, so they must be seen to be setting a high standard. Citizens look to law-enforcement officers such as the police for guidance on how to behave. They should be a model for society, giving citizens hope that progress towards an inclusive democracy, based on equal opportunity and trust, is possible. This is what all Ukrainians aspire to, and this too is the EU's vision for Ukraine.
Remember, rule of law officials such as police officers, SSU officers and prosecutors made a choice to serve their people and country – nobody forced them down that path. They signed a contract with the people of Ukraine, and part of that deal is to now lead by example. For me, the success of the reform process hinges to a great extent on these cultural or behavioural factors. It hinges on carrying the right set of values and then demonstrating those values in your daily work. It often boils down to simple things. Treat others as you would like to be treated yourself. Show respect and you will receive respect in return. Law-enforcement officers, of course, are citizens of the state too.
Don't get me wrong, I am not pointing a finger of blame at law enforcement officials – progress has been made. At the same time, I will not gloss over the changes required by Ukraine's political leadership. Every official should feel a deep responsibility and engage in the reform process. But I think that when we rightly point to the larger structural changes needed for reform to happen, it is easy to forget that big change cannot happen without also addressing the small but important detail. Buying new equipment without also changing the organisational culture will not lead to lasting change.
Everyone has a leadership role to play. So whether you are a citizen or a senior official, that starts by imagining the future you wish for, and acting as if it is already here. Then, change might just happen quicker than you expect.

This opinion piece by EUAM Head of Mission Kęstutis Lančinskas was originally published in Ukrainska Pravda on 29 August 2017.