Privacy, reception rooms and EU standards in the Prosecution Service – interview with Gatis Doniks, Senior Adviser on Prosecution
January 31, 2018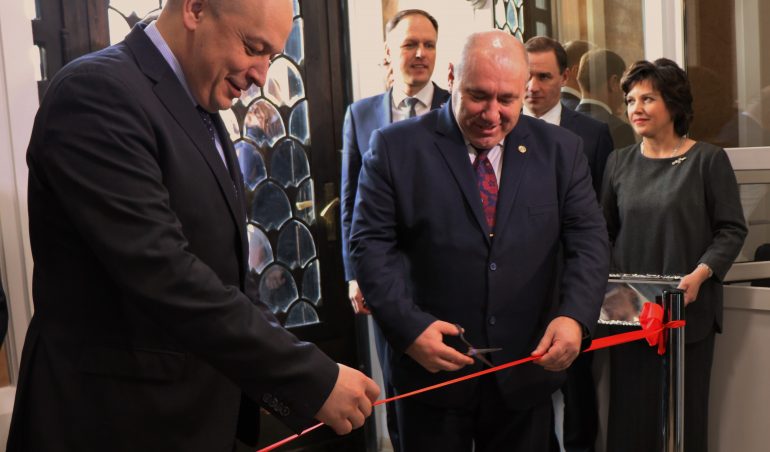 On 25 January 2018, new, refurbished reception rooms were opened to the public in the Lviv Regional Prosecutor's Office. The refurbishment was financed by the EU Advisory Mission (EUAM) Ukraine. Gatis Doniks, Senior Adviser on Prosecution, explains the expected benefit of the new reception rooms and what sorts of complaints members of the public usually make when they visit the Prosecutor's Office as well as future plans for reforming prosecution services in Ukraine.
| | |
| --- | --- |
| Gatis Doniks | |
What is the expected benefit of the new, refurbished citizen reception rooms?
First of all, it will make the Lviv Public Prosecutor's Office more accessible to citizens of the Lviv region. Before, the rooms were old and intimidating. With the new, modern reception rooms, citizens will feel more comfortable when reporting incidents to prosecutors.
There will be more privacy, which is particularly important for sensitive cases. The new rooms also are equipped with video conferencing facilities, which will enable citizens to access the Lviv Prosecutor's Office without leaving their home towns.
As regards the prosecutors, they will have a better working environment that will help them to do their job more effectively.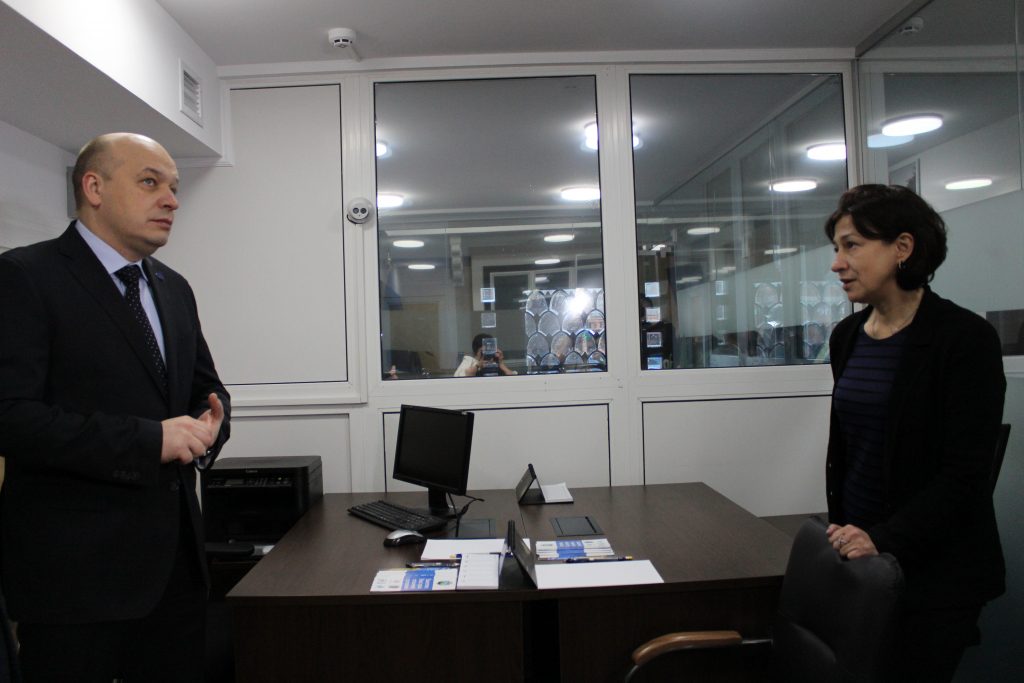 EUAM Head of Mission Kęstutis Lančinskas with the Deputy Prosecutor General of Ukraine Angela Strizhevska
Why do people visit Prosecutors' Offices in person? Don't the police handle criminal investigations?
The police do handle criminal investigations, but according to the Ukrainian Criminal Procedure Code, everyone involved in criminal proceedings has a right to complain against decisions or actions taken by investigators in the run-up to a trial. Crimes can also be reported to prosecutors directly if citizens feel that for whatever reason they cannot trust the police with their case.
Moreover, the reception rooms also help citizens to find help with a legal query or inform them which institution they should apply to with a complaint. Many citizens are not aware of their rights or even where to apply if they feel their rights have been violated.
Reception rooms thus serve an important function in guaranteeing the procedural and human rights of anyone involved in criminal proceedings.
How many members of the public visit a Prosecutor's Office in person?
In 2017, the Lviv Regional Public Prosecution Office received around 17,500 complaints, out of which around 6000 were received in person. This works out at over 20 complaints received in person every working day. With such a large number of people visiting the Lviv Regional Public Prosecutor's Office, it is important to have a modern, comfortable space, where members of the public can be received.
Are there reception rooms in every Prosecutor's Office or only in big cities?
Not every prosecution office has separate reception rooms. Moreover, in some prosecution offices, complainants are received by prosecutors in their offices, where other officials may be present. This could lead to a violation of the right to privacy.
The new reception rooms come with video conferencing facilities. What this means in practice is that a member of the public can go to a Prosecution Office in their home town, for example a town like Chervonohrad in the Lviv Region, and link up with a prosecutor in Lviv. This is especially useful for people with impaired movement, for example elderly people.
How do Prosecution Services in other countries, for example in the EU, handle relations with the public?
In Europe as a whole, there is a movement towards using digital tools for example, digital links, e-signatures or just e-mail. If we're talking about meetings, within the EU, there are high standards as regards the right to privacy.
All law enforcement officials should be aware of the relevant laws governing privacy, particularly where juveniles are involved. Having separate and dedicated rooms which guarantee privacy is obligatory. If investigators are found to have violated human or criminal procedural rights, it could mean that evidence is deemed to be inadmissible by a judge.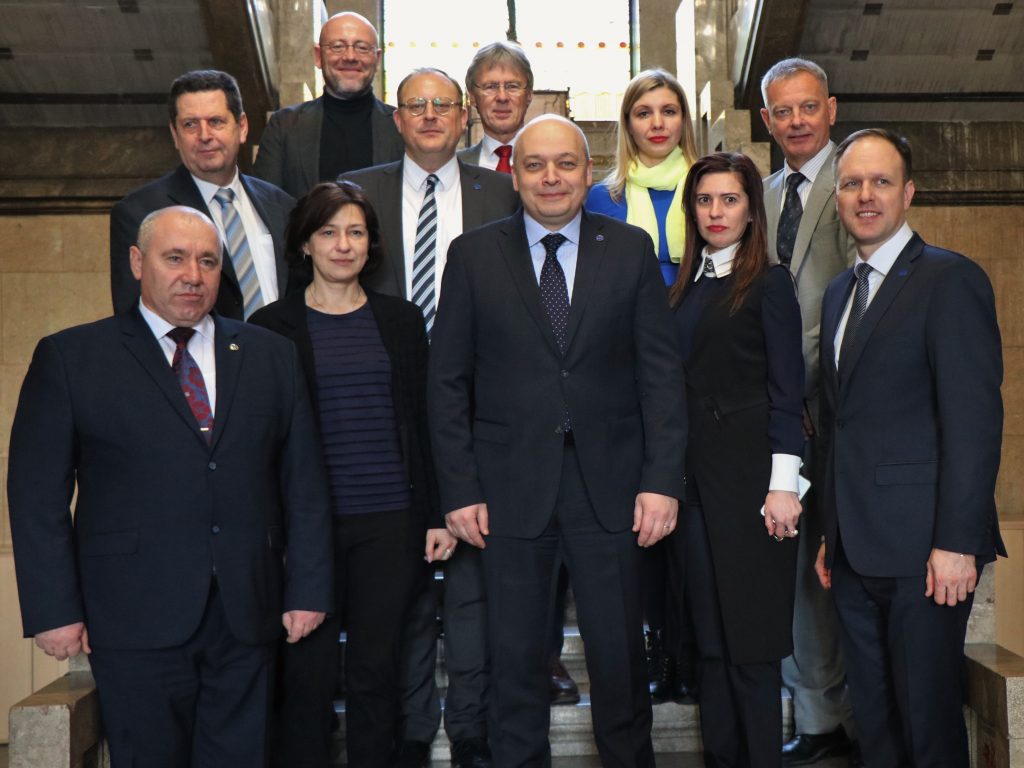 The Head of EUAM with advisers and Ukrainian prosecutors. Gatis Doniks is on the right.
What are the next steps?
As regards the reception rooms in Lviv, we need to improve access for disabled people. This is why EUAM will soon donate a special lift/ramp to ensure that the reception rooms are wheelchair accessible.
We will also continue our work in other areas, including supporting a more effective performance evaluation system that rewards good performance. Good performance for example includes how complaints are handled. We will offer new rounds of communications training to support prosecutors handle public complaints sensitively. Also, a leaflet campaign has been financed by us to inform members of the public about the roles of different law enforcement and rule of law institutions and where to turn if they feel their rights have been violated.
What kind of long-term changes does EUAM hope to see in the Ukrainian prosecution service to make it more trusted?
We would like to see an institution which serves justice transparently and fairly. There should be zero tolerance of corruption, but also increased salaries for prosecutors to make becoming a prosecutor an attractive career option. There should be fair criteria for promotion and career management.
The Criminal Procedure Code also needs to be amended, so that prosecutors can concentrate on the most serious crimes and not be weighed down by bureaucratic procedures. In all of these areas, EU standards set a high bar and our job in EUAM is to help Ukraine meet those standards in a spirit of trust and understanding from both sides.
The process of reforming a prosecution service which in the past was used as an instrument of power to a service which serves the interests of citizens will take time. But if is successful, it will mark a profound change for the whole of Ukraine.