Nobody joined the police to fill in forms. Why revisions to the Criminal Procedure Code are urgently needed
October 18, 2018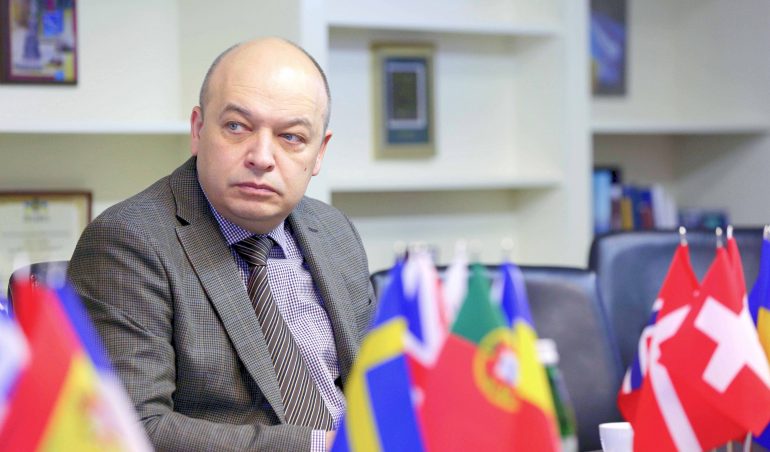 As a former police officer myself, I know few police officers who joined their police service with a dream of sitting behind a desk and filling in forms. Admittedly, a certain amount of paperwork is necessary to ensure that law enforcement agents do not violate human rights and to protect against unjust prosecutions. But few can argue against reducing the level of bureaucracy in law enforcement if it increases efficiency and doesn't threaten the right to defence.
The challenge is turning that theory into reality.
At the EU Advisory Mission Ukraine (EUAM), we have built up a good relationship with our partners in Ukrainian law enforcement agencies. An example of our successful cooperation has been in supporting a so-called Draft Law on Misdemeanours (7279-д). The draft is currently going through the Rada and is designed to create simplified procedures to investigate lesser, non-violent crimes which rarely have a lasting psychological impact on their victims. These lesser crimes – 'misdemeanours' – were first mentioned in the Criminal Procedure Code in 2012. Unfortunately, back then, this did not lead to a change in practice as it was not accompanied by the necessary criminal legislation, nor new procedures to investigate these crimes. An update is therefore needed.
Why is a law on misdemeanours necessary you may ask? The main reason is to ensure that police and prosecution resources are concentrated on the most serious crimes, where they are most needed. A long and bureaucratic process to investigate, for example, a stolen bicycle takes away resources from investigating more serious and violent crimes. Moreover, the law needs to keep up with the increasing pace of technology. Photo and video recordings can simplify the procedure to investigate minor crimes – they are not just relevant for traffic code violations.
Imagine a case that often happens in practice: a person steals a bottle of alcoholthat costs 200 UAH from a supermarket. His action was filmed on camera and the supermarket's security guards called the police who apprehended the suspect. Under the existing procedure, the process to prosecute this case might take months or even years! The police officers would first have to contact an investigator who is the only officer authorised to investigate such crimes. He or she would then have to have to work on the basis of a large number of documents. For example, a lengthy procedure would be needed in order to establish that the bottle of alcohol really cost 200 UAH and then the investigator would need to question witnesses and call them over and over again to their office together with the offender.
Only then would the case would be referred to the court. The court would not be able to condemn the offender without hearing each of the witnesses at least once. In practice, witnesses in these kinds of cases do not show up, leading to court hearings being postponed a number of times. Is it worth all this hassle for one bottle of alcohol worth UAH 200?  
In the Draft Law currently being heard, Ukraine has taken some important steps in line with international best practice. We think however that it could go even further.
We believe for example that the effectiveness of criminal proceedings would be enhanced with a more simplified procedure of lesser crimes at the trial stage. For lesser crimes, which are not punishable by imprisonment and where the facts have been reliably proven, the practice in most European countries is that a judge should have the discretion to rule on the case without a court hearing and without the consent of the suspect. To protect human rights, there should always be a right to appeal, but if someone is caught on camera stealing a cell-phone from a shop, there is no reason to go through a full court hearing. This just uses up time that could be spent on more serious crimes.
In an average year, the National Police of Ukraine (NPU) will register around 1.8 million criminal cases. More than 50% are estimated to be misdemeanours. In practice, this amounts to a large amount of time spent on lesser crimes.   
For the simplified procedures to be effective, they have to apply to the whole criminal justice system. If they apply, for example, to the police but not to prosecutors, then the simplification will not achieve its desired result. One of the principles that EUAM has supported since arriving in Ukraine is the idea that the criminal justice system should operate as a whole, with the maximum amount of cooperation between its different components. If done correctly, simplified procedures should contribute to this.
We also believe that the NPU should have the right to decide who among the available police officers can investigate misdemeanours. The current draft of the law stipulates that misdemeanours should be investigated by 'inquiry units and other authorised units'.
We have reason to assume that in practice such a wording might lead to a situation where only inquiry units investigate minor crimes, when the most efficient system would be for the police to have full flexibility to define the responsible police officers, including patrol police, criminal police or district police officers. The latter's power to investigate misdemeanours would be particularly useful in the case of minor thefts in villages and remote areas. There is no need to have a lengthy investigation because someone stole a cooking pot (banyak) from a grandmother in a village.
Engaging the different structural parts of NPU and empowering them to conduct investigations alongside their usual policing duties is likely to raise the number of staff who can potentially investigate misdemeanours by 15-20 thousand. It's important that the police have the flexibility to prioritise resources where they are most needed.    
EUAM has conducted a number of audits of police stations and established that administrative burdens imposed by bureaucratic procedures are one of the major obstacles to creating effective law enforcement structures in Ukraine that enjoy public trust. If there are ways to lighten that burden, particularly when talking about crimes with a lesser impact on their victims, we believe it should be seized.
This opinion piece was originally published in Ukrainska Pravda on 18 October 2018