Modern e-case management system will have radical impact on criminal investigation in Ukraine
June 01, 2017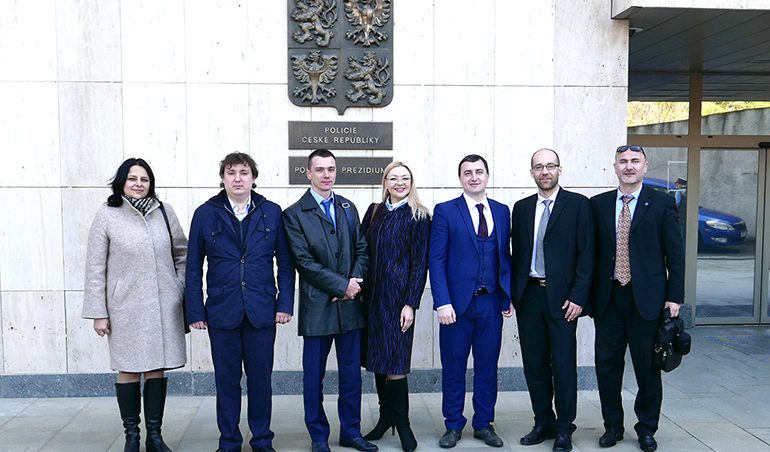 A study visit that the European Union Advisory Mission carried out in the Czech Republic on the Czech experience with its Electronic Case Management System (eCMS) inspired the Chief Prosecutor of Kyiv Regional Public Prosecutor's Office to develop the pilot project 'Concept on online electronic supervisory proceedings' in Kyiv region. Here, EUAM's Lead Advisor on Criminal Investigation, Zbynek Vanicek, and Kyiv region's Chief Prosecutor, Dmytro Chibisov, elaborate on what benefits an eCMS may have for Ukraine's investigators and prosecutors.
What exactly is an e-case management system?
Zbynek Vanicek:  Electronic Case Management System (eCMS) is an electronic system that converts physical documentation into digitised format, so that criminal-case files can be shared electronically between staff and departments. It makes the work flow easier for all parties involved in criminal investigation, but in particular for police, prosecutors, and judges. It is therefore an administrative and management tool for handling the electronic version of criminal-case files, which are then accessible online to parties involved in pre-trial investigations, with each being granted a different level of access and editing rights.
An e-case management system improves the coordination and supervision of pre-trial investigations, which is so important for police and prosecutors. Documents such as plans for criminal investigation, evidence, interviews, orders from prosecutors, approvals, and reports become available online immediately. This saves huge amounts of time and money.  
An eCMS ideally should be integrated with other databases, for instance with the judicial system and registers (ownership rights to property, land, transport, etc). Such systems might also be able to analyse performance evaluation of prosecutors and be used as an analytical tool.
Where does Ukraine stand in its development of e-case management?
Dmytro Chibisov:  At the moment in Ukraine, we have a system called the 'Unified Register of Pre-Trial Investigations', which is an electronic record of all criminal-investigation cases – it has been in place since 2012. This allows investigators and prosecutors from Ukraine's law-enforcement agencies to access cases electronically, but it is not the sophisticated e-case management system that we would like. What this system is missing is what we call 'online electronic supervisory proceedings'. At Kyiv Regional Prosecutor's Office, we have now developed a concept in order to upgrade the existing system. This is the 'Concept on online electronic supervisory proceedings' – which is based on the existing United Register of Pre-Trial Investigations. The General Prosecutor, Mr Lutsenko, has already reviewed the concept and has guaranteed us his support for its full implementation.
What would the main benefits of online electronic supervisory proceedings be?
Dmytro Chibisov: The benefits to criminal investigation in Ukraine would be enormous. It is essentially a question of efficiency. Unfortunately, Ukrainian investigators and prosecutors still deal with lots of paper files, which in this day and age is ridiculous. To give you an idea of the size of that paperwork, we are talking about over one million criminal cases pending today in Ukraine. A modern e-case management system would make the criminal investigation process much faster and would reduce paper consumption, and electronic surveillance would allow investigators and prosecutors to survey the full detail of cases, cutting out the paper document "ping pong" between police and prosecutors that currently takes place. To give you an example, online electronic supervisory proceedings would facilitate access to registration papers, testimonies, registry of weapons, and even fingerprints – and all online. Prosecutors will be much more easily able to monitor how investigators are working on criminal cases, which is massively time-saving. For the courts there are also considerable advantages – at present, if a judge wants to review case files, he/she must request the delivery of paper files first and this can delay criminal trials for up to a week. With online electronic supervisory proceedings in place judges will be able to conduct such reviews immediately.
That seems quite significant. So this would simplify the entire criminal-investigation process?   
Zbynek Vanicek: That is no exaggeration. Another important thing to emphasise is the positive influence an eCMS has on inter-agency cooperation – you must remember that there are often a large number of state agencies involved in criminal investigation. It is agencies such as the State Fiscal Service and the National Anti-Corruption Bureau of Ukraine – and not just police and prosecution – that would be able to communicate and coordinate much more easily. As Mr Chibisov has explained, being able to send an online request to other agencies, rather than wait for a physical delivery, saves huge amounts of time. An eCMS also ensures an official record of information. This contributes to anti-corruption efforts because you can't burn electronic files. Every operational step of each criminal-investigation case is recorded and saved in the system. It is impossible without reason to delete or change anything in the system without a trace. Finally, eCMS will ease the process of criminal analysis and evaluation; and it will have a positive impact, for example, on the EUAM 'merger' (of operatives and investigators) pilot project currently underway in eight Ukrainian police stations.
EUAM recently took Ukraine's prosecutors to the Czech Republic on a study visit. What was the purpose of that, to learn about the Czech eCMS?
Zbynek Vanicek: Yes, exactly. The Czechs started to develop their eCMS in 2005. Today, it is a huge and sophisticated electronic database system, called 'Electronic Criminal Proceedings'. So it was the perfect eCMS for our Ukrainian prosecutor partners to observe.
With the Czech system, authorised police chiefs can follow online all assigned cases to their departments. They can see all tasks given by him/her and the prosecutor, and whether or not they have been fulfilled. Changes to the e-case files must be justified and tracked. Prosecutors can give online approval for specific investigative steps to be taken. The system is interconnected with 70 different police databases and also state administration databases, which can be accessed directly through the system, which makes life much easier for investigators. 
Authorised personnel can see online how particular criminal cases are progressing, and the system can even analyse the effectiveness of case investigation. It is also possible to extrapolate statistical data on criminal investigations from the system. Most impressively, the system uses a 'data box' facility which permits the secure delivery of case files to registered individuals – a kind of electronic postal system. Through these data boxes (which are separate from the eCMS), official mail, messages, subpoenas, requests can be delivered instantly to the registered person and stamped with an electronic receipt, regardless of where they are in the world, and without need for them to be present in Czech Republic.
What are the next steps for Kyiv prosecutors, and how can EUAM be of further assistance in future?
Dmytro Chibisov:  EUAM support is greatly appreciated and we hope it continues. The Czech Republic study visit was hugely influential for us – it made everything real. In fact, lessons we learnt during the study visit directly influenced our 'Concept on online electronic supervisory proceedings  '. What we really need now is support in implementing the Concept pilot project. Implementation of that is the next step. We are the first prosecutors' office in Ukraine to undertake such a pilot project and we hope to show the rest of the country its many benefits – for example, how police-prosecutor cooperation will be enhanced through development of an eCMS. Ultimately, we hope this pilot project will be replicated all over Ukraine. Equipment that we will need include powerful servers, and scanning systems. We will need the most modern of scanners because there are millions of documents that need to be scanned – it is no easy task but we are ready for it!