Mission Accomplishable? Only trusted institutions can make Ukraine secure and successful
March 28, 2017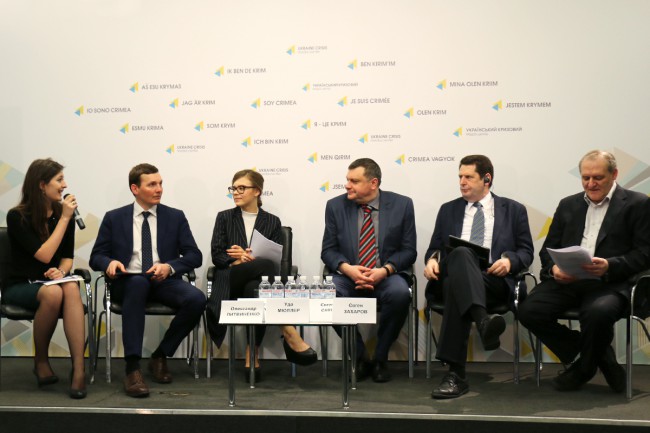 This op-ed by EUAM Head of Mission, Kestutis Lancinskas was originally published in  Evropeiska Pravda on 28 March 2017.

Last Thursday, shortly after a roundtable discussion hosted by Kateryna Zarembo of the Institute for World Policy (IWP) featuring the participation of the EU Advisory Mission Ukraine (EUAM) and some of its most important Ukrainian partners, I read with interest her article in Evropeiska Pravda with the headline 'Mission Accomplishable? Where the EU is getting it wrong in the reform of the security sector in Ukraine'.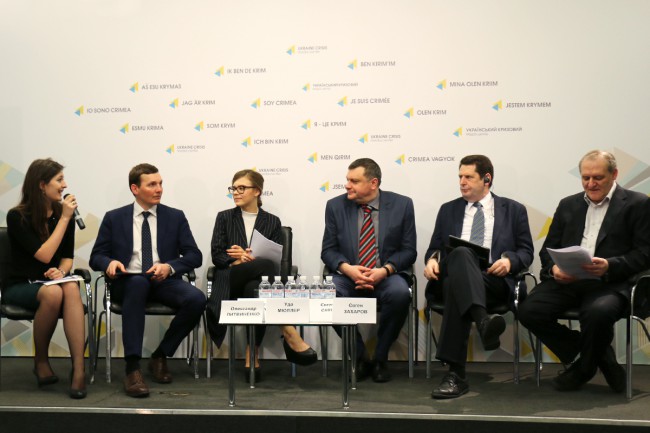 (left to right) Kateryna Zarembo, Deputy Head of World Police Institute; Dmytro Yenin, Deputy Prosecutor General; Anastasia Deeva, Deputy Minister of Internal Affairs; Oleksandr Lytvynenko, Deputy Head NDSC; Udo Moller, EUAM Head of Operations; Yevgen Zakharov, Kharkiv Human Rights Protection Group
The IWP has followed the work of EUAM very closely since the Mission was set up after the Euro Maidan to support Ukraine in building civilian security institutions that are efficient, accountable and enjoy the trust of the public. Recently, reports written by the IWP have noted the professionalism and expertise of our staff and also the responsiveness of our Mission to Ukrainian feedback in the first year of our operations. They have also been complimentary about our expanded mandate since the beginning of 2016, which has added training and technical support to complement our strategic advice and also provided for the opening of regional presences in Kharkiv and Lviv.
Despite the respect we have for IWP's work, when they state that the EU's approach to security reform is like trying to repair an aeroplane while it is being shot at and moreover states that EUAM is 'looking the other way' with regard to the conflict in eastern Ukraine, we believe this is not an entirely fair assessment.
EUAM's objective is to build civilian security institutions that will increase Ukraine's resilience to internal and external challenges. This is a strategic, long-term commitment to the future success of Ukraine. Any building needs strong foundations – we are helping to ensure that new and existing civilian security institutions are well equipped with these.
As anyone who followed the roundtable organised by IWP on Thursday will have observed, the work of the Mission is highly appreciated by our partners. This work is not just strategic advice, training and technical support. We also, as the Deputy Minister of the Interior Anastasia Deeva pointed out, play an important role coordinating the work of international donors in the civilian security sector, to reduce overlap and share expertise. Our approach is a holistic one, involving a range of different actors.
With regard to the point about EUAM 'looking the other way' as the conflict in eastern Ukraine continues to claim lives, it is worth pointing out that EUAM is only one tool in a set of EU measures designed to support Ukraine. The EU institutions and the Member States have contributed around €371 million in humanitarian and early recovery aid to the people of Ukraine to deal with consequences of the crisis in the east. Moreover, hundreds of infrastructure projects in eastern Ukraine are to be financed by a €200 million European Investment Bank loan. In-kind assistance has been provided through the EU Civil Protection Mechanism. This is not 'looking the other way'.
Ukraine is our neighbour, and the EU is unwavering in its commitment to a strong, deep and broad partnership with Ukraine. EUAM's objective is to help deliver reform of civilian security institutions at a strategic, central level and we support its implementation through our Regional Presences in Kharkiv and Lviv. As we see it, this is the most effective and sustainable way to support Ukraine's security long-term. And over time, we hope to convince the researchers at IWP of this too.
(left) Dmytro  Yenin, Deputy Prosecutor General and  Anastasia Deeva, Deputy Minister of Internal Affairs; (right)  Oleksandr Lytvynenko, Deputy Head NDSC and Udo Moller, EUAM Head of Operations;