Markus Mitterer (EUAM Investigation Expert): Fighting for Truth and Justice
July 22, 2022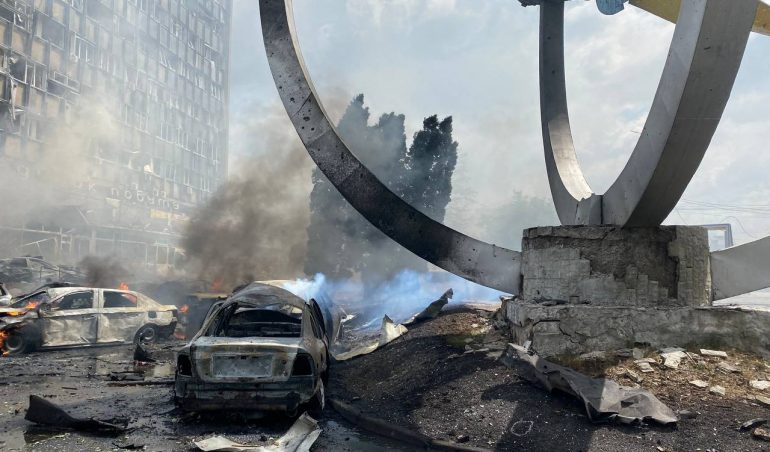 The EU Advisory Mission Ukraine (EUAM) supports Ukraine's efforts to investigate and prosecute International Crimes committed in the war. To better understand these efforts, we did a short Q&A with EUAM Senior Advisor on Criminal Investigations Markus Mitterer.
In a war for survival, truth and justice usually do not receive high priority as they offer little protection against artillery fire and genocidal army battalions. In Ukraine, however, the government has made truth, and justice part of the war as the Office of the Prosecutor General of Ukraine (OPG) seeks to prosecute international crimes committed during the war, even as the war is raging on. 
EUAM is supporting OPG in the overwhelming effort it takes to investigate and prosecute suspected international crimes while still at war. As Senior Advisor on Criminal Investigations at EUAM, Markus Mitterer is a focal point for EUAM's support. To get a closer understanding of how EUAM supports the ongoing investigations and where these investigations might lead, we conducted a short Q&A with Markus.
How does EUAM support investigations of international crimes in Ukraine?
Markus Mitterer: EUAM is supporting these investigations by providing training for prosecutors and investigators related to international crime investigations. We also advise on crime scene management, open source investigation, and forensics. On top of this training and advisory support, we also provide our Ukrainian partners with the equipment and materials needed to carry out these investigations.
It is my personal aim to provide the Ukrainian authorities with the proper tools and expertise to carry out these investigations and prosecutions successfully. Especially in crime scene management, forensics, collection and preservation of evidence, and prosecutorial advice, the EUAM has excellent experience and potential to support our Ukrainian partners.
Thousands of investigations into war crimes have already opened in Ukraine. How are they carried out while the war is still ongoing?
M.M.: These investigations are carried out in the regions by various Ukrainian law enforcement agencies tasked by OPG, who has the general oversight over these investigations. A prosecutor takes the lead in the individual investigation and instructs the law enforcement agencies accordingly. A team of investigators then conduct reports on their findings. Based on these reports, the indictment will be compiled.
How do these investigations differ from other investigations of international crimes in war zones?
M.M.: The main difference is that these investigations are actually carried out whilst the war is still ongoing, and the evidence is still fresh. In other warzones, these investigations were often started retrospectively after the war ended, often several years later, making it very difficult to find evidence, witnesses or to identify the perpetrators.
Ukrainian courts have already handed down the first sentences. Do you see any promises of making the prosecutions move faster in Ukraine compared to previous war crimes prosecutions?
M.M.: As mentioned before, even though these investigations have to be carried out thoroughly and meticulously, the investigations into these crimes have already started, and that's why some of these prosecutions are moving faster. Much progress will also depend on the right level of cooperation between law enforcement agencies and the prioritisation of investigations. Hopefully, we at EUAM will be able to support this process.