La Strada Ukraine: domestic violence is more than 'just a quarrel between two people'
June 01, 2020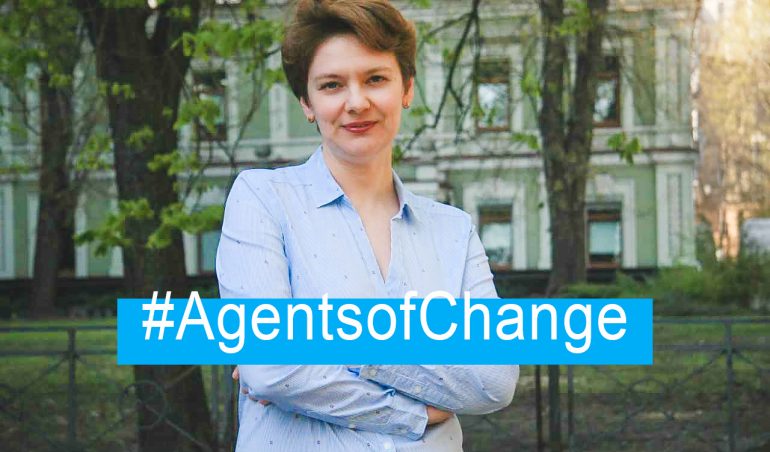 For the past 23 years, the La Strada-Ukraine NGO hotline has been assisting and counselling victims from gender-based violence and domestic violence in Ukraine. A member of the organisation since 1998, Ms Kateryna Cherepakha, now its Vice-President, shares her experience in social assistance and gives an overview of the situation of domestic abuse. The hotline has observed a 20% increase in phone calls since the start of the Covid-19 lockdown.

Kateryna started working in La Strada as a hotline consultant. The number was opened one day per week to lend victims of human trafficking an attentive ear. Over time, their hotline became national and toll-free; it then widened its scope to include key issues such as domestic violence (which now account for 96% of the calls) and gender discrimination. Today, it provides advice and social assistance on a 24/7 basis with 25 hotline consultants (social workers, psychologists) answering around 2,800 calls and messages per month.
From your perspective, what is the current situation with domestic abuse in Ukraine?
Kateryna Cherepakha: Initially, La Strada had a hotline dedicated to preventing human trafficking at the national level. Later on, we started receiving more and more calls for cases related to domestic violence. That's why we decided to extend the topics covered by the hotline.
When people are in the middle of a situation of domestic violence (whether long-term or sporadic), they can contact us in order to talk with a psychologist, a lawyer or a social worker, to get more information, consultation and support. It can also help them to make a decision, to explore further possible options and actions like contacting the police, applying to other institutions, or even eventually leaving home.
Over time, we saw that many questions were related to violence against children. So, a new component for children was created. We saw the necessity to divide our work into two hotlines: one for adults and one for children. Because we have many calls from children themselves, we needed to adapt to this audience and this need.
Compared to other countries, what areas of improvement do you see are needed for Ukraine?
K.C.: To a certain extent, the situation here is similar to many other countries. Generally, in the world, women are the most affected by domestic violence and gender-based violence cases. Ukraine is no exception. Nonetheless, compared to countries like Spain where domestic abuse has been criminalised for several years, Ukraine is a bit behind.
Those countries have already introduced legal norms and prohibiting orders to remove perpetrators and separate them from their victims in domestic abuse cases. If victims manage to escape, they have nowhere to go most of the time, especially during winter or at night. Now, domestic violence has been criminalised in Ukraine. Restraining and urgent orders have been implemented, so step by step, we are seeing some positive developments.
What could the main obstacles to eradicating domestic violence?
K.C.: The process is ongoing but we are not at the end of the journey. Unfortunately, Ukraine still lags behind in terms of mentality and understanding. Gender-based violence and discrimination remain an issue that cuts across the entirety of society, from the home to the workplace and in between. It takes time to transform our attitude.
In parallel, we also see a clear increase in some anti-gender initiatives: opposition to the ratification of the Istanbul Convention, signed by Ukraine in 2011, on preventing and combating violence against women and domestic violence, and opposition to different actions led by women's rights organisations and women activists. In many regions, attacks have occurred during the march for the International Women's Day (March 8) for example. They see women's rights as a threat to so-called "traditional" Ukrainian and family values.
With the quarantine measures due to the Covid-19 pandemic, has the situation become even more acute? 
K.C.: Here at La Strada, we do identify a rise in domestic violence cases with the quarantine restrictions. We have received more cases of people claiming that some police officers are not responding properly, for instance refusing to come because of the lockdown or because they had other priorities.
With the quarantine, victims of domestic violence and the abusers are staying at the same place 24/7. There is no chance to escape or sometimes to even find time to call for help. We had a case of a woman escaping from her home during the lockdown. We managed to find a shelter but not in the same little town she was living in. Without any public transportation, she had to pay herself for a taxi to get there, so it can be a very complicated and challenging situation.
Can you describe your work with the Ukrainian police on the domestic violence issue?
K.C.: Our goal is that the victims get as many channels to get assistance as possible (on the security aspect, on the advice, on the medical). If there is a situation of immediate danger or threat (if the abuser is aggressive or has a knife), the first place to call is, of course, the police. In such a situation, it is the police who will react. In some cases, we can also contact the police ourselves, for example when a child is in danger if there or a person is under serious threat, is unable to call and asks us to do it. But we need to know the address or other contact as we are not able to trace the calls.
Do you also collaborate with other law-enforcement agencies?
K.C.: Monitoring and advocacy is also a big part of our activity. Apart from operating these two hotlines, we have an education component. Since the beginning, La Strada has participated in developing different recommendations to improve the legal framework of women's rights, gender-based and domestic violence, or even child protection, and developing state programmes with working groups and discussions.
What would your message be for people who want to support your initiative?
K.C.: Very often, we hear that women are ok in Ukraine. We have women's rights, we have gender equality, legislation and procedures in place to regulate formally these issues. But it is also important to understand that some gender biases influence the practical implementation of good legislation. Are there enough shelters for victims of domestic violence? Can those victims access easily the assistance services? Are domestic violence cases addressed properly? Are the abusers really punished at the end of the judiciary process?
Even in countries where it is criminalised, domestic violence is still a big issue with women being the most affected group. It is very important to directly address gender equality, the importance of women movements and the seriousness of the domestic violence issue – that it is not just a simple quarrel between two people. This should require proper attention from the authorities but also from society itself. Public opinion is key to solving issues like domestic violence at the community level.
With domestic violence, it is important to adopt a zero-tolerance approach. If every case of gender violence is reported, and victims can freely discuss their experience without being ashamed, we would see more investigation.
*The views expressed here are the interviewee's alone and do not necessarily reflect the position of EUAM.
National Toll-Free Hotline on Prevention Domestic Violence, Trafficking and Gender Discrimination 0 800 500 335 or 116 123 (for mobile calls)
National Child Toll-Free Hotline 0 800 500 225 or 116 111 (for mobile calls)