Kyiv Conference debates successes and challenges for prosecution self-governance bodies
July 12, 2018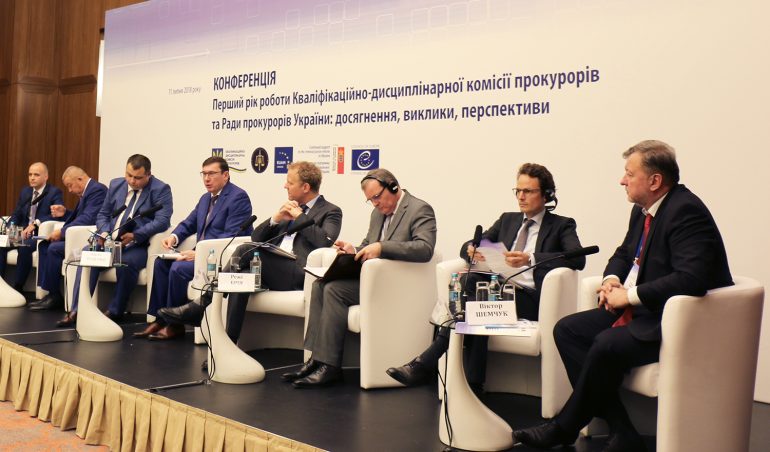 A year after Ukraine set up new, independent institutions that manage discipline and career management for the prosecution services of Ukraine, a conference in Kyiv on 11 July took stock of the past year and discussed the way ahead. The conference was organised by the EU Advisory Mission Ukraine and the Council of Europe Project "Continued support to the criminal justice reform in Ukraine" and brought together leading Ukrainian and international experts and stakeholders in prosecutorial reform, including the Prosecutor General of Ukraine, Yuriy Lutsenko and the Deputy Chairman of the Verkhovna Rada Committee on Legislative Support of Law Enforcement, Mykola Palamarchuk.
"The launch of the Council of Prosecutors and Qualification and Disciplinary Commission of Prosecutors last year was a landmark for Ukraine's prosecution system," said EUAM Deputy Head of Mission Fredrik Wesslau. "The new structure represents a significant step in supporting prosecutorial independence, ensuring transparency whenever prosecutors are selected or transferred to a new position and promoting fair conduct during disciplinary cases. Going forward, it will be important to strengthen capacity in these new bodies".
"Both the Commission and the Council are new institutions within the justice sector", said Marten Enberg, Head of the Council of Europe Office in Ukraine. "It is of paramount importance that these institutions gain public confidence from the very beginning of their operation. Transparency, accountability and professionalism are among key elements for achieving the public trust".
Some of the main themes of discussion at the conference were how to strengthen the guarantees for the independence and effectiveness of the new self-governing bodies and how to increase the attractiveness of a career as a prosecutor in Ukraine. Creating a fairer and more transparent system to evaluate candidates was discussed as well legislative improvements to vetting procedures. There was a focus on the importance of training, both at the beginning of a career, and as a career develops.
A key aspect of the conference was discussing how disciplinary proceedings can be made more efficient and also more compliant with the Council of Europe's requirements, for example in terms of impartiality and the right to an appeal.  In its first year of operations, the Qualification and Disciplinary Commission of Prosecutors (QDCP) received 2046 disciplinary complaints.
The question of the oversight mechanisms for the newly created institutions was also raised. "There is no professional oversight over the activities of the QDCP," noted the General Prosecutor of Ukraine, Yurii Lutsenko. "I would like to note that similar bodies, for example the High Qualification Commission of Judges or the Ukrainian National Bar Association report to bodies that oversee them. The QDCP does not have such an obligation. In my view, this is a significant flaw."