MoIA continues to lead way in customer service with unveiling of manual and online course
February 19, 2018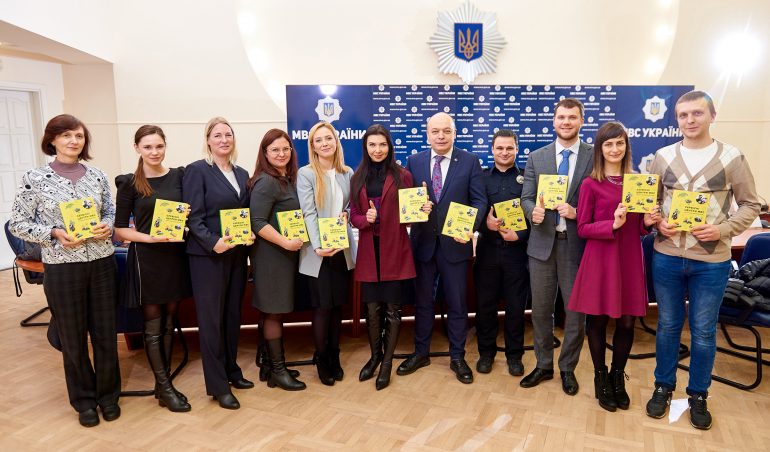 The Ministry of Internal Affairs of Ukraine (MoIA) has unveiled a Manual on Effective Communication that was developed jointly with the EU Advisory Mission (EUAM) and which will be used by staff at MoIA administrative service centres countrywide. As part of the same initiative, an online training course for 153 front-office MoIA staff has been developed. Both the manual and online course are part of EUAM's continuing engagement with MoIA Service Centres to help staff provide a better service to the public, with a particular focus on communication.
"The MoIA service centres are the public face of the Ministry – almost every citizen will have to go at some point for services such as registering a new car, or applying for a driver's licence. As such, ensuring that staff in the centres are good communicators and are able to deal with stressful situations is extremely important. The progress they have made is a good example for all public institutions in Ukraine," said Siv-Katrine Leirtroe, EUAM Senior Adviser on Public Administration.
Titled 'Standards of communication with clients of the MoIA Service Centres', the manual will act as a reference document for staff at MoIA service centres. It includes example dialogues with clients and frequently asked questions as well as information on the legislative framework of service delivery and advice on effective communication. Two thousand two hundred copies have now been printed and distributed to all regions of Ukraine. The online training course endeavours to further improve the professionalism of front-office staff.
On Friday 16 February, MoIA Deputy Minister Tetyana Kovalchuk and Head of the MoIA Head Service Centres Vladyslav Kriklii were joined by the Head of EUAM, Kestutis Lancinskas, for a demonstration of the manual. On Monday 19 January 2018, the Head of the MoIA Head Service Centres Vladyslav Kriklii were joined by the EUAM Head of Operations, Udo Mueller for the presentation of the Online Training Course for the Front-Office Staff in the MoIA Territorial Service Centres. 
This latest support for MoIA's Service Centres comes following the completion of a comprehensive training programme across Ukraine's 24 oblasts. A set of specific communications standards for the service centres was also established. When a call-centre for public enquiries was set up by the MoIA Head Service Centre, EUAM financed a communications campaign to raise public awareness of the new service.