Lynn Sheehan: We all have to be more focused, committed and adaptable in terms of the advice and assistance that we provide to our Ukrainian partners
December 30, 2022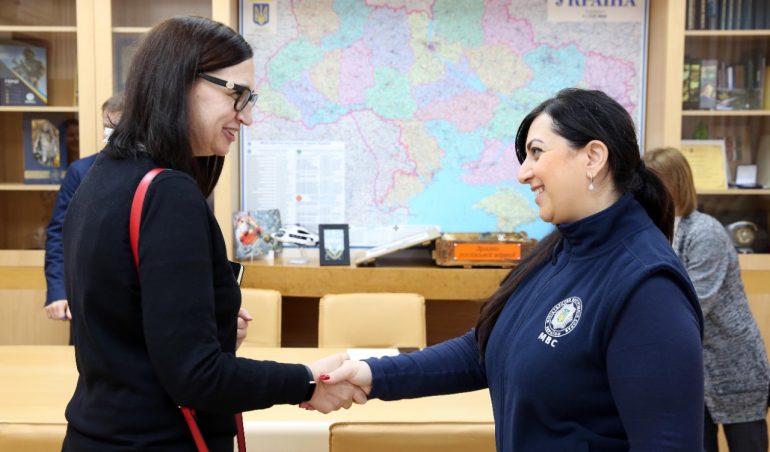 An interview with Lynn Sheehan, EUAM Head of Operations
The full-scale Russian invasion of Ukraine in February has changed a lot. The EU Advisory Mission to Ukraine (EUAM) was forced to evacuate its personnel, but continued to provide support to its Ukrainian partners on the ground, demonstrating commitment, flexibility and adaptability. Now that the Mission has fully returned to Ukraine and we head into 2023, we sit together with Lynn Sheehan, who joined the Mission as the new Head of Operations in October, to talk about recent developments at EUAM, as well as her personal goals and motivation.
This is your second time with EUAM. What motivated you to come back to EUAM and Ukraine – a country at war?
I worked in Ukraine in the past, having served as Deputy Head of Operations for 3.5 years from 2016 to 2020. When the full-scale invasion happened in February, and much of the world got behind Ukraine, I felt that maybe I could contribute, similar to others around the world.  I was particularly motivated given that I understand the history behind the development of the law enforcement sector in Ukraine and, therefore, I felt ready to apply to lead the Operations Department at the Mission.
However, the real motivation behind my application was to have the opportunity to stand with and support, in some small way, our Ukrainian counterparts who are on the ground serving the citizens of Ukraine.  Therefore, I decided that I wanted to return to this remarkable, resilient country and the friends and colleagues that I had met in Ukraine during my past service. 
I believe that if you work here you have to accept the risk, similar to the Ukrainian people across the country.  Living in Kyiv can be challenging – sometimes there is no water, no electricity, sometimes there are air raid sirens and missiles and drones – but the Ukrainian spirit which I have always admired is still very much "alive and well" and I find that very inspirational and empowering.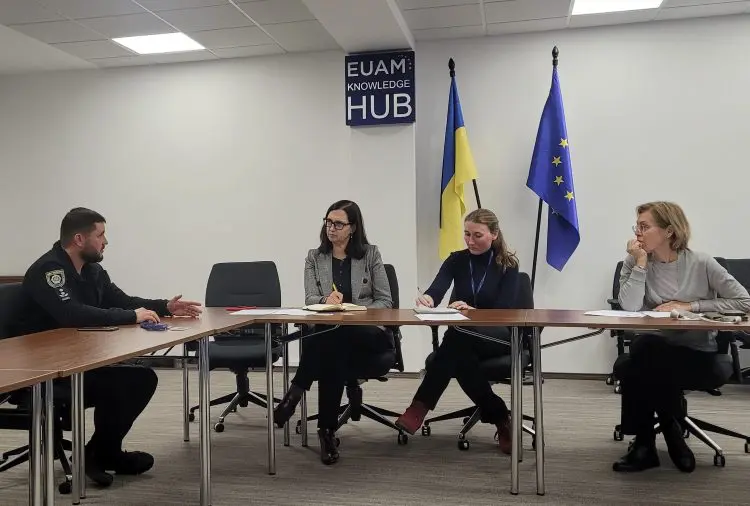 Returning here after 3 years, do you see any changes in the Mission? How is (re-)establishing contact with the partners going?
Indeed, the Mission has gone through some changes but the "original" mandate of civilian security sector reform remains and we continue to advise and support the full range of law enforcement agencies, including the National Police, the State Border Guard Service, the Office of the Prosecutor General, the State Bureau of Investigations and the security/intelligence agencies.  We are also supporting the Ukrainian authorities in the development of a draft overarching strategic plan for the reform of the entire law enforcement sector as part of the requirements in the EU Commission Opinion on Ukraine's EU Candidate Status.  The decision to grant EU candidate status to Ukraine back in June means that we need to see the reform process through this new lens.
Accordingly, we are focused on supporting Ukraine in building its resilience during wartime but we are also very alert to the requirements for Ukraine in the law enforcement sector in terms of EU candidacy.  Since the full-scale invasion in February, we have adjusted our mandate to pivot towards border support activities/Solidarity Lanes and advice to the Office of the Prosecutor General/law enforcement agencies on international crimes.  In fact, one of the priorities that has really come into focus is international crimes and, as a lawyer, this is an area where I can help to adapt the Mission mandate.  However, it is also useful for me that I worked with Udo Moller who was Head of Operations until earlier this year – I can continue with what he was doing, particularly when it comes to supporting the NPU and policing initiatives.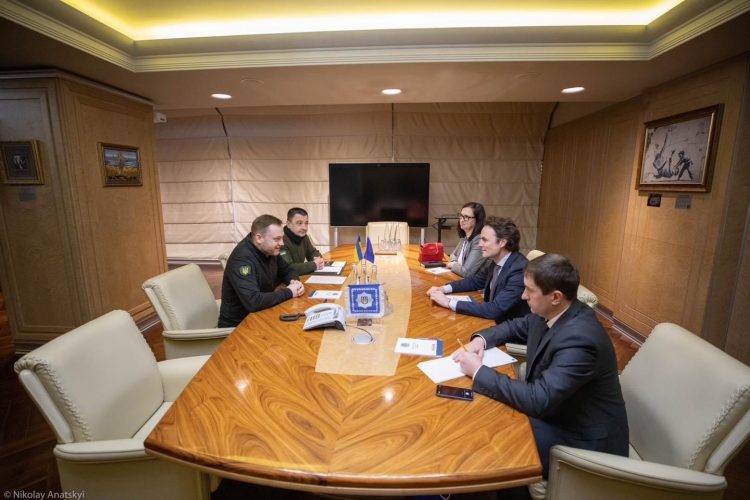 In terms of EUAM's counterparts, in the past, I have worked with the Minister and Deputy Minister of Internal Affairs when they were serving in other capacities and I have had the privilege of meeting with them again since my return to Kyiv in October.  I also visited Dnipro in November and had the opportunity to meet with many of our counterparts, including those who have been relocated from Donetsk and Luhansk – it was excellent to be able to speak with them about their adjusted priorities and how we could help and support them during these incredibly dark times.  Again, the Ukrainian spirit was very evident to me during my visit to Dnipro and I can only admire and hope to support it.
There are some new faces at the Office of the Prosecutor General and we are continuing our close cooperation with them and with the War Crimes Unit/regional war crimes offices across the country.  Together with international partners in the Atrocity Crimes Advisory Group, we recently co-organised a workshop to discuss the draft Strategic and Operational Approach to War Crimes Investigations and, again, the commitment and energy of Ukrainian counterparts was evident. 
During all of my interactions with counterparts and partners, I see that Ukraine's EU candidate status changes the landscape somewhat – it is different in terms of perspective and vision for the future and, at the Mission, we are all very committed to supporting this path.
What do think about the future of EUAM, especially in light of the ongoing Strategic Assessment in Brussels?
We are currently undergoing a strategic assessment of our Mission and we expect that the 27 EU Member States will provide us with an adjusted perspective for the coming year.  However, we do not anticipate that our core mandate will change and we expect that we will continue to support our partners in terms of civilian security sector reform but that we will also be able to support them to build resilience during these difficult times.  Having met with counterparts across the country (Lviv, Dnipro and Kyiv) since my return in October I can see that the motivation of our Ukrainian counterparts is very high and we, at the Mission, will do everything we can to support them.  Even though these are dark times, it is incredible for us to work with partners whose commitment and resolve never waivers.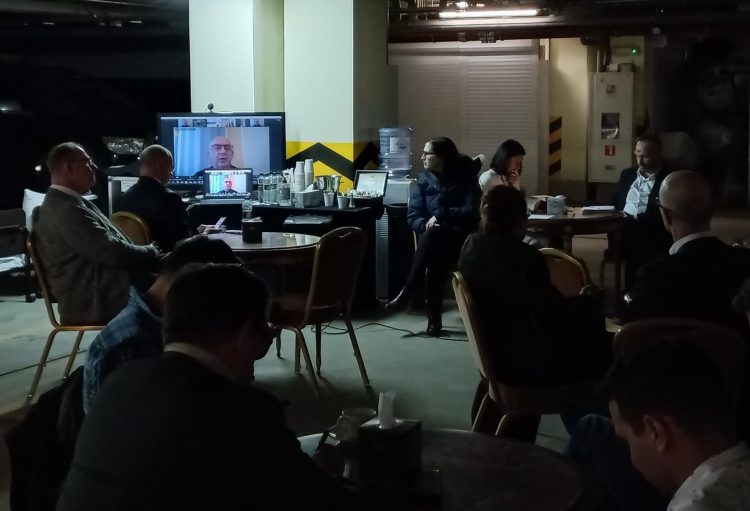 How would you describe the team that you have at EUAM? What challenges do you see in running the Mission's Operations?
We have a very good team at EUAM which is focused and dedicated – we have approximately 300 mission members in Kyiv, Odesa and Lviv and we also have a mobile team which is currently based in Chernivtsi.  Mission personnel want to make a contribution and we all have a clear vision of the progress we would like to achieve. It is challenging, but everybody acknowledges this and continues to be committed to our common goal.  We have experts on policing, governance, rule of law, organized crime, international crimes, intelligence, state security, IBM, border support, anti-corruption, gender, human rights and digitalization and they are all ready to contribute to achieving our common vision for the future.
It is, of course, more difficult in times like these, because of security requirements and risks.  Relationships with Ukrainian counterparts are also different. Everybody, both EUAM and our Ukrainian counterparts, need to be more efficient, more focused and result oriented. We have to explain exactly what we can provide and the Ukrainian counterparts have to tell us exactly what they need. There has to be a real impact in terms of the support that we provide and our Head of Mission is very committed to ensuring impact on the ground.  It is a privilege to be involved in this endeavor with my EUAM colleagues and especially with our Ukrainian partners.
How about your personal goals?
My own goal is to work hard to ensure that we at EUAM deliver results and impact for our Ukrainian partners and that I learn from their commitment, perseverance and uniquely Ukrainian spirit.  To pick up on a recent theme which was referred to by the President of Ukraine, we need to invest together in security and democracy for the future.
Slava Ukraini!