Providing first-aid kits to Ukrainian law enforcement
September 08, 2022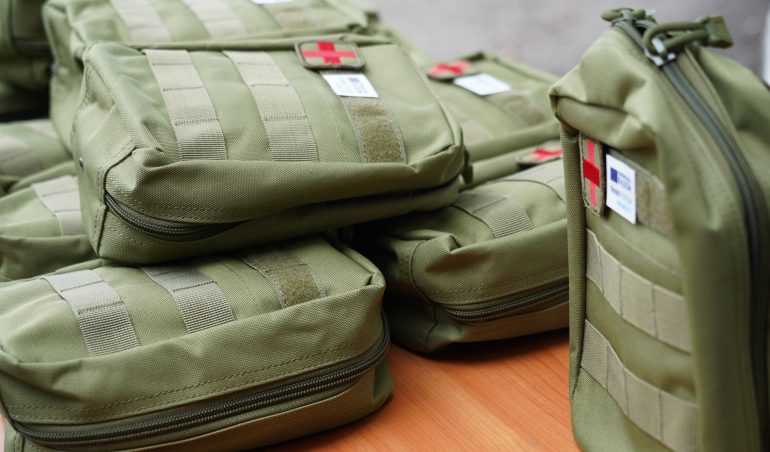 The EU-funded PRAVO Police Programme implemented by UNOPS in close cooperation with EUAM Ukraine delivered 13,500 NATO-standard Individual First Aid Kits (IFAKs) to Ukrainian law enforcement agencies, including the National Police of Ukraine, the State Border Guard Service of Ukraine, the State Bureau of Investigations, and the Prosecutor General's Office. The total value of the donated items was over EUR 880,000.
Following Russia's brutal invasion, Ukrainian police officers, border guards, detectives, and prosecutors now have to work in high-risk environments, where there is a significant risk of them being wounded as they perform their duties. They also provide assistance to civilians in war-affected areas. In all of these contexts, they may find themselves in situations where first aid will need to be administered to them, their colleagues, or members of the public. An IFAK compliant with international standards that the officers have been trained to use is an indispensable life-saving toolkit. Equipping each officer with one has been outlined as a priority by Ukrainian authorities.
"We commend Ukraine's remarkable courage and resilience in the face of Russia's brutal war of aggression", said Fredrik Wesslau, Acting Head of the EU Advisory Mission. "Ukraine's law enforcement officers are among those brave defenders who fight for the future, freedom, and independence of their country, risking their lives and protecting the lives of others. It is essential for them to be able to administer first aid to themselves, their fellow service members, and citizens before professional medical care arrives. Properly given first aid can be lifesaving."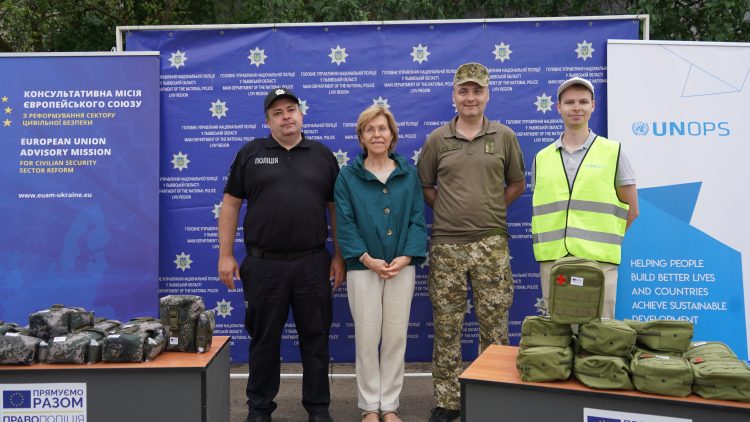 The handover continues the string of emergency deliveries under PRAVO Police providing Ukrainian rule of law agencies with various types of equipment and supplies worth around €8,000,000.
"There is nothing more valuable than human life, and we are committed to doing everything we can to save the lives of Ukrainians," said Xavier Camus, Head of the Good Governance and Democratisation section at the EU Delegation to Ukraine. "Ukraine's law enforcement officers are upholding the rule of law in an incredibly volatile environment, putting their lives at risk, so providing them with the tools they need to be able to minimise the harm to themselves and the communities they serve is a natural step for us."
"Thanks to emergency procurement procedures, we have covered the whole process from sourcing these items to handing them over in a matter of weeks," noted Elisa Dandria, UNOPS PRAVO Police Acting Programme Manager. "We are proud to be providing equipment that can save lives and being a trusted partner for both Ukraine and the EU. We will do our best to provide relevant support and keep building better lives, despite the challenging circumstances."
The largest portion of IFAKs, 6750 units, is intended for the State Border Guard Service of Ukraine. Speaking on the day the SBGSU received its part of the donation, medical service major Ruslan Sobolevskyi who represents of the border guard service's medical centres, said: "These first aid kits are crucial for our servicemen on the battlefield – they represent the first line of help to a wounded person. Their contents can be used to stop bleeding and stabilise the patient, preventing loss of life. Our officers are rigorously trained in using these kits, and they will be well positioned to administer aid to whoever needs it."
His colleague, medical service captain Bohdan Nadiuk, Head of the Healthcare Sector at the Western Regional SBGSU Office, added: "We are incredibly grateful to our international partners for the provision of first aid kits. I cannot overstate the importance of identical equipment on the battlefield – our officers will be certain that they are all using the same items, and their training is going to be much more efficient. This is not the first delivery we are receiving from PRAVO Police, and we hope for continued cooperation in the future."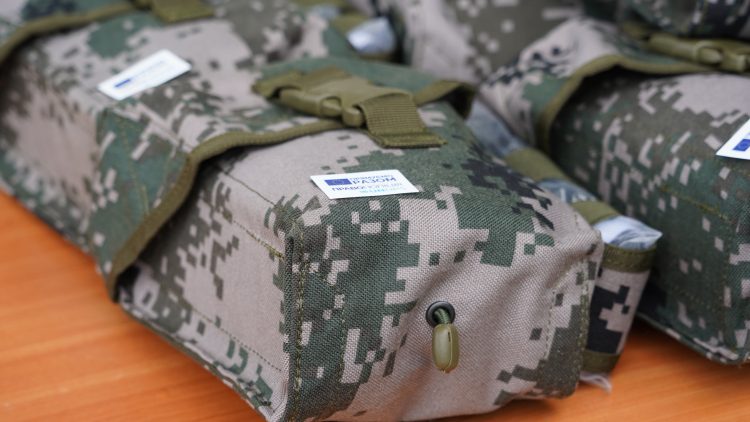 Background information:
The equipment was procured within the programme "Support for Rule of Law Reforms in Ukraine in the Areas of Police and Public Prosecution and Good Governance" (PRAVO Police) funded by the EU and implemented by UNOPS in close coordination with the EU Advisory Mission (EUAM) Ukraine. The overall objective of the programme is to contribute to promoting rule of law in Ukraine and to aligning law-enforcement agencies functioning with the best EU and international practices. PRAVO Police provided Ukrainian rule of law agencies with expert support, specialised training in a range of topics, as well as specialised forensic and personal protection equipment, means of transportation, ICT equipment, solutions, and systems. Following the Russian Federation's invasion of Ukraine, PRAVO Police was reprogrammed to provide emergency assistance to rule of law institutions and support them in continuing to exercise their mandates of providing safety and security to the Ukrainian people. To this end, Ukrainian law enforcement agencies received essential means of transportation and communication as well as personal protective items worth over EUR 8,000,000 in the several months following 24 February 2022.