Leading Ukrainian law enforcement officials discuss successes and challenges of civilian security sector reform at EUAM conference
May 23, 2019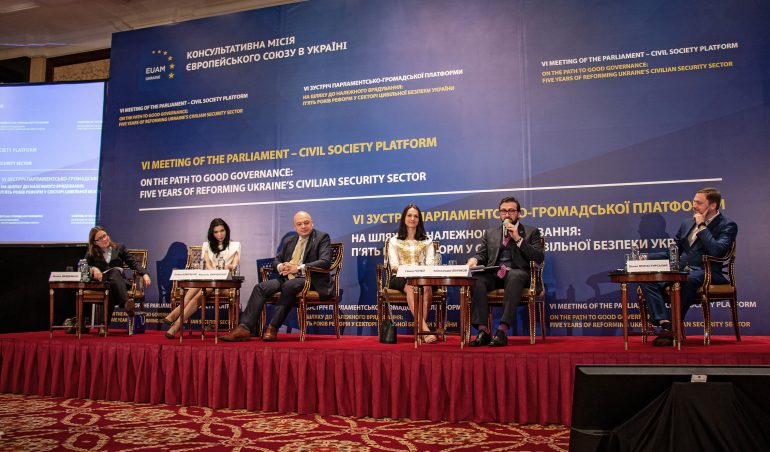 The Parliament-Civil Society Platform organised for the sixth time by the EU Advisory Mission Ukraine (EUAM) on 23 May 2019 brought together some of the leading Ukrainian officials responsible for law enforcement and rule of law reform in Ukraine, MPs, high ranking international diplomats and representatives of civil society for a day of wide ranging discussions on the state of play for civilian security sector reform in Ukraine. The overall aim of the Platform was to find an answer to a key question: what are the main successes and challenges of the reform process in the civilian security sector, and how can it be improved, based on best practices and lessons learned?
"There are numerous challenges that continue to hinder the reform of the civilian security sector, such as unwillingness and resistance to change, gaps in legislation, insufficient funding, unsatisfactory professional standards, lack of coordination between agencies, and the prevalence of corruption," said the Head of the EU Advisory Mission Ukraine Kęstutis Lančinskas. "Over the next five years, it will be important to ensure that there is sufficient political will to guarantee the implementation of the strategic vision that has already been set out. Changing not only organisational structures but also mind-sets is a process that requires a long-term perspective".
The conference focused on three main topics. The first was a discussion of the implications of the Law on National Security, passed last year, and the reform of the Security Service of Ukraine (SSU). The international community has been clear that the SSU's work would be strengthened by a focus on the core competences of counter-intelligence, counter-terrorism and protections of state secrets in line with best practice in democratic countries.
The second topic for discussion was the current structures for investigating serious crime and in particular, the role of the newly created State Bureau of Investigation. The third topic focused on the criminal justice system in particular ways to increase effectiveness of pre-trial investigation bodies, prosecutorial independence and enhanced cooperation between different criminal justice agencies.
Among guests attending the event were the DeputyMinister of Internal Affairs of Ukraine Tetyana Kovalchuk, the Chairperson of the Verkhovna Rada Committee on Foreign Affairs Hanna Hopko, the Head of the NATO Liaison Office in Ukraine Alexander Vinnikov, experts and representatives of civil society.