Support for the formation of Ukraine's new Supreme Court discussed with international donors at EUAM Headquarters
November 07, 2016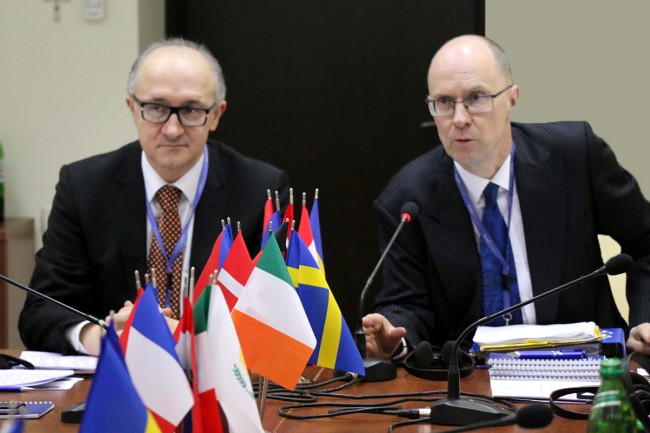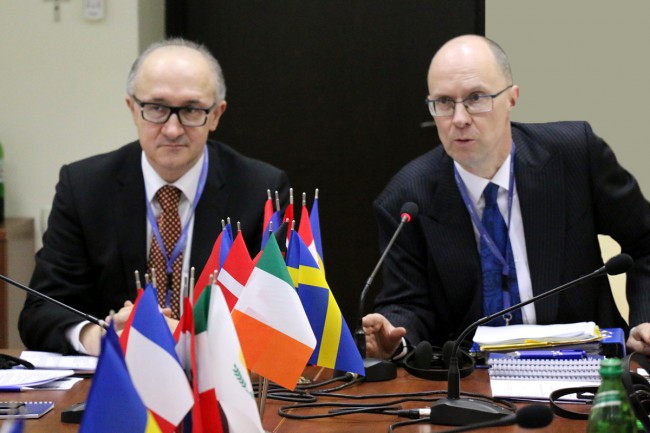 Sergii Koziakov, Chairman of the HQCJ and John Cubbon, EUAM Senior Adviser on Judiciary
The EU Advisory Mission Ukraine (EUAM) hosted a meeting today with the High Qualification Commission of Judges of Ukraine (HQCJ) at EUAM Headquarters in Kyiv for international donors to discuss the formation of Ukraine's new Supreme Court.
At the heart of discussions were the requirements laid down in Ukrainian legislation adopted on 2 June 2016, requiring judges to be appointed to a new Supreme Court by 31 March 2017. The HQCJ is preparing a competition for the selection of judges to the new court and a number of international agencies will provide support for the process.
Sergii Koziakov, Chairman of the HQCJ, said that great progress had been made and he thanked the international bodies present for their contribution. He outlined the areas where international experts could provide further support for the competition to select judges. These areas include the preparation of multiple-choice questions and an automated system for document workflow.
"Today's meeting helped all of the stakeholders involved in this complicated process to get a better idea of how each can contribute to the formation of the new Supreme Court," said John Cubbon, EUAM Senior Adviser on Judiciary. "The next few months will be crucial."
Today's meeting follows an earlier coordination meeting hosted by the HQCJ on 8 July 2016 and an information sharing meeting of international agencies organised by EUAM on 22 September. Representatives of the following institutions attended today's meeting: Council for Judicial Reform of Ukraine, EU Delegation in Ukraine, EU Project "Support to Justice Sector Reforms in Ukraine", Council of Europe, USAID Nove Pravosuddya Justice Sector Reform Program, International Development Law Organisation, OSCE Project Coordinator in Ukraine, Canadian Embassy, National Judicial Institute of Canada, Strategic Advisory Group Supporting Ukraine Reforms, Norwegian Embassy and the Norwegian Mission of Rule of Law Advisers to Ukraine.