Police middle managers from six districts and stations in the Kyiv region complete EUAM leadership training
January 26, 2017


(on the left) NAIA Rector Volodymyr Cherniei with EUAM Head Kęstutis Lančinskas, (on the right) Participants in the training
Twenty-eight middle managers from the National Police of Ukraine received certificates yesterday at the National Academy of Internal Affairs (NAIA) to mark the completion of a course in leadership delivered by experts from the EU Advisory Mission Ukraine (EUAM). The certificates were presented by the Head of EUAM Kęstutis Lančinskas and the Rector of the NAIA Volodymyr Cherniei.
The course focused on how to create an efficient organisational culture within police stations, build trust between management and staff within the police, delineate tasks and fight corruption.
Addressing the group of graduates, the Head of EUAM outlined his view on the key attributes of a leader, including avoiding confrontation, showing a good example, displaying a human side, being a good listener, being adaptable to changing circumstances and trusting and understanding subordinates. "Good leaders are rare," he concluded, "and if we are not the best leaders, we can always become better."
The course forms part of EUAM's efforts to establish model police stations in the Kyiv region and forms part of a comprehensive training package, which is planned for the upcoming months. The participants were selected from six districts and stations in the Kyiv region – Brovary, Boryspil, Boryspil Airport, Vyshhorod, Kyiv-Sviatoshyn, Obuhiv.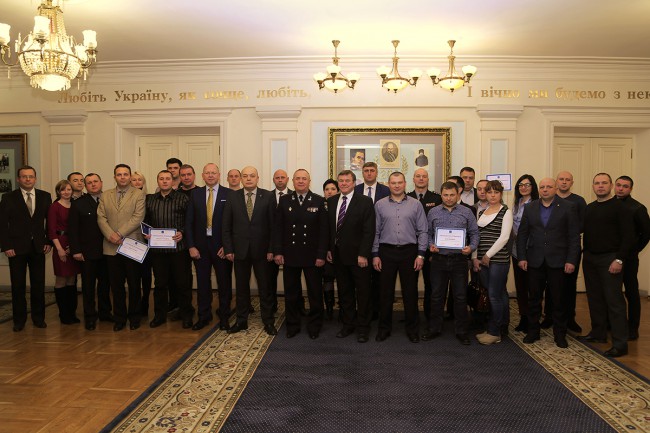 NAIA Rector Volodymyr Cherniei, EUAM Head Kęstutis Lančinskas, trainers and students