OSCE Project Co-ordinator and EUAM join efforts in supporting Ukraine's police and justice reforms
August 11, 2015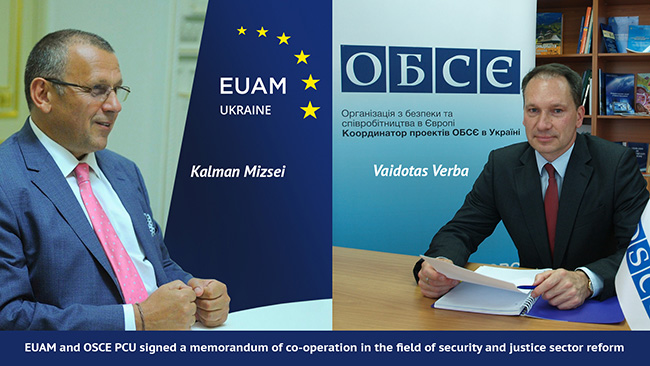 KYIV, 11 August 2015 – Ambassador Vaidotas Verba, the OSCE Project Co-ordinator in Ukraine, and Kalman Mizsei, Head of the EU Advisory Mission for Civilian Security Sector Reform Ukraine (EUAM Ukraine), signed a memorandum of co-operation to support Ukraine in the fields of security and justice sector reform.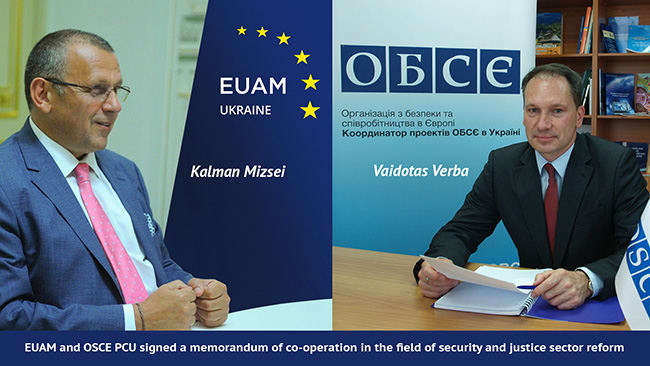 The document formalizes agreements to support Ukraine in ensuring legislative and governance reforms are transparent and inclusive; judicial reforms are in line with international standards and best practice; and that police reforms are comprehensive and enjoy public support.
To that end the two sides, among other things, agreed to regularly exchange information; organize joint events, including training courses and information campaigns; and to co-operate in developing and implementing programs for sustainable institutional and capacity building in security and justice sector reform.
"Jointly we can do more to help Ukrainians in building a professional and human rights-oriented law enforcement system, and transparent and effective justice," said Ambassador Vaidotas Verba, the OSCE Project Co-ordinator in Ukraine. "The OSCE's experience in developing educational and training capacities in those areas reinforce the EUAM's expertise in providing a strategic advice for reforms and institutional development."
"For us, OSCE Project Co-ordinator in Ukraine is a natural partner. Our partnership has been built on the positive experience of work from the past year", said Kalman Mizsei, the Head of EUAM. "Our joint efforts will work towards building up the sustainable Ukrainian security services delivering the rule of law and law enforcement, enhancing their legitimacy in all areas and communities of Ukraine and thus in increasing public confidence and trust, in full respect for human rights," added the Head of EUAM.
Background
The OSCE Project Co-ordinator in Ukraine was established in 1999 to plan, implement and monitor projects to help the country enhance its security and stability, develop its legislation, institutions, and practices in line with democratic standards. The goal is to support the country in adapting legislation, structures, and processes to the requirements of a modern democracy built on a secure environment for its people. The projects are planned in response to requests by Ukrainian partners, including governmental and non-governmental institutions.
EUAM is an unarmed, non-executive civilian mission with an initial mandate of two years. The Mission aims to strengthen and support the reform of the civilian security sector in Ukraine and thus contributes to the planning and implementation of those reforms. EUAM was deployed in Ukraine by the deсision of the EU Council on July 22, 2014 on the invitation of the Ukrainian government to support, advise and mentor the relevant Ukrainian state agencies on civilian security sector reform, including rule of law and law enforcement.