On the way to optimized court rulings: EUAM supports 100 Ukrainian judges by sharing best international practices
October 25, 2022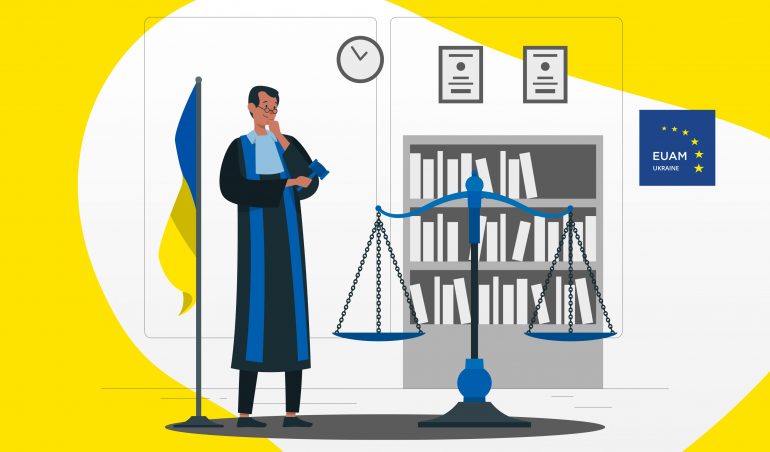 On 21 October 2022, more than 100 Ukrainian local court judges and their assistants participated in the online seminar on judicial discretion organized jointly by the EU Advisory Mission Ukraine (EUAM) and the National School of Judges of Ukraine (NSJ). During the event, the participants learned how discretion in the court could help get more transparent, efficient, and fair court decisions.
The legal dictionary defines judicial discretion as "the power or right to make official decisions using reason and judgment to choose from among acceptable alternatives". In simple wording, a judge's right to decide the measure of punishment for the defendant.
International experience matters
Judges from the United Kingdom and Sweden attended the seminar as lecturers. They shared their own experiences on the challenges and advantages of judge discretion usage. "In West Africa, the judges had a broad right to use discretion," told Peter Birkett, retired judge from the UK, "but this led to injustice, which was found everywhere in that region". To illustrate this, he told a story about a poor man who had stolen a chicken to feed his children and was imprisoned for three years. At the same time, an accountant with a high income who had stolen more than $75,000 got only a conditional sentence.
The Swedish judge underlined that the court everywhere in the world must "take into account everyone's equality before the law and observe objectivity and impartiality". 
The National School of Judges is a leading expert
The lecturers from the NSJ explained the recent developments in Ukrainian legislation on discretion. Furthermore, they advised on how to use this right accordingly to the principles of the rule of law. Several current court cases were analysed during the Q&A session for Ukrainian judges to understand how judicial discretion works in complicated cases. 
EUAM supports the capacity building and resilience of the judicial system of Ukraine, which faces unprecedented challenges during wartime. The close cooperation of EUAM and NSJ will be continued in the future for the Ukrainian court system to become more aligned with those of EU Member States in line with best international practices.