Kęstutis Lančinskas: "I am very honoured to be working with my Ukrainian colleagues on reforms"
February 02, 2016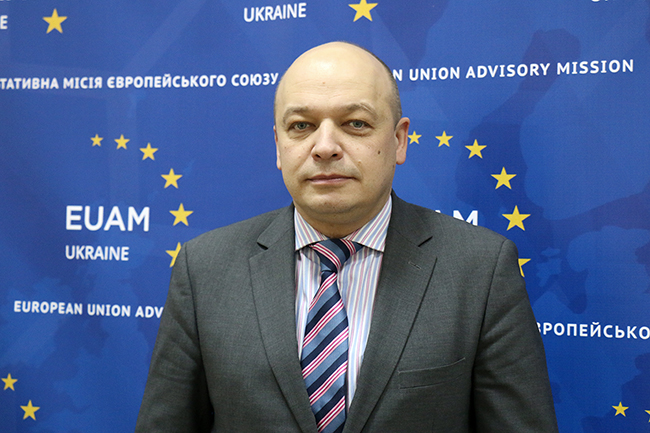 Kestutis Lancinskas joins EUAM as the Missions´ new head after seven years as the Head of the Vilnius County Police in his home country, Lithuania. Here, he shares a few thoughts about the new job:
You spent almost two decades at a senior level in the police in Lithuania. What kinds of similarities do you see with the new job? What kinds of differences?
During my police career I was responsible for overseeing many of the reforms that needed to be made in the areas of law enforcement and the rule of law before Lithuania joined the EU and the Schengen area. Many of the reforms would have been necessary even if Lithuania had never joined the EU – mostly they were about implementing best practice. We always had talented police officers, but the reforms were a win-win process, which ultimately resulted in a more modern, better equipped police force. Im honoured and delighted that Ill be working with Ukrainians on their reforms. They are unique to Ukraine, but if carried out correctly should eventually lead to a police force which enjoys high levels of public trust and where untapped talent can shine.

Of course, on a day to day level, the work will be very different. My work as Head of the Vilnius Police was very much focused on operational activities – of the 10,000 police officers in the whole of LIthuania, 3,000 were under my command in Vilnius and we covered the whole range of police activities. At EUAM my responsibilities are more advisory than operational. There are some very experienced international staff here who Im very much looking forward to working with.

It's not always clear what the term 'Civilian Security Sector Reform' means if you are not an expert. How would you explain to a non-specialist Ukrainian what it is and why it's important?
The exact definition of civilian security sector differs in each country, but the underlying purpose is always the same; serving the public and serving the country. Thus the police should maintain public order and security for the public, the judicial process and investigations should be fair etc. Trust is the basis of security in the widest sense of the word.

EUAM recently strengthened its mandate – what will this mean in practice?
The new mandate isnt too different from the previous one — its an evolution which will build on past successes and lay the foundations for even stronger cooperation with our Ukrainian counterparts in future. The new mandate lays more emphasis on operations — i.e. EUAM will be providing more training and enhancing its presence in the regions.
'Reform' is a word that has created great optimism in Ukraine, but also at times great disappointment when expectations are not met. What would you say to Ukrainians who feel let down by reform?
I would only say two words – have patience. We say in Lithuania that you can learn from other peoples mistakes, but only your own will really teach you. A lot has been done in the past two years and while there is still a lot to do, Ukraines friends will stand by it as it works towards lasting reform.
Tell us a bit about what you like doing when you're not at work?
I love cycling, and once the weather gets better, I hope that Ill have some time to get on a bike and explore the Ukrainian countryside. My favourite activity though is spending time with my family. My two daughters are already quite independent, but Im still their dad. Family time is particularly special my mothers house in my home town – its the place where I feel I can truly relax.