Integrity and human resources top priorities for SBGS, says Deineko at first meeting with Head of EUAM
August 01, 2019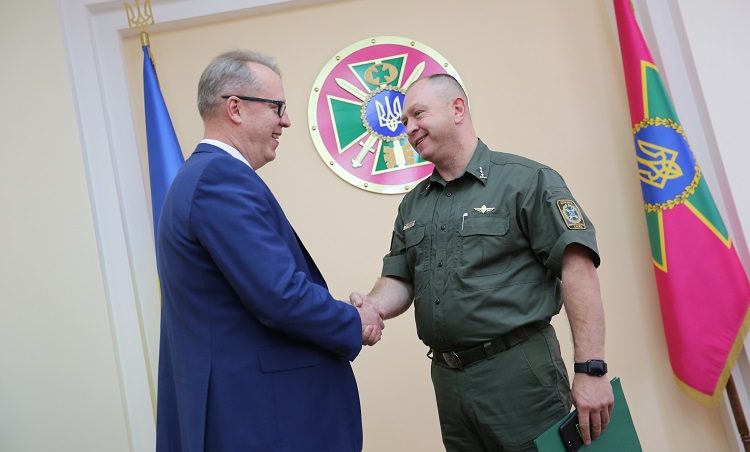 A week after the adoption by Ukraine of its Integrated Border Management (IBM) Strategy 2020-25, the Head of the European Union Advisory Mission (EUAM), Antti Hartikainen, and the Head of the State Border Guard Service of Ukraine (SBGS), Serhii Deineko, today discussed areas of future cooperation, during their first official meeting.  
The IBM Strategy was drafted and approved by the Ukrainian authorities in less than 5 months. It was developed in cooperation with a team of high-level international experts that was chaired by Mr Hartikainen – the Head of Finnish Customs until April 2019 – before he joined EUAM on 1 July.
The objective of the IBM strategy is to increase the efficiency and effectiveness of agencies working in border management in line with best European practice. It promotes cross-border and inter-agency coordination and cooperation, manages migration flows, responds to potential threats, counters cross-border crime and enhances the internal security of the country. The IBM model is an EU concept that helps to avoid duplication of functions among the state agencies responsible for security issues and oversight of movement of people and products. In Ukraine, IBM involves five state agencies of Ukraine including SBGS, the National Police, the State Customs Service, the National Guard and the State Migration Service. 
"The adopted IBM Strategy 2020-25 will contribute to the security of Ukraine. We hope that the document will assist in making cross-border procedures more effective and more coordinated," said Mr Hartikainen. "The next step now is to adopt the three-year Action Plan in order to successfully implement the IBM Strategy and also get the support of international donors for the improvement of SBGS work."
For his part, Mr Deineko outlined several areas of possible cooperation with EUAM, such as integrity and implementation of anti-corruption measures within the SBGS, using the experience of EU countries. He said that the SBGS also needed to improve its system of internal security, and human resource management, in accordance with EU best practices.