Head of the EU Advisory Mission: The prosecutor's office needs to appoint young, energetic people to key positions
April 18, 2016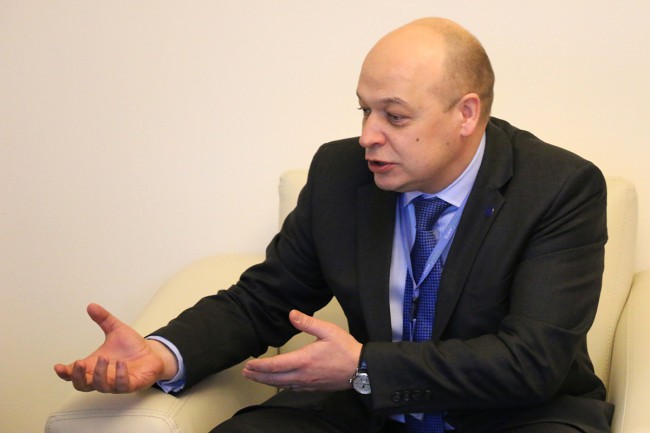 Originally published in Evropeiska Pravda, 18 April 2016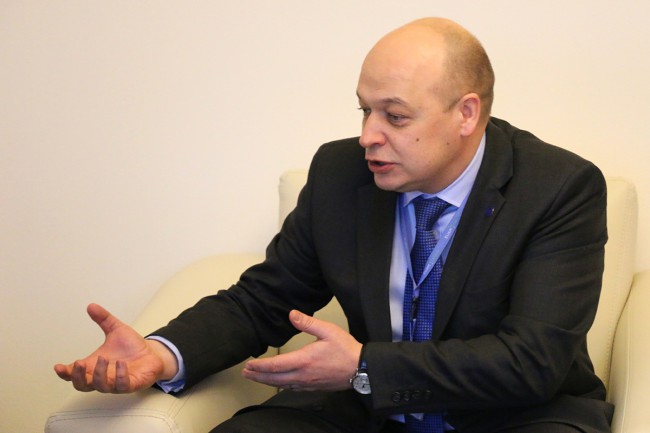 — Experts are convinced that the reform of the prosecution in Ukraine will fail – a competitive selection process for local prosecutors was organised, but there were no new faces. Why?
— This happened before I arrived in Ukraine, so it is difficult for me to judge. Though I have read much about it and have mixed feelings about the subject.
The Prosecutor's Office is responsible for the rule of law. It should be apolitical. And in my opinion, the appointment of the General Prosecutor as well as local prosecutors should be based on their professional qualities.
The General Prosecutor as well as local prosecutors should be worthy people, respected by society, capable of resisting any kind of pressure.
"If the new general prosecutor does not become trusted by the majority nothing will succeed"
— On the subject of the General Prosecutor – is it necessary that this is someone from within the Prosecutorial System?
— My personal opinion is that it should be a professional who understands what law-enforcement agencies are. Whether s/he is a former prosecutor is another question – it's not mandatory requirement.
But s/he should understand the law enforcement system, what the bodies do, what their role is. And most of all s/he should have respect within the prosecutorial system as well as in society. If a biologist or a botanist comes to take charge of the police, this definitely won't work.
— But the prosecutor's office only considers people from within the system to be 'authoritative' – the rest are perceived with hostility. How is it possible to change the system, if the old team continues to lead the GPO?
— Ukraine has to decide for itself who to appoint. But the new General Prosecutor should possess very strong leadership skills, to convince people working in the prosecutorial system to follow them.
I have already been more than once to the General Prosecutor's Office, met many people, and I can say that the picture is not black and while. Believing that the people who work there are either all bad or all good is not right. There are different people who work there. But there are also a lot of young people, with good potential – people you can immediately see want change, want to move forward.
There is however a question – who will lead, who will set the tone, will they become a leader? If someone comes who cannot convince the group – nothing will succeed. S/he [the General Prosecutor – EP] will be alone.
— In society on the other hand, there is a different opinion about the people in the GPO. There are calls to kick everyone out and create a new prosecution system.
— You could equally say: 'let's take the government, annihilate everything, bring in a new society, and then this new society will build everything up again from scratch'.
As you know, this is not possible.
People in Ukraine live with their traditions and mentality. I am sure that even if we create a structure now 'from zero', then people will still be the same. Society has to change! And prosecutors, police officers or politicians are a product of society.
It is necessary to work differently – to train new people and create a mechanism which allows these people to occupy key positions. There is no other path.
There is another problem: all law enforcement agencies – both the police and prosecutors – need to reform while working. It is not possible to disband them and create new agencies from scratch. If the law enforcement system stops, there will be chaos on the street.
— Which path should be selected for reform?
A number of plans to reform the justice system have already been developed, including reform of the prosecution system. Only political will is needed. Young, energetic people with leadership abilities should be in key positions in the prosecution system. And they need a minimum of two or three years to make their changes and be allowed to work without interference. Although sometimes these changes are going to be very painful for those who do not want to make changes. And for those who do, it will be a challenge.
"Salaries alone will not solve anything"
— One of the main reasons for the lack of success in reforms is that salaries are very low. For 100 euros a month it is impossible to attract good lawyers from outside the system to the prosecution. Do you see any way to help Ukraine raise these salaries?
— Raising salaries is a matter for Ukraine alone.
I am 100% sure that however difficult the financial situation, you have to make changes in state agencies a first priority. And this priority should be strengthened financially.
Salaries alone will not solve anything though. There should be a sustained effort to create an internal culture in all state institutions.
Are you familiar with the term 'diamond prosecutors'? This is, probably, the main problem with the prosecution. Everyone who is in high ranking positions still lives with a salary of 100 euros a month. It's clear that they had other sources of income.
This is the reason that the National Anti-Corruption Bureau (NABU) and the Special Anti-Corruption Prosecutor (SAPO) are being set up.
— And if they are corrupt?
—I repeat – in addition to white and black, there are other colours. I do not believe it when people say 'everyone is bad'.
If there are such people, they should be kicked out, of course. If a person has become used to taking bribes, if they have large sums of money or diamonds in a closet, then I don't believe they will change. Their way of thinking is totally different.
Those kinds of people should be replaced. Yes, there is a question about who will replace them. The task of Ukraine will be to raise this generation.
— So the structure has to change itself. Is this actually possible?
— It is possible. It's a long process, but it's possible.
In Lithuania we also changed over a long time. I started in the police in a patriotic mood in 1990, when we regained independence. I was in the fourth year of my law degree and half of my class joined the police.
We didn't ask for high salaries. My monthly salary was equivalent to 17 dollars. But we worked so hard that we would not return home for three full days, because there was high street crime. There was just such a patriotic spirit that it swept us up and we lived in our offices, slept in our chairs and went home only to wash. But even then, it took a long time for our organisation to change. And the first ten years or so were very hard, the changes were very painful. Only in 2004, when we became members of the EU, the changes began to be qualitatively different and wages rose.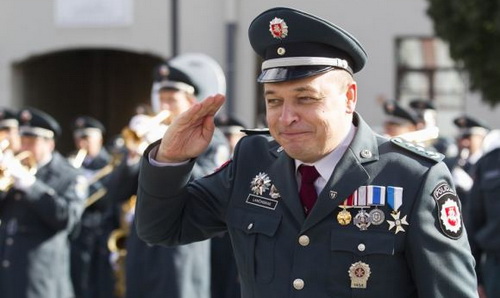 Kęstutis Lančinskas in Vilnius, 2015. Photo: 15min.lt
"Even without money it is possible to seriously change the work of the police"
Kyiv constantly cites the successful reform of the patrol police as an example. But can we talk about irreversible changes in the police?
Yes, the patrol police is a success story. But in order that the changes become irreversible, a lot needs to be done. The police is more than the patrol police. There are also criminal investigations, district police and many other components. And the whole system must change as quickly as possible. All staff should undergo reattestation – the management as well all others. This process is underway, but it is a little delayed. It is necessary to adopt the new structure of the police as quickly as possible. And then build it. If the structure is unstable, if there aren't people who know their job is permanent, that they have guarantees, then nothing will happen.
Because you cannot imagine a greater demotivation than when people do not know whether or not they will stay their job.
— What are our deadlines? What do we need to do by the end of the year?
— My main recommendation is to have a stable structure for the National Police by September.
It is important to know what the central authorities do, what the regions or local authorities are responsible for, who is dependent on whom. And after that, until the end of the year, managers need to be appointed for all levels.
When the national police has teams in all regions which Kyiv can trust, it will be possible to talk about qualitative changes. An approach of 'do one bit here, one bit there' is not going to work in a sustainable way.
— What are the priorities of the EU Advisory Mission?
— In our mandate the scope of our activity is clearly defined – criminal investigation, delineation of competences, community policing, Human Resources, anti-corruption. These are the most important priorities, but in agreement with the Ukrainian side, we can also help in other areas.
— If you do everything at once, it will be difficult to achieve success. The Americans picked one priority – the Traffic Police and made a success out of it. What will the EU choose?
— We also have a success story – the Sambir project.
We demonstrated with the example of Sambir in the Lviv Region that within one region it is possible to use existing resources much more effectively.
Sambir showed that success is possible without money. Our mission did not have specific financing for this project, but we succeeded almost without financial investment to change police work.
How did we do this? Our experts came, evaluated the situation and helped reorganise the work of the police stations concerned. And people began to trust the police!
Previously in Sambir, the police took 2-3 hours to respond to a call, or people waited for half a day, while now a team arrives within a maximum of 20-30 minutes, even in the most remote areas of the region. And in the city limits, it is about 4-5 minutes. It's very significant.
Another significant thing is that the number of calls to the police has increased. Before they didn't contact the police because they thought they wouldn't come anyway – why call them?
It's an important point – people often say to me that crime is rising. But these are the bare statistics. The reasons why the statistics are going up are important. For example, the statistics recorded for petty theft are the best indicator that it is not criminality which is increasing, but that people are beginning to trust the police.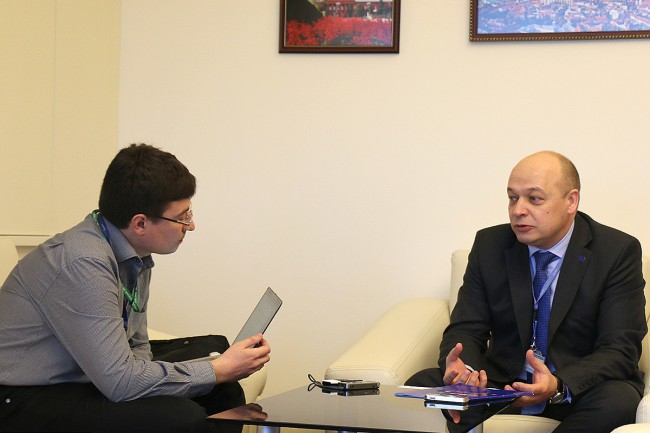 Photo EUAM
— Which cities are taking part in the 'Sambir experiment'?
— Kharkiv, Kyiv and Lviv Regions [not including the regional capitals – EP]. Near Kharkiv, in the town of Nova Vodolaga, there is a very energetic head of a police department. In the beginning of May I will go there. I want to see how we can help, so that changes are sustainable.
Another priority is community policing. This approach started in Britain about two hundred years ago. It is not a new structure, but the organisation of police work on the basis of public trust. Police on the spot – patrol police, district police – should communicate with people in their area, should be able to solve problems locally.
People often contact the police, not because a crime has been committed, but because someone has for example quarrelled with a neighbour.
And the police, especially in rural areas should help solve these problems and also show people what the rules of the game are. Not to punish people, but explain what actions will lead to punishment.
Only then should other units of the police act if necessary, i.e. those which investigate crime or maintain public order and so on.
"Your rights end at the point where the rights of another person begin"
— By the way, should there be a separate unit, which will replace the "Berkut" and deal with public order?
— Every democratic state should have such a unit. The question is about competences and the rules when these powers should be used.
To do this, it is first necessary to adopt a law on peaceful assembly. And the law should specify what citizens or groups can do and what they can't and what the police's responsibilities are.
I remember that there was a common opinion in Lithuania twenty years ago that no-one should restrict human rights. If I want to, I should be able to drive on the pavement, throw litter or fight on the street.
But in a democratic state there aren't only human rights, there are also rules which humans should follow. And a person's rights end where the rights of another person begin.
If a demonstration violates the rights of other people, if it turns into a riot, then there should be clear rules about what the police will do when it arrives and what exceptional measures it can take. I will repeat – this the case in practically all countries.
— What will be the structural changes in the field of criminal investigation?
— This is a very specific area and it needs reform.
My first impression is that in Ukraine the investigating authorities do not communicate with each other. That is, the police do their own thing, the prosecutors theirs, judges theirs. They say 'we work well – but those others, they're bad. They don't do their work.'
Now we are discussing with international partners how to create an effective chain of investigations – both pre-trial investigation and during a judicial process. So that the police, prosecutors and judges work effectively together, understand each other and everybody does their job.
— What is the task you have set for yourself and Ukraine to achieve in a year? What needs to change so that it will be possible to talk of success?
— I would like that in a year's time there is a stable police structure, that the chain for criminal investigations is established, there is effective inter-agency work i.e. police, prosecutors and courts. This is completely achievable.
Of course, to evaluate the work of the prosecutor's office in figures is very difficult. It is a very specific institution. In my opinion, the best indicator is public trust. If public trust increases by even 10% during the next year, I think this will be a great achievement.
This same indicator — increased trust – is also the main way to evaluate the reforms of the police.

Head of the EU Advisory Mission: The prosecutor's office needs to appoint young, energetic people to key positions
is licensed under a
Creative Commons Attribution-Share Alike 4.0 License
.