Head of EUAM meets Ukrainian Prime Minister
August 22, 2014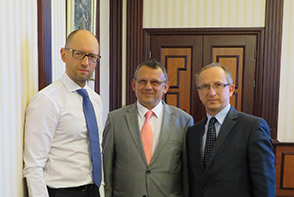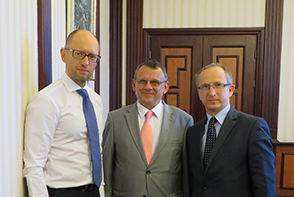 From left to right: Prime Minister Yatsenyuk, HoM Mizsei, EU Ambassador
On 22 August, the head of the European Advisory Mission to Ukraine (EUAM) Kálmán Mizsei was introduced to Ukrainian Prime Minister Arseniy Yatsenyuk by the EU Ambassador to Ukraine Jan Tombiński. The Head of Mission seized the opportunity to present EUAM and its mandate to the Prime Minister.
The mission is based on an EU Council Decision of 22 July 2014. Its mandate is to provide strategic advice and mentoring to the Ukrainian authorities on the civilian security sector reform, which will turn the civilian security services in to services for the people of Ukraine.
EUAM has an initial mandate of two years. The mission's operational deployment foreseen for mid-September is currently being prepared, in Kyiv, by a 17 people strong advanced team. The predicted personnel strenght
at deployment is initially 57.
"This meeting was of utmost importance, as I could directly present our mandate and our current level of development to the Prime Minister. We discussed the best ways to cooperate in the future", said Mizsei.