EUAM uses round-table event to prioritise court security in Ukraine
October 07, 2016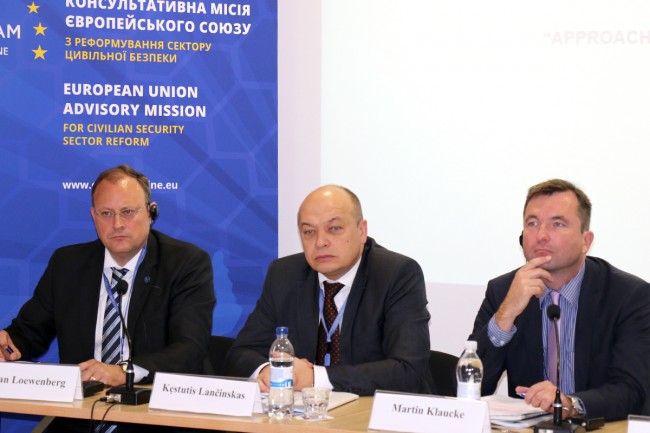 The European Union Advisory Mission (EUAM) Ukraine today carried out a round-table event in Kyiv designed to address approaches to court security in Ukraine. It was organised in conjunction with the EU project 'Support for Justice Sector Reforms in Ukraine' and featured the input of EU experts in the field, as well as from the Head of the Council of Judges in Ukraine, Ms Valentyna Symonenko.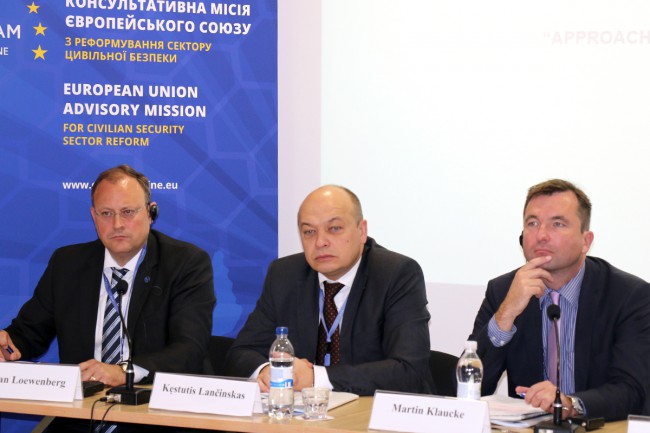 Fabian Loewenberg, EUAM Head of Rule of Law Component; Kęstutis Lančinskas, EUAM Head of Mission; Martin Klaucke, Counsellor, EU Delegation in Ukraine
Units within Ukraine's Ministry of Internal Affairs were tasked with ensuring court security until November 2015, but a new law adopted by the Ukrainian parliament on 2 June 2016 (on the Judiciary and the Status of Judges) envisages the formation of a 'Service of Court Security' by 1 January 2018 as a long-term solution to the issue. In the meantime, Ukraine's National Guard and National Police have been designated to ensure court security on a temporary basis.
However, surveys show that a significant number of judges in Ukraine still receive threats in the course of their work, usually inside court rooms. Such breaches of security have an immediate negative knock-on effect, compromising the administration of justice and threatening the reform process across the civilian security sector.
" EUAM Ukraine is taking the lead among international actors in Ukraine in making court security a priority in civilian security sector reform," said EUAM Head of Misison, Kestutis Lancinskas. "Without protection for judges and security in courts, you cannot expect an effective civilian security sector, and you cannot expect the delivery of justice."
Today's round-table examined ways to find short and long-term solutions, with EU experts sharing EU best practices in court security. EUAM will continue to offer strategic advice and other support measures to identify ways of ensuring court security ahead of 1 January 2018 and beyond.