EUAM trainees share their new skills in support of a client-oriented culture in MoIA Administrative Service Centres
March 08, 2017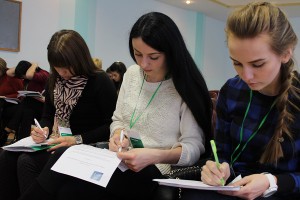 Graduates of EUAM's 'train-the-trainers' programme in communication and professional ethics are now themselves training new staff in Ministry of the Interior Administrative (MoIA) Service Centres across the whole of Ukraine. More than 50 staff members in MoIA Service Centres qualified as trainers last year after taking EUAM's training.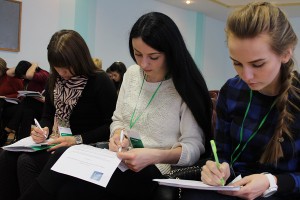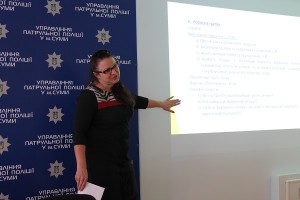 Trainees in Sumy (left). Nadia Tretiak, EUAM Public Administration Officer in Sumy (right)
The graduates of EUAM's training programme will continue to receive support from the Mission as the training sessions are rolled out across Ukraine. From 1-3 March 2017, new trainers and EUAM advisers were in Sumy training 30 interns, who hope to land a job in the new client-oriented Administrative Service Centres in the region. These interns had been selected from 771 candidates. In the upcoming month, similar training will take place in Ivano-Frankivsk, Kherson and Zhytomyr. By the middle of summer 2017, it is planned that they will have covered the entire country.
EUAM will continue to provide support in creating a new administrative services culture in Ukraine on the basis of a list of priorities agreed recently between Vladislav Kryklii, the Acting Head of MoIA Main Service Centre and Siv-Katrine Leirtroe, EUAM Senior Adviser on Public Administration. Mr Kryklii has recently underlined the importance of EUAM support and advice in the reform process and EUAM will assist the MoIA Service Centres in developing a Quality Management System, including support for a human resources strategy and strategic communication to raise public awareness about administrative services reform.
"Our aim is the success of MoIA administrative services reform. Reloading the system with new client-oriented work approaches, with newly recruited and trained personnel is a significant step forward and EUAM is happy to be a part of this process. We are encouraged by its sustainability and looking forward to extend our cooperation", said Siv-Katrine Leirtroe
EUAM will also provide support to boost the managerial skills of Deputy Heads of Regional Service Centres and the skills of EUAM-trained trainers on communication whose main responsibility is to train front office staff. The goal – to select, train and in the future to recruit the best trainees – young and talented men and women who are active and ready to support changes in Ukraine.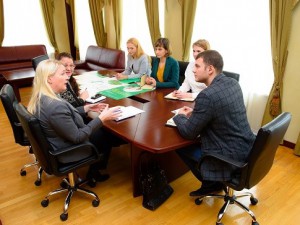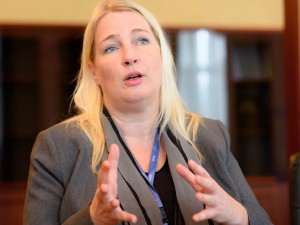 Meeting with Vladislav Kryklii (left), Siv-Katrine Leirtoe, EUAM Senior Advisor on Public Administration (right)

EUAM trainees share their new skills in support of a client-oriented culture in MoIA Administrative Service Centres
is licensed under a
Creative Commons Attribution-Share Alike 4.0 License
.