EUAM signs Memorandum of Understanding with NABU
May 11, 2016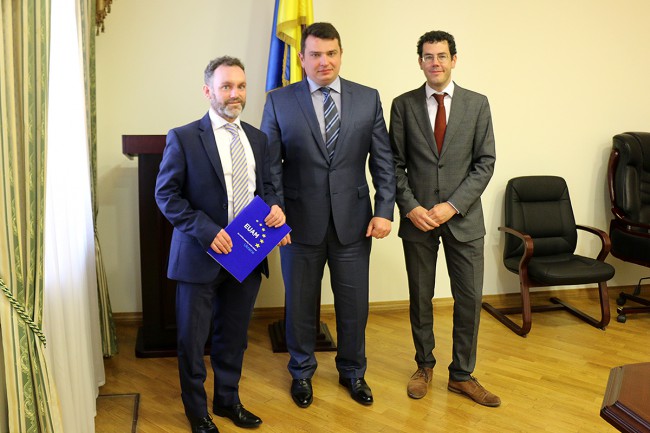 Cooperation between the European Union Advisory Mission (EUAM) Ukraine and the National Anti-Corruption Bureau of Ukraine (NABU) deepened this week with the signing of a formal Memorandum of Understanding by Kestutis Lankinskas (Head of EUAM) and Artem Sytnyk (Head of NABU).
EUAM has been providing support to NABU on several fronts recently. Yesterday, it presented a 'needs analysis and strategic recommendations' for NABU's Department of External Communication to Mr Sytnyk. The analysis compiled 10 key recommendations in total, the first of which – a workshop on media engagement for senior NABU staff – was completed two weeks ago and will be followed up with an additional support programme in June.
Details of another of the key recommendations, an anti-corruption awareness campaign that will be implemented by EUAM and NABU over the summer of 2016, were also outlined at NABU headquarters yesterday.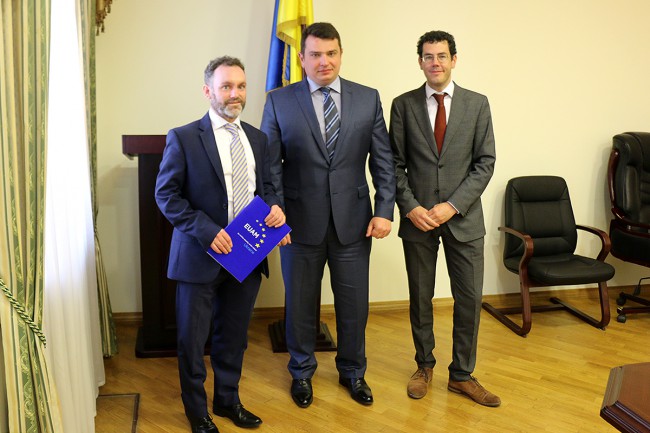 EUAM Head of Press and Public Information, Ronan Goggin, Head of NABU Artem Sytnyk, EUAM Senior Anti-Corruption Advisor Clemens Mueller
In addition, EUAM is providing advice to NABU on strengthening internal integrity tools as well as training to the detectives for building investigative capacities. Furthermore, as part of the agreed co-operation, EUAM is assisting NABU with the setting up of interviewing rooms at NABU's premises. EUAM will bring senior staff of NABU to Poland this week for a study visit that aims to strengthen co-operation with the Central Anti-corruption Bureau in Poland.
NABU was the first of Ukraine's new anti-corruption agencies to be established following the Maidan revolution of 2013/14. Today it has over 300 staff investigating cases of high-level corruption. In Ukraine, it is the role of NABU's sister agency, the Special Anti-Corruption Prosecutor's Office (SACPO) – also a partner of EUAM's – to prosecute the cases that NABU investigates. SACPO Head Nazar Kholodnytsky also attended the EUAM media-engagement workshop.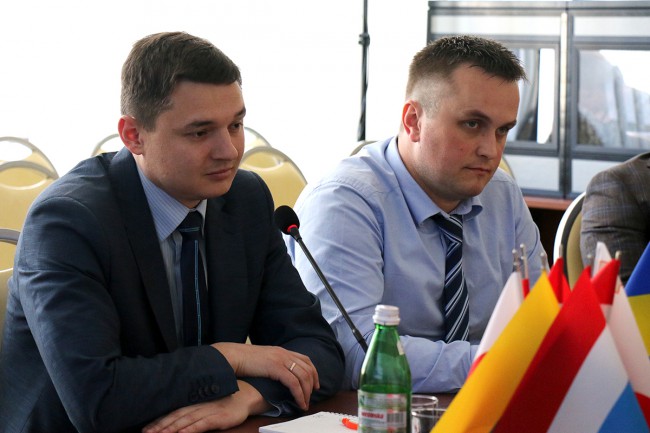 Deputy Head of SACPO Volodymyr Kryvenko and Head of SACPO, Nazar Kholodnytsky