EUAM provides Ukrainian police with training and 30 alcohol testing kits to fight drunk driving
December 09, 2016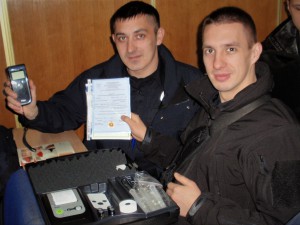 24 Patrol Police officers completed a three-day training course today delivered by the EU Advisory Mission Ukraine (EUAM) in how to identify drivers who are suspected to be driving under the influence of alcohol, communicate with them and test them. The Mission also handed over 30 state of the art alcohol testing kits to assist the police with their duties.
Alcohol is the second most widespread factor behind road traffic accidents in Ukraine – every day over 250 drivers stopped by the police are drunk. Ukraine has one of the highest numbers of accidents and fatalities on the road in Europe and in order to reduce this number, EUAM is assisting the National Police of Ukraine and Patrol Police with training and equipment.
The training course, which will also take place in Kharkiv (12-13 December 2016) and Lviv (15-16 December 2016), is a continuation of the basic training on traffic policing provided by the Mission in June 2016. EUAM is also assisting the National Police draft a Standard Operating Procedure for all police officers in how to identify intoxicated drivers and act when dealing with them.