EUAM – National Security and Defense Council of Ukraine: Anti-corruption, public security and crime prevention – an obvious common interest
January 15, 2015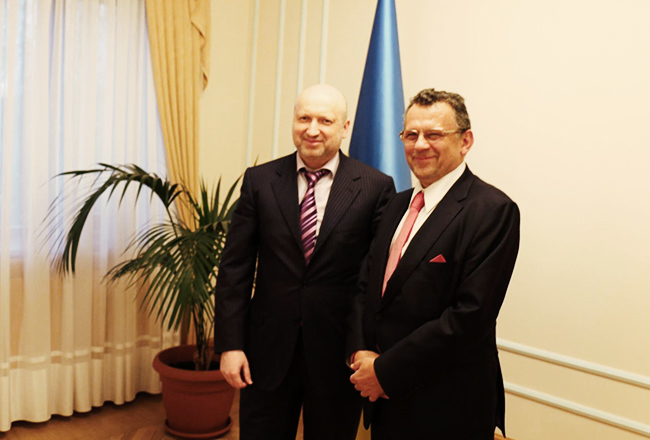 Today the Head of the European Advisory Mission to Ukraine (EUAM), Kálmán Mizsei met with the Head of the Ukrainian National Security and Defense Council (NSDC), Mr Oleksander Turchynov.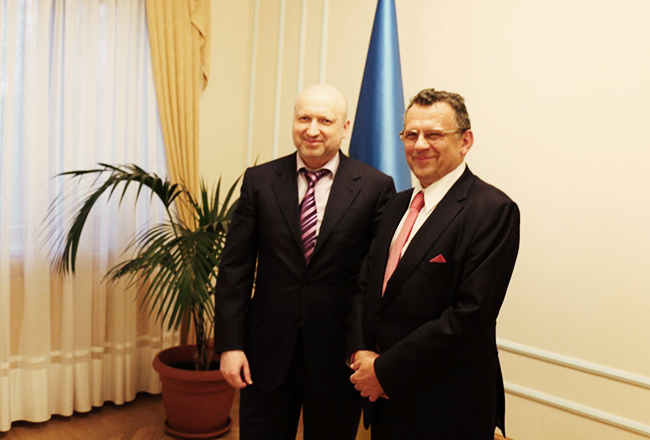 Mr Turchynov is former Head of the Security Service, former First Vice-Prime-Minister, former Speaker of the Verkhovna Rada (the Ukrainian Parliament). He is an economist by training, a known politician and also a writer and a screenwriter.
On 25 December 2014 the Verkhovna Rada adopted a bill introducing amendments to the existing law on NSDC and its secretary expanding the powers of the Council on issues pertaining to Ukraine's national interest and the control and coordination role of government agencies in the fight against corruption, the accomplishing of public security and the establishment of anti-crime measures.
In a joint statement Mizsei and Turchynov underlined the importance of the reform elements to the Council's new tasks and the mission's mandate:
"Anti-corruption, public security and crime prevention are now at the center of the Councils interest. We agreed on continuous cooperation on rule of law and law enforcement reform consultation."
This is another important step forward for the mission that already has achieved intense engagement with the Ministry of Internal Affairs, Border Guards, the Security Service of Ukraine and the Supreme Court of Ukraine.