EUAM Head of Mission gives Kyiv police personal insights into managing large public events before LGBTI Equality March on 12 June
May 18, 2016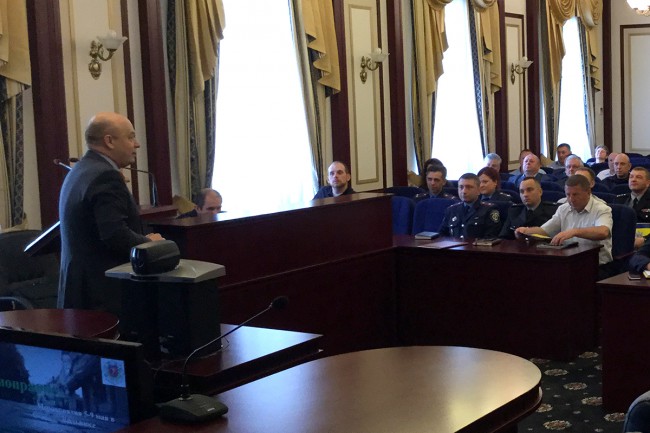 The state must guarantee the freedom of assembly as a universal human right for its citizens. On Sunday 12 June, members of Ukraine's LGBTI community, their friends, family and supporters will gather for the Equality March. The event is likely to pose challenge for the authorities in Kyiv in their task to assure the right to assemble free of violence. Violent reactions against previous LGBTI events in Ukraine have led to attacks on participants, presenting a serious challenge for the Kyiv police to maintaining security in the capital.
On 13 May, the Head of the EU Advisory Mission (EUAM) Ukraine Kęstutis Lančinskas gave a presentation on best EU practices in dealing with large public events to managers and senior police officers in the Kyiv police. Among the participants were Anatolii Seredynskyi, Deputy Head of the Preventive Activities Department of National Police of Ukraine and Oleg Onysko, Deputy of Head of the Preventive Activities Department of Kyiv City Police HQ. The Head of EUAM provided recommendations on how to plan and prepare for the event, establish dialogue between participants and opponents, and also spoke about how to work with the media as a preventive tool to avoid violence.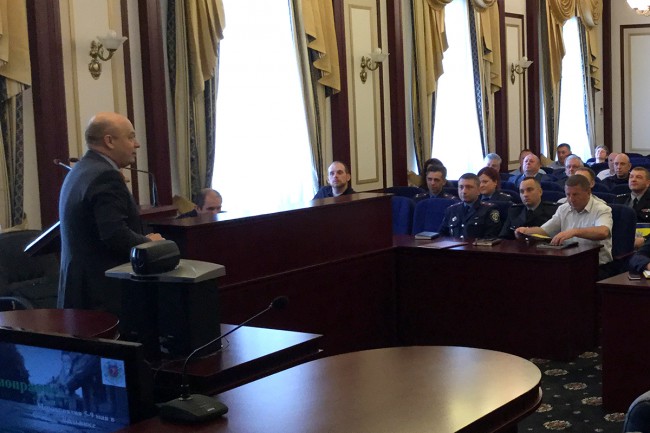 Mr. Lančinskas was able to offer personal insights to EUAM's partners in the Kyiv police having been a senior police officer in Lithuania at the time when the first LGBTI march took place in Vilnius. Opposition to the march in Lithuania was initially vocal but over the subsequent years, the Vilnius police — like many other police forces in the EU — built a strong dialogue with stakeholders and backed this dialogue with active public information efforts. By doing so, the safety of the event has been easier to guarantee.