EUAM Head of Mission briefs EU Ambassadors to Ukraine
March 04, 2015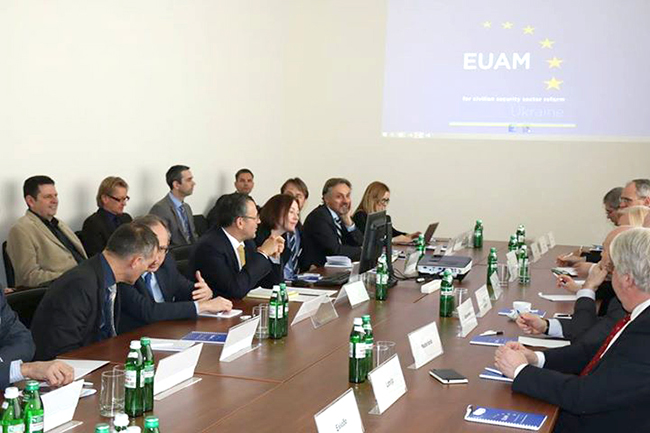 Kálmán Mizsei, the Head of the European Advisory Mission to Ukraine has invited the Heads of the European Diplomatic Missions to Ukraine, as well as the Head of the EU Delegation, Jan Tombinski, for an EUAM update.
The meeting took place in the mission's new headquarters on Volodimyrskyj Descent.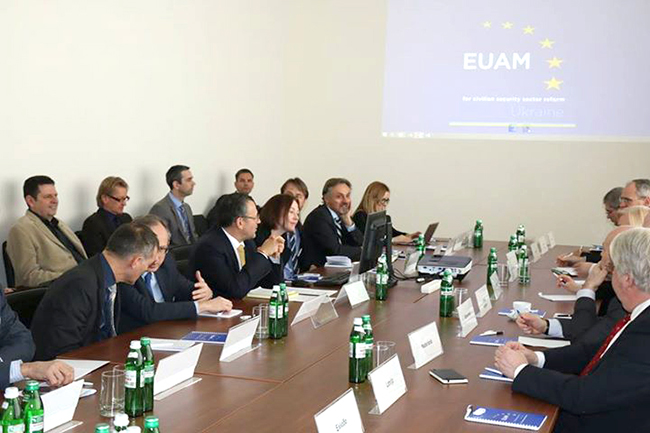 EUAM which was officially launched on 1 December 2014 currently counts 55 members, but will step up to 101 international and 73 local staff. The recruitment is partly completed. The next wave of first personnel is expected to join the team in the coming days.
"The advisors are at the heart of the mission", said Kálmán Mizsei, " we will work in Kyiv and in the oblasts". Once fully staffed EUAM will be able to offer expertise from 34 Strategic advisors, 16 internationals and 7 locals in Regional Outreach as well as three international Cooperation and Coordination specialists.
Meanwhile EUAM Ukraine (EUAM) is getting more and higher level recognition as an actor in civilian security sector reform. The assistance requests received indicate that increased attention is being paid by the Ukrainian authorities to the reform delivery. The reform process currently wraps itself in a particularly difficult environment subscribed by the critical situation in the East and the overall precarious economic situation.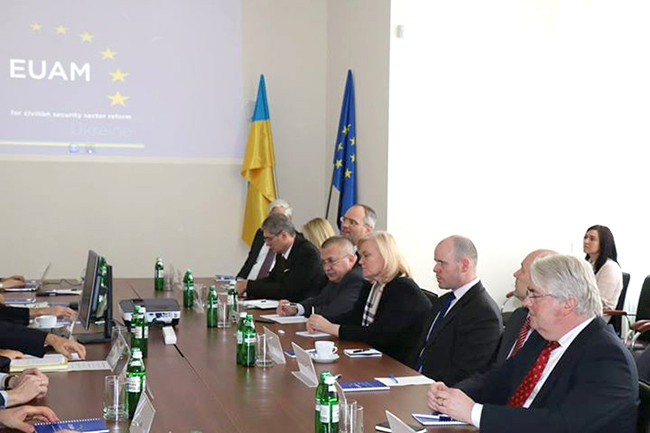 The mission provides advice on the National Security Strategy, the Law on National Police, the Ministry of Internal Affairs Reform Strategy, the Law on General Prosecutor's Office, the Law on Judiciary, the National Anti-Corruption Bureau, to the Border Guard Service of Ukraine, the Security Service of Ukraine and to some projects, as the Khmelminitsky and Lviv Police Projects. The mission is also advising the Human Rights National Strategy.
Strategic communication advice is considered to be a cross cutting issue, so EUAM is engaged on this particular aspect with the National Anti-Corruption Bureau, the Security Service of Ukraine, the Judiciary and the Border Guards Services.
European advisors are already co-located with some of the counterparts.
The Head of the EU Delegation, Jan Tombinski underlined the complementary interaction between the strategic advice tasks with the immediate short term action.
Close coordination and cooperation is on the daily agenda of all European actors in Ukraine, including the EU Delegation, the Support Group and EUAM.
The overall European effort to Ukraine is to be seen in the context of the Association Agreement. During its first meeting on 15 January 2015 the Association Council acknowledged the importance of intensifying much needed political and economic reforms in Ukraine and the EUs support package to support Ukraine in its efforts for launching this renewed reform process, as well as the EU's Ukraine Support Group and the EU Advisory Mission.