EUAM donation strengthens capacity of Ukrainian prosecutors in the fight against cross-border crime
March 03, 2017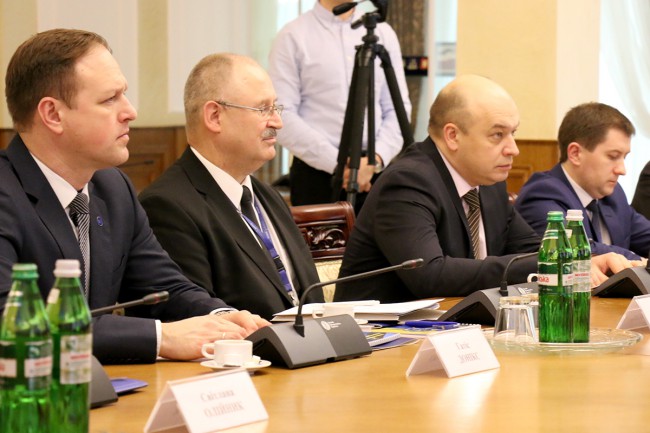 To assist the Prosecutor General's Office of Ukraine (PGO) process foreign-language documents more quickly, the EU Advisory Mission Ukraine (EUAM) today donated licences for a market-leading translation software. This donation will considerably assist the PGO's efforts to pursue criminals across borders and assist prosecutors in other countries with their requests. It is expected that the average time to translate a document – currently two hours – will be reduced to under 30 minutes. Currently, many international requests for mutual legal assistance are delayed due to a lack of internal capacity at the PGO to translate important documents.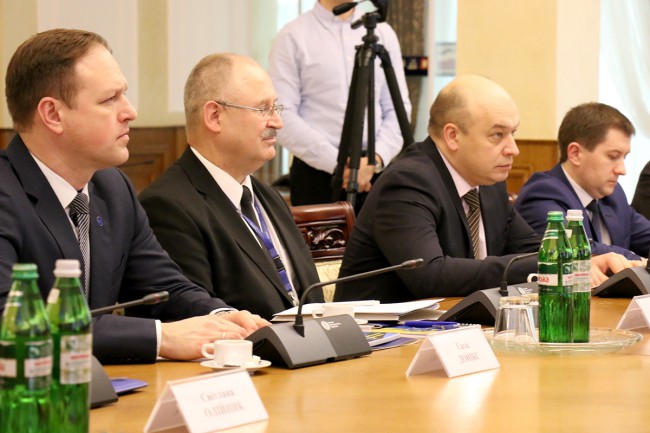 (from left to right) Gatis Doniks, EUAM Senior Adviser on Prosecution, Kari Lamberg, EUAM Lead Adviser on Prosecution, Kęstutis Lančinskas, EUAM Head of Mission, Roman Lipchanskyi, interpreter
The handover of the software was preceded by a discussion of EUAM's ongoing and future support for the PGO held between the Head of EUAM Kęstutis Lančinskas and the Prosecutor General of Ukraine Yuriy Lutsenko. The Prosecutor General expressed his appreciation of EUAM's assistance to date, which includes projects to enhance the effectiveness of criminal investigations in cooperation with the police, trainings to help identify illicit enrichment, advice on how to evaluate the performance of prosecutors and support to improve the PGO's digital infrastructure and manage cases digitally to international standards.
The EU has budgeted for five-year multi-million euro project (Support to Rule of Law Reforms in Ukraine – PRAVO), which will launch towards the end of 2017. EUAM will make a significant contribution to this project and the GPO is planned to be one of the major beneficiaries.
"Crime doesn't respect borders or language barriers. Neither should the prosecution of criminality. We will continue to support Ukraine's prosecution service to build links with prosecution services in EU countries and improve the PGO's capacity to prosecute cross-border crimes. We will also continue to provide support for the modernisation of the PGO," said Mr Lančinskas.
The translation software donated today provides an extensive professional legal vocabulary and learns terms from users, making the process of translations easier and quicker. Ten interpreters from the GPO's Department of International Legal Cooperation and European Integration completed a professional skills training in mid-February, sponsored by EUAM, so the translators are already fully operational.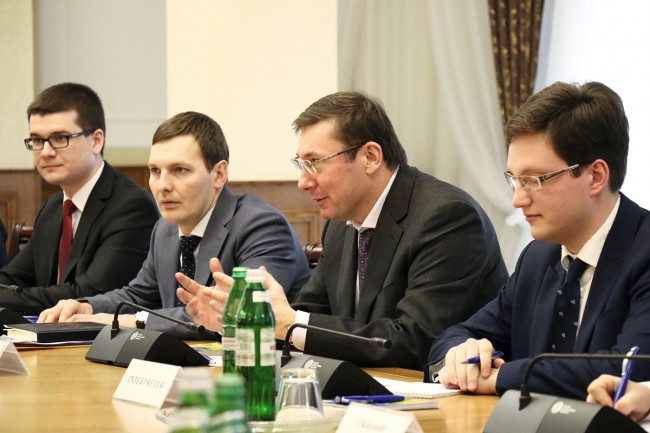 (from left to right) Yevhenii Chernikov, Acting Head of Department for Reforms, Yevhenii Yenin, Deputy Prosecutor General of Ukraine, Yurii Lutsenko, Prosecutor General of Ukraine, Oleksandr Melnychenko, interpeter