EUAM donation helps police ensure that all response teams in Kharkiv have tablets and dash cameras
October 25, 2016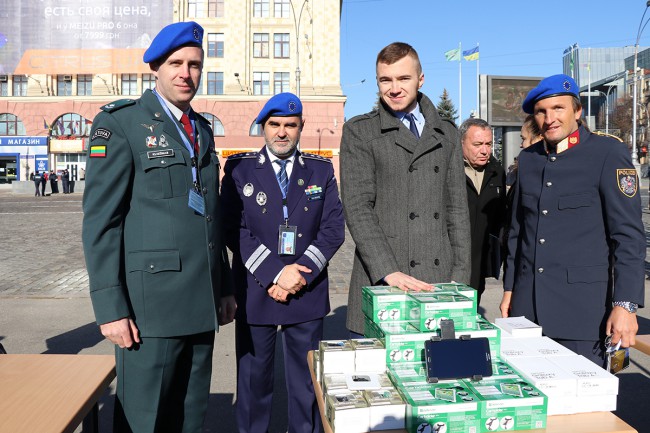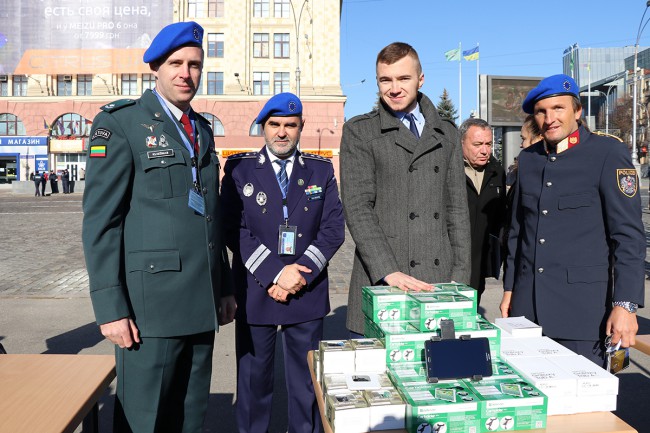 The regional police in Kharkiv received today 58 tablets and 81 dash cameras to enhance the capacity of Quick Response Teams in the surrounding region to respond to incidents. The equipment, donated by the EU Advisory Mission Ukraine (EUAM), will help police officers better survey situations locally when patrolling and responding to emergencies. It will improve coordination, allow police officers to receive a more accurate picture of the situation on the ground and assist with efforts to bring down response times. Moreover, cameras are expected to contribute to building public trust by recording the actions of police officers carrying out their duties.
The donation means that all vehicles in the regional police in Kharkiv will now be equipped with tablets and dash cameras. It was marked with a public event in the centre of Kharkiv where members of the public were invited to a demonstration of how the tablets and cameras will work.
EUAM Head Kęstutis Lančinskas attended the event with the Head of the Kharkiv Regional State Administration, Yulia Svitlychna and the Acting Head of the Main Department of the National Police in Kharkiv, Anatolii Dmytriev. He also met with Ms Svilychna, Mr Dmytriev and the Regional Prosecutor in the Kharkiv region, Yuriy Danylchenko earlier in the day to discuss the ways in which the strategic planning of local law enforcement bodies could be enhanced and modernised.
"When resources are used in a targeted fashion, even limited funds can go a long way. EUAM will continue to support partners by donating essential equipment, but equipment alone will not be enough. Comprehensive strategic planning based on reliable and accurate data is absolutely crucial when setting objectives and allocating budgets, ultimately leading to an increase in the number of crimes solved and prevented. Many European police forces are world leaders in terms of strategic planning and we are happy to assist our Ukrainian partners achieve their ambitions to adopt best practices." said Mr Lančinskas.
Tomorrow, Mr Lančinskas will meet again with Mr Dmytriev and Mr Danylchenko to discuss the ways in which the police and prosecution service can improve their cooperation.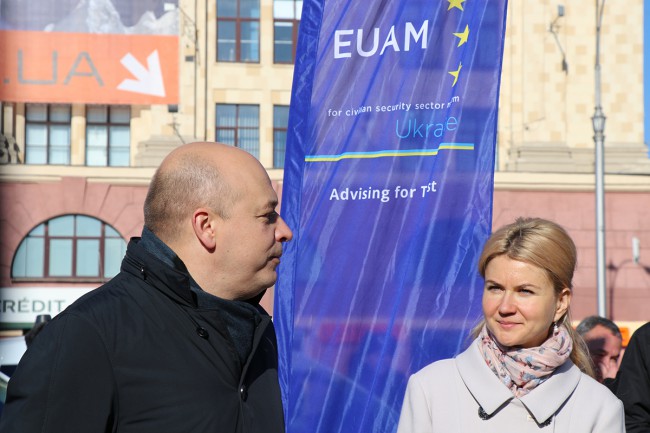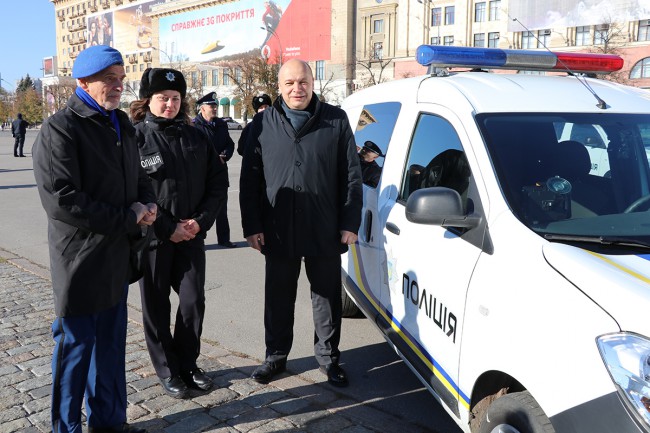 (photo on the left) EUAM Head Kęstutis Lančinskas and Head of the Kharkiv Regional State Administration Yulia Svitlychna, (photo on the right) EUAM regional presence coordinator in Kharkiv Gerrit Jan van Gelder, police officer, EUAM Head Kęstutis Lančinskas