EUAM and international partners launch new structure to speed up reform of Ukraine police
January 26, 2016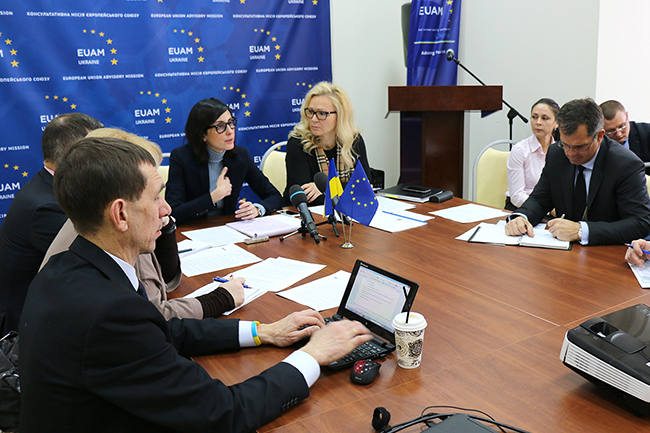 Donors from the European Union, United States, Canada and the Organization for Security and Cooperation in Europe met earlier today at the headquarters of the European Union Advisory Mission Ukraine (EUAM) in Kyiv where Khatia Dekanoidze, Chief of the National Police of Ukraine (NPU), announced the formation of a new structure designed to assist in the reform of the National Police.
The "working groups" format – a concept developed by EUAM and international partners – is an important step for the NPU, and one that will facilitate the realisation of key reforms in four main areas: community policing, criminal investigation, human resources, and public order.
Under the format, Ukrainian and international partners will now develop a strategic vision for delivering reform and draw up an implementation timeline. Beginning immediately, they will participate in the four working groups (based on the four main areas of police reform), and report to the Chief of the NPU on a weekly basis.
"The new structure gives extra impetus to EUAM's existing cooperation with the National Police of Ukraine," said Hugues Fantou, EUAM's Acting Head of Mission. "The strategy and action plan that will be developed is the Mission's top priority, and we are delighted to have worked with the National Police of Ukraine on developing the new framework."
EUAM will support the NPU with extensive strategic advice and will be closely involved with the development of training curricula and action plans. The Mission will also provide expertise for the delivery of training in coordination with the NPU and other donors.