District police in Poltava: a new start with EUAM
September 30, 2015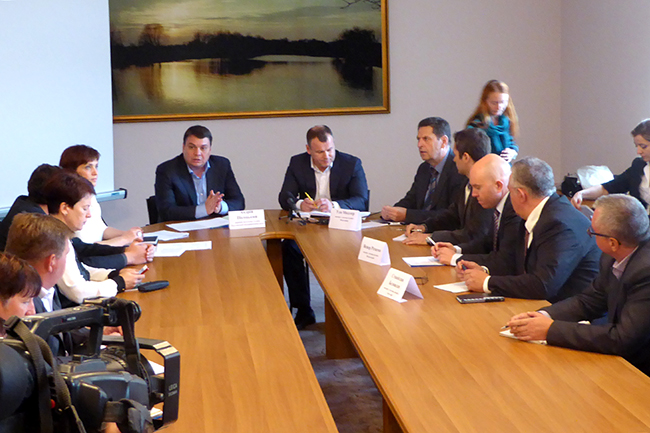 0 0 1 352 2010 EUAM Ukraine 16 4 2358 14.0 Normal 0 false false false EN-GB JA X-NONE /* Style Definitions */ table.MsoNormalTable {mso-style-name:"Table Normal"; mso-tstyle-rowband-size:0; mso-tstyle-colband-size:0; mso-style-noshow:yes; mso-style-priority:99; mso-style-parent:""; mso-padding-alt:0cm 5.4pt 0cm 5.4pt; mso-para-margin-top:0cm; mso-para-margin-right:0cm; mso-para-margin-bottom:8.0pt; mso-para-margin-left:0cm; line-height:107%; mso-pagination:widow-orphan; font-size:11.0pt; font-family:Calibri; mso-ascii-font-family:Calibri; mso-ascii-theme-font:minor-latin; mso-hansi-font-family:Calibri; mso-hansi-theme-font:minor-latin; mso-ansi-language:EN-GB;}
It's an end that loudly sounds as a substantial beginning: The last scheduled meeting of the European Union Advisory Mission's team deployed in Poltava since early September was a quite spectacular. It ended yesterday with an open and frank round-table gathering the Oblast's civilian and police authorities with dozens of City Mayors, Village Council Heads and District representatives.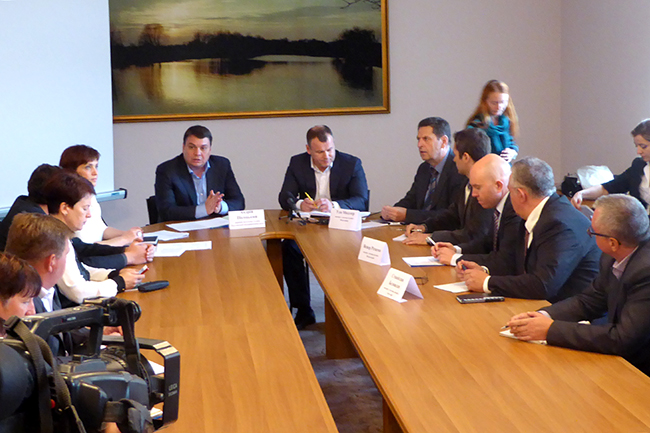 The public event, named "Safe Environment for the Citizens" in district areas showed the availability of Regional Police leaders on receiving citizens' blunt opinions in front of a crowd of journalists and EU experts. Actually, they do it regularly already, namely through a weekly open-to-all meeting in Poltava's headquarters.
In fact, some of local civilian authorities' positions were even harsh. "District inspectors are wholly separated from civil society," argued a Mayor, who also spoke against the debated "financing of the police through the local budget." "Our priority is working with civil society, but there is a lack of resources and equipment for our District officers," noted the Regional Chief of Police Oleg Beth.
"Resources are crucial, but the top priority is having the right officers in place who are motivated and empowered to work for the civil society since their appointment," argued Udo Moeller, EUAM's Regional Outreach Head. He chaired the high-level EUAM delegation involving police experts from four EU Member States. "Getting closer to citizens requires time, and the organisation must work to free the officer from some of other tasks," he argued. He also quoted the challenge on "102 calls" and the achievement of the police with regard to their faster timely response. This was one of the projects carried out with EUAM not only in Poltava but also in other Oblasts. "We did this project without further costs," noted Mr. Moeller.
However, a common language was clearly spoken by all participants, including Andriy Pisozky, First Deputy Head of Poltava's Regional Administration, which promoted and hosted the event. The idiom is the strive for reform and practical change, driven by and oriented towards citizens. "We come back if you want us to come back," concluded Udo Moeller. The positive reply from all interlocutors wasn't obviously a surprise and paved the visible way for further and stronger cooperation with EUAM.