Czech experts team up with EUAM for internal investigation workshop
October 27, 2016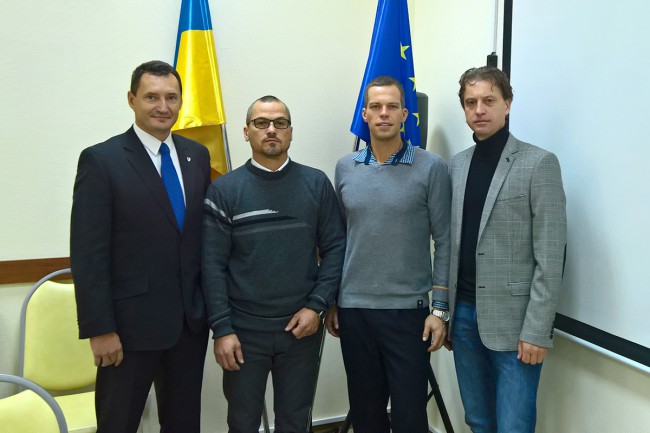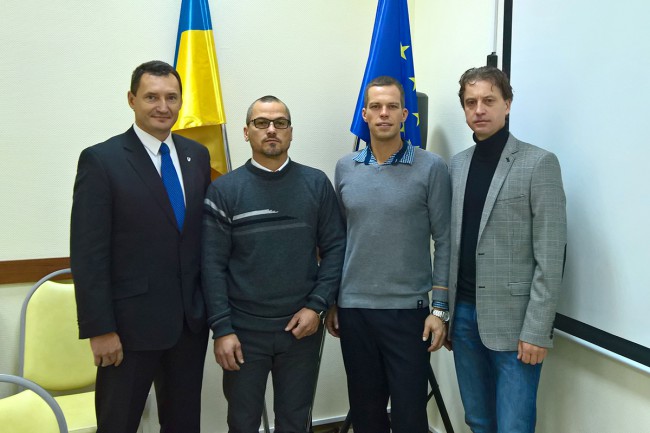 from left to the right: Mr. Ivo MITACEK, Chief Superintendent of GISS, Mr. Dr. Josef HRUDKA, Lector at Police Academy of Czech Republic and co-drafter of Law on GISS and integrity tests, Mr. Martin STROUHAL, Superintendent of GISS and Peter STAIDL EUAM Senior Adviser on Anti-Corruption
Staff from many of Ukraine's security services wrapped up a two-day workshop devoted to internal oversight, internal investigation and integrity testing at EUAM headquarters in Kyiv yesterday. Experts from the General Inspection of Security Services and the Police Academy of the Czech Republic moderated the workshop together with EUAM anti-corruption advisors.
The development of internal tools to prevent corruption within security agencies is a vital part of those agencies' external effort to fight crime, and indeed forms part of the wider reform of the civilian security sector in Ukraine. That means institutionalizing self-regulatory processes such as the vetting of staff during recruitment, creating effective and fair disciplinary procedures, and establishing mechanisms such as a code of conduct to reduce the likelihood of corruption.
"The issue here is ensuring integrity of staff at all levels in an organisation," said Peter Bach, EUAM Chief of Staff, "especially at the top. Staff at state agencies in particular need to work in the interest of citizens, rather than in their own interest. The presence today of many of our civilian security sector partners shows how seriously they are taking this issue."
Ukrainian agencies such as the National Anti-Corruption Bureau, State Fiscal Service, General Prosecutors Office, the Ministry of Justice, and the National Police are at the early stages of identifying tools to deal with internal investigation. There is typically a high turnover of staff that creates institutional instability, making it a steep reform challenge. Reform efforts such as those in internal investigation should also be coordinated across the civilian security sector – this week's EUAM workshop has contributed to standardizing approaches in the field.
EUAM has already implemented a series of initiatives to improve internal investigation, oversight and integrity testing of its Ukrainian partners. The Mission advised and assisted in drafting a code of conduct for NABU which has already been adopted, is in the process of preparing an online test for the code of conduct, while EUAM human-resources advisors are working to improve vetting procedures. Contact between the General Inspection of Security Services of the Czech Republic – which has a very developed internal investigation model – and the Ukrainian agencies will be maintained with EUAM's assistance.