Asset Recovery and Management Agency launches recruitment campaign and announces cooperation with EU partners
March 14, 2017
Ukraine's Asset Recovery and Management Agency (ARMA) has announced a competition to fill its first vacancies: from lead experts to departmental heads. The agency is building a team to staff its specialised asset recovery unit, as well as secondary units to ensure a smooth start to its operations.
This was announced at a press conference attended by Anton Yanchuk, Head of ARMA, Kęstutis Lančinskas, Head of the EU Advisory Mission Ukraine (EUAM) and Eka Tkeshelashvili, Head of the EU Anticorruption Initiative in Ukraine (EUACI).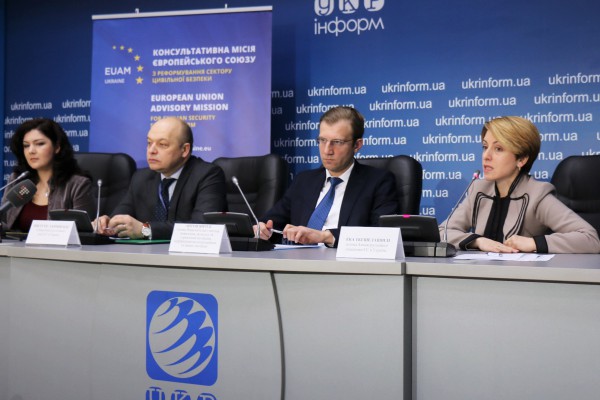 From right to left: Eka Tkeshelashvili, Anton Yanchuk and Kęstutis Lančinskas
Staff selection and training and international network building are among ARMA's top priorities at the moment. EUAM and EUACI will support ARMA during the early stages of its operations so that it is able to act upon its mandate in accordance with best established practices in Europe.
EUAM experts have already helped develop ARMA's organisational structure. In addition, EUAM is helping ARMA make contacts with similar institutions in the 28 EU Member States, in particular via programmes and networks such as StAR (Stolen Asset Recovery Initiative), CARIN (Camden Assets Recovery Interagency Network) and others. With EUAM assistance, ARMA experts will have a chance to visit asset recovery institutions in EU member states. In addition to study visits, EUAM will provide specialised training and strategic advice. EUACI will offer comprehensive assistance covering both human resource development as well as IT processes.
EUACI will assist the sustainable development of ARMA by twinning it with selected agencies of Member States of the European Union, as well as by developing partnerships with multilateral organisations working in the field of tracing and recovering the illegal proceeds of crime.
ARMA is an innovative state agency, which is the first of its kind in Ukraine. During the staff selection process, ARMA will pay attention to candidates with experience in relevant spheres. Investigators, lawyers specialising in corporate and tax law, tax experts, auditors, bailiffs etc. will all be considered to fill vacancies at ARMA. According to official plans, there will be 130 people working at ARMA.
Several recruitment competitions – in March, June and September – are planned by the end of 2017 and 80 new employees are expected to join the organisation by the end of that period. The competition will be held in accordance with acting Ukrainian legislation on public service. The new staff will have a number of challenging tasks. They will immediately be engaged in working on complex issues that will require the mastery of new instruments to solve.