Activities to raise road safety awareness inspire a future generation of potential police officers
May 17, 2017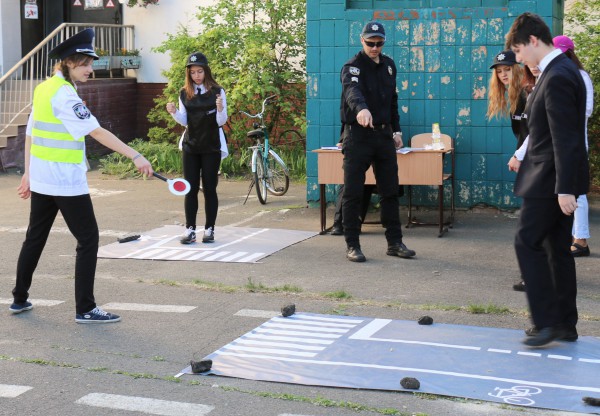 In Kyiv today, a new generation of potential police officers were given tips and tricks on road safety by the National Police of Ukraine (NPU) with support from the EU Advisory Mission Ukraine (EUAM).
A number of different activities targeted at children from the ages of 5-16 were organised in order to raise awareness about how to keep safe on the road and highlight the attractiveness of a career in the police. For example, competitions were organised to find youngsters with the most talent for directing traffic coming into a roundabout, or how to cycle safely.
 " Ukraine still has a tragically high level of accidents on the road, so we are glad to be supporting any activities that might reduce this," said Timothy Shilston, EUAM Senior Adviser on General Policing. "As an added bonus, some of the young people taking part in today's activities can see how the police contribute to keeping citizens safe and may even consider joining the police when they finish their education".
 EUAM assisted the event by providing prizes for the competing teams of schoolchildren, who were set educational and fun tasks to complete. Prizes included flashlights, eco-bags and mugs.
 The Mission has a longstanding cooperation with the NPU for its school programme. It has advised on the content of school outreach activities as well as donated equipment to support stronger relations between schools and the police, for example, booklets, reflective bracelets and replica road signs for traffic safety lessons.