Accountability for war crimes: common aim of all criminal justice actors
March 28, 2023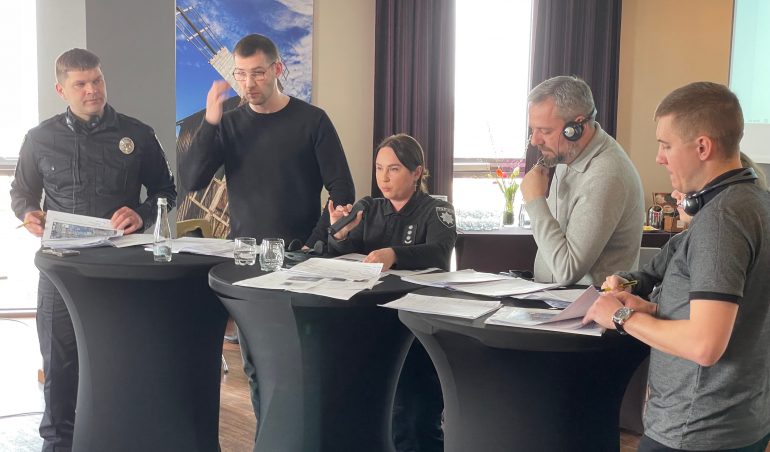 Today, we remember the liberation of Irpin, a city in Kyiv region that one of the first showed the world the extent of International Crimes that happened during Russian occupation. It reminds us of the urgent need to hold accountable those responsible for these atrocities. To support Ukraine in this important mission, the European Union Advisory Mission Ukraine (EUAM) organized a training course on Case-Building Investigations in Rzeszow, Poland from March 20-24. The course targeted managers of investigation departments from the National Police of Ukraine (NPU), State Bureau of Investigations (SBI), Security Service of Ukraine (SSU), and the Office of Prosecutor General (OPG) who are directly leading the war crimes investigation and prosecution efforts in Donetsk, Luhansk, Dnipropetrovsk, Zaporizhzhia, Mykolaiiv, and Kherson regions.
The course was delivered by senior experts from the Institute of International Criminal Investigations (IICI) located in The Hague, and included advanced modules related to the planning of war crimes investigations, tasking of the investigation team, evidence review, crime pattern analysis, prosecuting senior officials, aspects of sexual violence and ways of treating victims and witnesses during the investigation, OSINT, insider witnesses and subsequent investigative actions.
The course is seen as a crucial step for managers of Ukrainian Law Enforcement Agencies in effectively planning and directing investigations into war crimes.
"Managing International Crimes investigations and prosecutions is complex. It requires an innovative and structured approach to ensure comprehensive planning for large teams. Senior managers must understand all aspects of the investigation and utilize all resources for the best results," said Andrew Carney, EUAM Head of the International Crimes Prosecution Unit.
"In view of the active involvement of the international community in the efforts furthering accountability for the International Crimes committed in Ukraine, the course is very timely," said Anna Stakhanova, EUAM International Crimes Project Coordinator.
Khrystyna Podyriako, Head of the War Crimes Department of the NPU Main Investigative Directorate, expressed her gratitude for the EUAM's continuous support, which increases the efficiency of their investigations and familiarizes investigative managers with international standards.
EUAM will continue supporting and advising their interlocutors in their efforts to investigate and prosecute International Crimes, furthering closer ties with the international community, and ensuring accountability for the atrocities committed during the unprovoked and unjustified Russian aggression in Ukraine.