Kharkiv webinar: Finnish police realigns resources to optimize response to COVID-19
April 08, 2020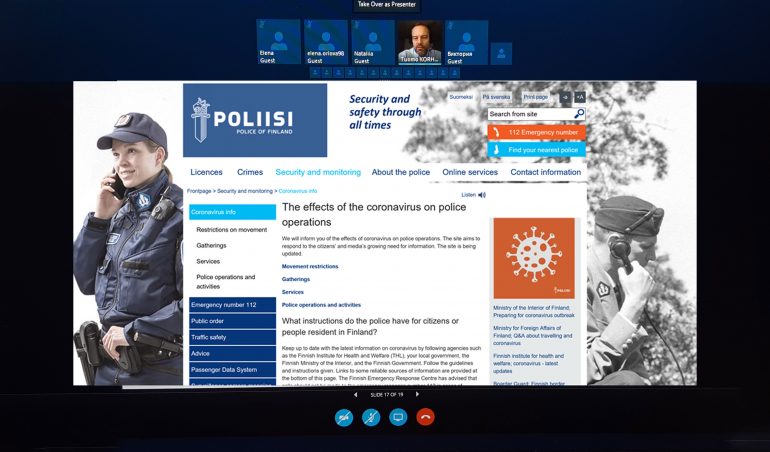 EUAM's Field Office Kharkiv this week organised a webinar for Kharkiv National University of Internal Affairs, focusing on the measures taken by the Finnish police in response to the spread of Covid-19, particularly in field management and communications.  The 'virtual' experience is among the digital solutions EUAM is using to support its Ukrainian partners through the Covid-19 coronavirus outbreak.
Digital platforms, such as website and social media channels, have become powerful tools for the Finnish police in maintaining communication with public in Finland – which is currently under a state of emergency. It distributes situational reviews on a regular basis, and instead of visiting the police premises, people are asked to use electronic channels. All questions concerning the current situation in the country are explained in English, Swedish and Finnish languages on the website of the Finnish Police.
Finnish police officers have been instructed to refrain from conducting breathalyzer tests until 1 June because of the coronavirus. Some officers have also been transferred temporarily from investigative to field work. All public events for more than 10 people have been banned, while all restaurants, cafés and licensed premises are closed until 31 May. Intentional violations of these restrictions are subject to fines or even three months' imprisonment.
"With more people in Finland staying in their homes, police reports a reduction of emergency response tasks and crime, and an increase in the number of house-calls and assistance for health care services," said EUAM Senior Advisor on General Policing, Tuomo Korhonen.
EUAM has responded to the Covid-19 outbreak by setting up remote work stations to enable it to continue delivery of advice and other support activities to Ukraine's Civilian Security Sector institutions in spite of the restrictions.