Head of French police inspectorate says that ethics and values are vital for reform efforts in Ukraine
November 15, 2018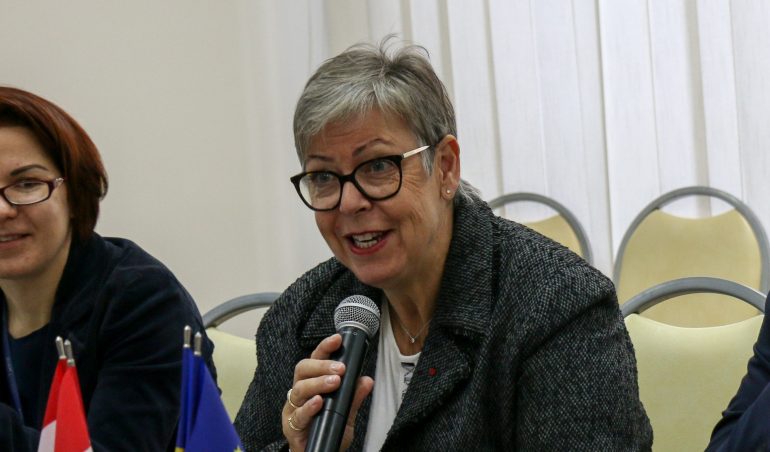 In an address to senior officials from Ukrainian law-enforcement institutions responsible for investigating and prosecuting law-enforcement officials, Ms Marie-France Monéger-Guyomarc'h – Head of the General Inspectorate of France's National Police (IGPN) – yesterday explained how her organisation operates and in particular ensures political independence and the highest standards of professionalism. She recounted the story of IGPN's own recent reform and encouraged those present to embrace creativity, transparency, and public communication in order to ensure success.
The European Union Advisory Mission (EUAM) invited Ms Monéger-Guyomarc'h to Ukraine to outline the experience of the IGPN for EUAM's partners. On the Ukrainian side, participants included the top leadership from key institutions providing oversight: the State Bureau of Investigations (SBI), the General Inspectorate of the Prosecutor General's Office (PGO), the Internal Security Department of the National Police, and the department of the PGO which will, in future, supervise SBI investigations. All of these institutions are responsible for investigating and prosecuting law-enforcement officials who commit serious crimes.
"If you put in place strong ethical standards, then you protect your political independence and nobody can persuade you to play political games," said Ms Monéger-Guyomarc'h, whose IGPN – responsible for investigating police officers and ensuring the integrity of staff – underwent a deep reform process that started in 2013. It began by institutionalizing a number of organisational values for police officers. 
She stressed the importance of offering a better service to the public as a way to strengthen the IGPN's legitimacy and increase societal trust – for example, by making it easier for them to lodge a complaint, and by explaining the reasons behind IGPN activities. By showing results to the public through the media every year, transparency and trust in the IGPN have increased, she said. "If you have nothing to hide," she said, "then you shouldn't be afraid to communicate to the public." She also said that employing younger, creative, people was a way to expedite positive change.
This sentiment was echoed by the EUAM Head of Mission, Kestutis Lancinskas, who remarked that the successful reform of Ukraine's rule of law system depended primarily on its employees. "Everything depends on people," he said. "If people believe in what they are doing, then success is guaranteed." Mr Lancinskas also spoke about his own experience at the helm of Vilnius County Police in Lithuania during reforms it made.
EUAM will now follow up with its Ukrainian partners from the SBI, PGO and National Police to provide further support in strengthening their organisational capabilities, based on the discussions that took place yesterday.