'Expectations high' for new police structure in Kirovohrad region
April 11, 2019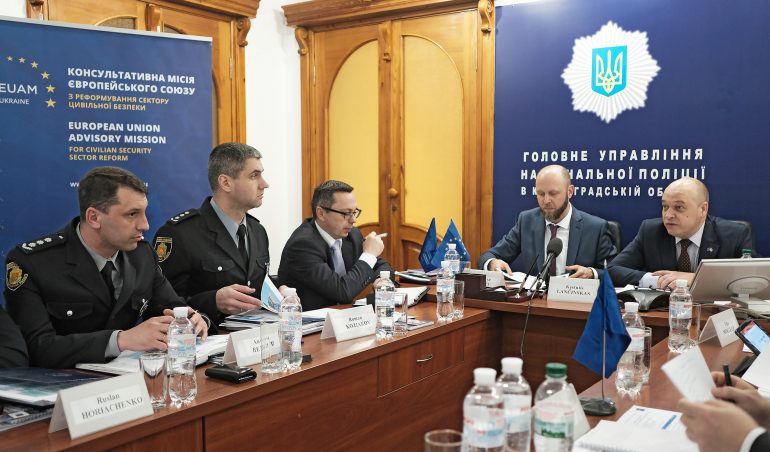 During a review of the Kirovohrad regional police experiment this week, the Head of European Union Advisory Mission (EUAM) Kestutis Lancinskas, and Kostyantyn Bushuev, Deputy Head of the National Police of Ukraine (NPU), agreed several measures around the re-structuring and optimization of police functions in the region, in line with EU best practices. The measures mostly concern an efficient management system, an organizational performance evaluation system, and efficient decision-making process.
The project's joint working groups reported progress made so far in terms of measures taken in the criminal, administrative and preventive areas. The Head of EUAM's Operations Department, Udo Moeller, presented the new Performance Evaluation System for the National Police, which integrates EU best practices and which will be used all over Ukraine. This system is based on four criteria: reported crime, traffic accidents, police response time to incidents and complaints made by citizens. The new system envisages an evaluation of the performance of the organisation as a whole, and not the personal performance of police officers.
Mr Bushuev, meanwhile, reasserted his high expectations for the experiment, and his vision for improved service from the police and increased public trust. During his visit to Kirovohrad, Mr Lancinskas also delivered a leadership training for Kirovohrad police management.
"The changes which are taking place now are challenging for all of us involved in this pilot project," said Mr Lancinskas. "We move forward together, we exchange ideas in order for this project to be a success story and to become a model for other regional police in Ukraine."
EUAM is in the midst of delivering a range of training programmes to Kirovohrad police in areas such as general policing, community policing and crime-scene management. In order to ensure the high quality of these training programmes, EUAM has also donated equipment worth over €70,000 to the Police Training Centre in Kropyvnytskyi.