EUAM urges authorities to fill gap in legislation as performance evaluation pilot concludes
April 19, 2019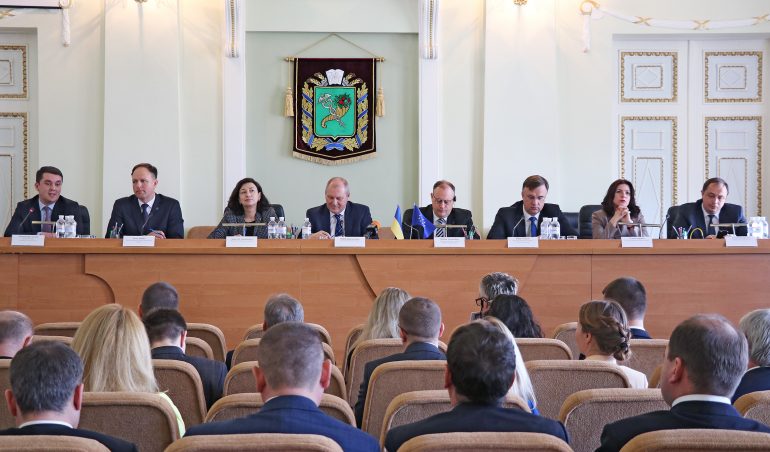 Senior prosecutors from Donetsk, Kharkiv, Lviv and Odesa regions yesterday joined EUAM experts in Kharkiv for a review of the results of the three-month long performance evaluation pilot project that trialed from January to March. The pilot project was the culmination of over two years' work by EUAM's prosecution team, which has been advocating strenuously for an effective performance evaluation system for Ukraine's Public Prosecution Service (PPO), given that such a system was absent from the 2014 'Law on Prosecution'.
EUAM Head of Rule of Law Component, Fabian Loewenberg, re-emphasized the importance of a performance evaluation system for the PPO at yesterday's wrap-up event, and said that legislation would now be needed to introduce a legally binding and harmonized system across the entire country.
"Performance evaluation is not only a core element of the entire human resources management system," said Mr Loewenberg. "It will also serve as a safeguard for public prosecutors for transparent career promotion, from illegal dismissal and prevention of any kind of corruption-related risks in the every-day prosecutorial work."
Following the Prosecutor General Yuri Lutsenko's order to start the pilot project in January, 30 public prosecutors in each of the three piloting regions (Kharkiv, Lviv and Odesa) volunteered to have their performances evaluated according to new criteria agreed with their line managers and supported by EUAM experts. Although the volunteers faced no 'real life' consequences in these test conditions, participants said that they had benefitted having faced rigorous criteria that focused on qualitative as well as quantitative benchmarks.
Yesterday's review saw prosecutors give feedback on the piloted system, and propose solutions for how the PPO might agree consolidated evaluation criteria at a national level in future. With the assistance of EUAM and the Council of Europe, prosecutorial working groups have already been working on a draft of legislative amendments to the 'Law on Prosecution' that includes provision for a performance evaluation system, and Mr Loewenberg said that much of EUAM's energy would now be devoted to advocating for these urgent legislative insertions.
"Those amendments will soon be submitted to the parliament for their further consideration and adoption," he said. "EUAM Ukraine is ready to support this process and to raise it with the Prosecutor General's Office before the parliamentary committee. Performance evaluation is not a matter of secondary importance – it is central to the entire prosecution-reform process."