EUAM training guides police in enforcing law on combating domestic violence
July 19, 2018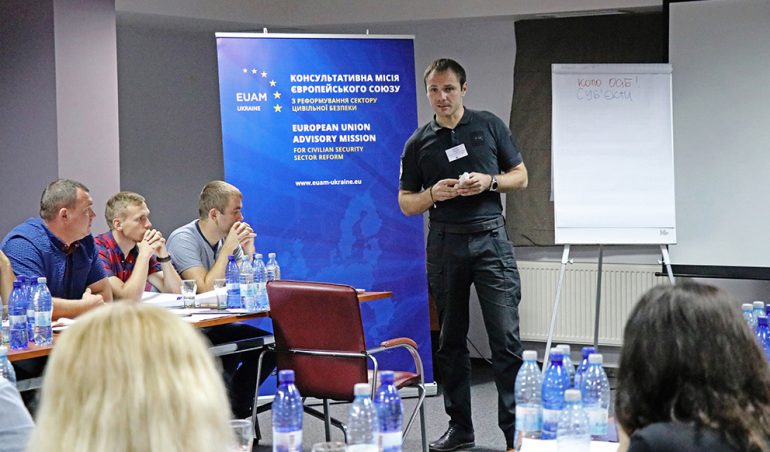 The European Union Advisory Mission (EUAM) Ukraine today completed a three-day training activity for police and the Ministry of Internal Affairs Academy in Kharkiv devoted to the prevention and combating of domestic violence.
The EUAM initiative is a response to the signing in January 2018 of a new law on combating domestic violence by President Petro Poroshenko. This represented the first significant and concrete step taken by Ukraine towards criminalisation of domestic violence following the country's commitment in 2011 to the Istanbul Convention, which obliged signatories to take measures to combat violence against women.
The challenge now facing law-enforcement officers in Ukraine is interpretation and familiarisation with the law, recognition and understanding of domestic violence, how to handle domestic-violence cases including practical police measures that are needed to intervene and respond. EUAM also invited staff from local NGOs and social services in Kharkiv to this week's event in order to present real-life cases studies and outline the scale of the problem. Participants also studied cases of domestic violence in Nordic countries, and the police response there. 
Domestic violence is a global problem whose root causes are deep and whose impact on society are various and severe. Human-rights groups in Ukraine estimate that over 60% of Ukrainian women suffer from domestic violence, which refers abusive and threatening behaviour in the home, and can include physical, sexual, emotional abuse, as well as intimidation, coercion or isolation. Although men can also suffer domestic violence, historically it is women and children are overwhelmingly the primary victims of the crime.
Ukraine's law on combating domestic violence – which among other provisions allows police to issue a restraining order, and obliges the State to provide shelters for victims of domestic violence – came into force in January 2018. However, part of the law that criminalizes domestic violence will come into force in January 2019.
This was the third in a series of 10 training activities that EUAM will carry out across Ukraine for police and the Ministry of Internal Affairs Academy, with the focus on the 22 'model' police stations selected under the EU's 'Support to Police Reform in Ukraine' project.