EUAM to support launch of Ukraine's Bureau of Economic Security
April 01, 2021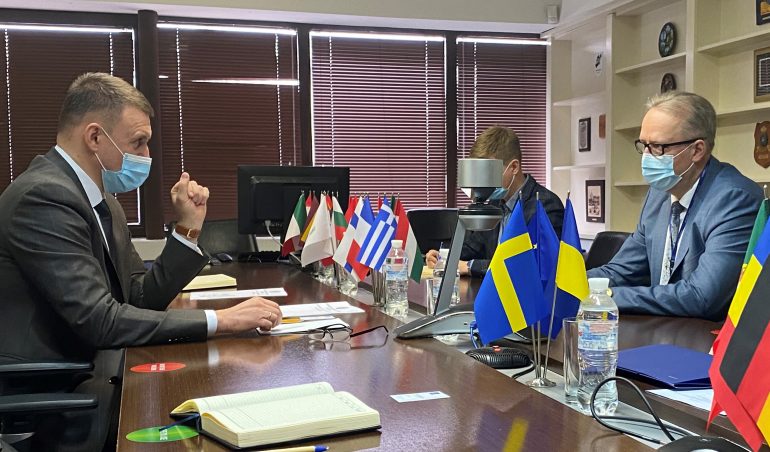 The establishment of Ukraine's Bureau of Economic Security (BES) topped the agenda during a meeting between the Head of the EU Advisory Mission (EUAM), Antti Hartikainen, and the Head of the State Fiscal Service, Vadym Melnyk, yesterday. According to the Ukrainian authorities, the new body should become operational within six months. Mr Melnyk stressed that this will require comprehensive support from EUAM and other international donors, in areas such as strategic advice, building training capacities and IT solutions.
The law on the Bureau of Economic Security was approved by the Verkhovna Rada in January 2021. EUAM and the Delegation of the European Union to Ukraine welcomed President Zelensky's signing the Law in March, calling it a key reform of investigation and law enforcement on economic crime. The next steps foreseen are changes in the criminal procedure code, and the transparent selection of BES Head and other staff.  The EU has promised to support this process.
Under the Law, the State Fiscal Service and the Tax Militia should be disbanded over the coming six months.  It stipulates that the BES will be established as a central executive government body to counteract offences encroaching on the functioning of the state economy.
It also creates conditions to protect economic processes from pressure from law-enforcement institutions, which is supported by Ukraine's international partners. The main function of BES will be analytical, economic, informational, as well as law enforcement powers.
The Bureau will be given the appropriate powers currently held by the Tax Police, the National Police and the Security Service (in the sphere of the economic security). The activities of the Bureau will be directed and coordinated by the Cabinet of Ministers.