EUAM puts road safety on agenda of first Lviv Coordination Security Board workshop
September 14, 2018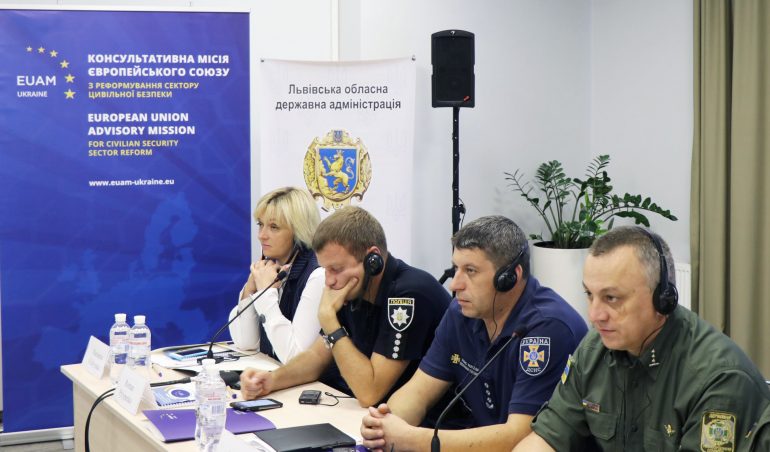 One of the most serious security issues that needs addressing in Lviv oblast is road safety, and that is why it was put on the top of the agenda for the first workshop of the Coordination Security Board (CSB), jointly organised by EUAM and Lviv Regional State Administration on 12 September.
The event gathered 20 experts from all CSB agencies, including the National Police, Prosecution Service, Border Guard Service, Regional State authorities, to discuss ways to improve the safety on the roads. The discussion particularly focused on the main causes for the large number of traffic accidents and the severity of their consequences in the region, as well as on the overall improvement of coordination between agencies involved in road-traffic safety.  
"This workshop is the first in number of such meetings to identify specific action plans, and EUAM will gladly facilitate these meetings," said Hildegard Buitink, EUAM Senior Advisor on General Policing. 
"I am convinced that we can all jointly discuss and find solutions to a lot of issues within the work of the CSB. Today we start with discussion the first and, probably, the most painful issue for the region, as well as the whole country – road traffic safety," said Marianna Vilshynska, Head of Apparatus at Lviv Regional State Administration. 
Ukraine passed into law a road-safety strategy, or the 'National Strategy on the improvement of road-traffic safety in Ukraine for the period up to 2020', on 14 June 2017. Ukraine's Cabinet of Ministers then asked for an action plan to facilitate the implementation of the Strategy for the period up to 2020, and that is now in motion.