EUAM proposes new concept to coordinate the fight against organised crime
June 19, 2018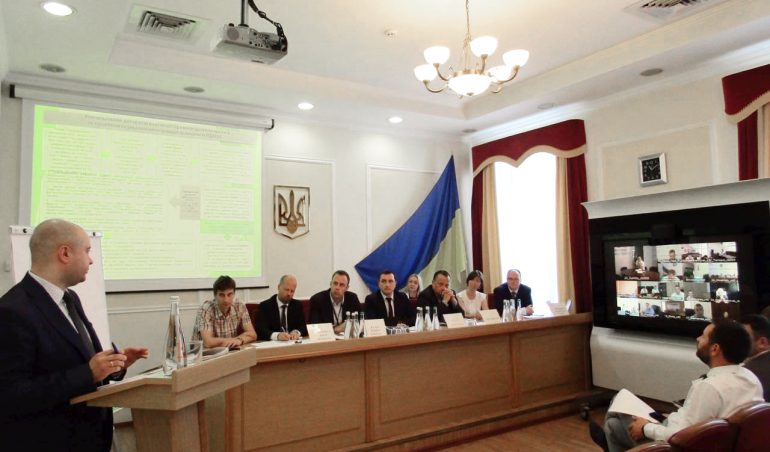 A new way to coordinate the fight against organised crime was proposed during a roundtable on 14-15 June at the Kyiv Regional Public Prosecutors Office (PPO) supported by the EU Advisory Mission Ukraine (EUAM) and the British Embassy to Ukraine. Currently, there are ten law enforcement agencies tasked with combatting organised crime in Ukraine and international experts were invited to provide suggestions on how communication and coordination could be improved on a tactical and operational level.
Over 300 Ukrainian prosecutors and law enforcement officials from around the country participated in the roundtable, mostly via the PPO video conference platform.
Particular attention was paid to practice in Britain and Sweden, where law enforcement agencies are able to second staff to task forces that work together to take advantage of the different experts working within them. The roundtable also provided an opportunity to review law enforcement coordination efforts in Ukraine, for example the Ukrainian Organised Crime Task Forces recently established and operational in Kharkiv.
"Organised crime is increasingly sophisticated and consequently, the fight against it needs the maximum amount of coordination between different parties," said Karl Jacob Holmberg, Lead Adviser on Prosecution. "The most effective way to do this would be to provide a new legal basis for the functioning of Joint Investigation Teams and the development of new Standard Operating Procedures. Organised crime does not stop at borders and EUAM is committed to helping our Ukrainian counterparts enhance their capacity to prevent and fight this problem".
The Head of the Kyiv Region PPO Dmytro Chibisov announced at the roundtable that his office would analyse the experience of organised crime task forces in other country with a view to develop and introduce a Ukrainian task force system on a regional level.