EUAM presents evaluation tools to make Ukrainian legislation more effective
August 30, 2018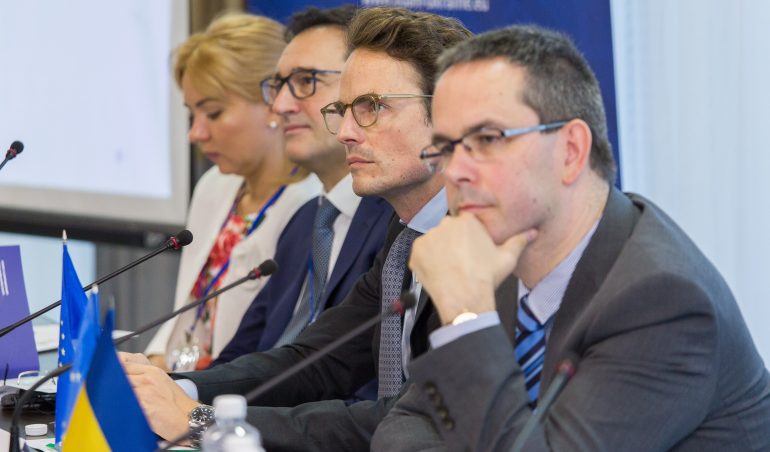 The European Union Advisory Mission (EUAM) organised a workshop for staff members of the Verkovna Rada on a tool to assess the implementation of legislation, so called Ex-Post Evaluation, on August 29-30. This is a tool used in a number of European countries to help ensure that there is proper follow up to legislation, ultimately improving the quality of democratic decision-making.
"The implementation of legislation is a crucial part of ensuring a sound democratic process," said Fredrik Wesslau, the Deputy Head of Mission of EUAM, "When legislation is left unimplemented, the democratic legitimacy of governing institutions can easily be undermined. This can pave the way to populism."
The workshop included Parliament's legal consultants, representatives of the Secretariat and Rada's various committees and departments. They learned techniques for evaluating how legislation is implemented and improved after it is passed by decision-makers in EU countries.  
Ex-Post Evaluation enables parliaments to assess the ways the legislation was implemented, how it was applied and whether it achieved its goals. Such analysis helps to reveal legislative deficiencies, contradictions and overlaps with other laws. Ex-Post Evaluation is also an important instrument for accountability, as parliaments should have a responsibility to evaluate the extent to which the laws they have passed are implemented as intended and produce the expected outcome.
"It is important to incorporate Ex-Post Evaluation of Legislation into the regular framework of parliamentary processes", said Fredrik Wesslau. "Ex-Post Evaluation can incentivise the Parliament and the Government of Ukraine to deliver better regulation."
EUAM will also organise a study visit to Brussels and London in October, in order for the participants of the training to become acquainted with Ex-Post Evaluation in practice and find the optimal way to implement this tool in the procedures of Verkhovna Rada.
This project builds on the achievements of a prior project focusing on the Regulatory Impact Assessment (RIA), which is aimed to contribute to the decision-making process before legislation is drafted.